Excited about the latest iOS 15.6 and can't wait to install the update? However, downloading it doesn't always go as expected. For example, your iPhone may get stuck on the Update Requested screen for different reasons.
It could be poor Wifi connection, a failure to connect to Apple servers, bugs in the iOS update file, or software glitches. When the Update Requested screen lasts more than 5 minutes, you'd know that your iPhone is stuck.But, as terrifying as that sounds, it's fixable, and let me show you how!
iPhone stuck on the Update Requested screen
Delete the Existing iOS Update File and Redownload
Chances are, you got stuck at the Update Requested screen due to a lag issue or minor glitch with the download process. You can solve these simple issues by erasing and redownloading the previously downloaded update. By redownloading, you begin the update process afresh, allowing you to try and establish a new request to Apple.
Steps:
Go to Settings > General > iPhone storage.
Find the option named iOS 15.
Click on it, then click Delete Update.

Deleting the previous iOS 15 update

Go back to Settings > General > Software Update and start the iOS update download process afresh.
You must also delete any Beta profiles if you have one.
Steps:
Navigate to the Settings app > General.
Select VPN & Device Management > iOS 16 Beta Software Profile, and tap Remove Profile.
Deleting iOS Beta profile
Check Your iPhone Storage Space
Lack of storage space can slow down your device's performance, especially if it is below 1GB of free space. iOS 15 is compatible with all iPhone models, from 6s to the latest iPhone 13. For all these devices, an iOS 15 update requires that you have a free space of about 5GB. Enough space enables a smooth update process.
Steps:
Open Settings > General > tap iPhone Storage. Wait to see how much storage has been used on your iPhone and which apps are consuming it.
Choose to delete files, cache, apps, e.t.c.
Check for iPhone storage consumption in settings
Force Restart Your iPhone
Your iPhone could get stuck at the Update Request screen because of software bugs. Maybe it is so buggy that even a normal restart doesn't fix it. If that is it, a force restart can help. It will cut off your iPhone power, forcing it to reboot, and all software processes will start afresh.
Steps:
For iPhone 6s or earlier: Press and hold the power and home buttons until the Apple logo shows up on the iPhone screen.
For iPhone 7 and 7 Plus: Press and hold the side and volume down buttons until you see the Apple logo on your iPhone screen.
For iPhone 8 and later: Press and instantly release the volume up button, then the volume down button. Then, press and hold the power button until the Apple logo pops up.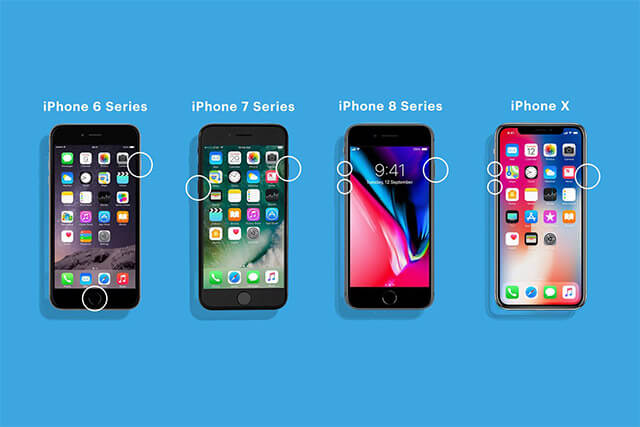 How to force restart your iPhone
Check Your Wi-Fi Connection
Unstable connection or slow internet speeds could hinder your iPhone from accessing the Apple servers. That may affect your iPhone when it's sending an iOS update request, hence the stuck issue. To resolve an internet connectivity problem, you can try these methods below.
Restart the router

Your router might have stalled when running tasks due to a glitch in its software. This glitch can cause slow internet connectivity or no connectivity at all. Hence, when you try to update your iPhone, the network is not strong enough to help the iPhone access Apple servers. This can cause your iPhone to get stuck at the Update Requested screen.

Fortunately, restarting your router is likely to solve this issue. By rebooting, you enable your router to start afresh. A fresh run can restore your connection's strengths and allow you to update your iPhone successfully.

Steps:

Press the power button to turn the router or unplug it from the power source.
Turn it back on or plug it back into the power source.

Unplugging a router from a power source

Forget the WiFi network and add again

Forgetting a Wifi network on your iPhone and then reconnecting to it can eliminate a connectivity problem. This is because as you transmit over the Wifi connection, it can collect errors. As these errors build up, they can block or interfere with the transmission. with this slowed connection, installing an iOS 15 update can fail. Fortunately, forgetting and reconnecting to the Wifi network can clear these errors.

Steps:

Go to Settings > Wifi
Tap the information icon next to the network you want your iPhone to forget.

How to forget a Wifi network on iPhone

Tap Forget This Network, then tap Forget to Confirm.
Still, in Wifi, go back to the available Wifi networks list.
Tap the name of the network you've forgotten.
Enter the network's password if required, then click Join.

Try another WiFi network

If reconnecting to your Wifi network does not work, try another Wifi network. If your iPhone successfully goes past the Update Requested screen then, you can proceed with the update. But, if it still gets stuck at the Update Requested screen, you'd know that it's your iPhone that might have a problem.

Steps:

Go to Settings > Wifi
Tap the name of the new Wifi network you want to connect to.
Provide the password if required, then click Join.

Available Wifi networks

Turn on Airplane Mode and then Turn It off

A faulty Wifi connection can leave your iPhone stuck during an update process. Airplane mode allows you to disconnect from all wireless connections instantly. By refreshing your iPhone's network functionalities, it can flush any issues that may have caused a fault in the network.

Steps:

Swipe down from the top-right of your iPhone screen. This opens the control center. You will see a plane icon in the top-left.
Click on it to turn on Airplane mode. The icon turns orange when Airplane mode is turned on.
Wait 5-10 seconds, then click the plane icon to turn off Airplane mode.

Turn on Airplane mode from Control Center

Reset the network settings on your iPhone

Network settings define your iPhone's connectivity; incorrect settings can cause connection problems and make your iPhone update process fail. Deeper software problems or modifications on your network settings could also be the culprit. Although they can be hard to trace, resetting your network settings can remove them.

Steps:

For iOS 15 or later: Go to Settings > General > Transfer of Reset [Device] > Reset > Reset Network Settings.

Reset network settings to default

For iOS 14 or lower: Tap Settings > General > Reset > Reset Network Settings.
Force Quit The Settings App
Some errors can cause the Settings app to malfunction, making it unable to send a proper iOS update request to Apple. Force quitting the Settings app often fixes such issues.
On an iPhone with Face ID (iPhone X, XR, XS, 13, 13, and 11):
Open the App Switcher from the Settings app or any other screen. You can do this by swiping up from the bottom edge and pausing at the center of the screen.
Locate the Settings app by swiping horizontally.
Swipe up on the Settings app.
Force quit the Settings app
On an iPhone with a Home button (iPhone SE, 8, 7, 6, 5, and earlier):
Open the app switcher from inside the Settings app or anywhere else. You can do this by double-clicking the Home button.
Locate the Settings app by swiping horizontally.
Swipe up on the Settings app.
Force quit the Settings app
Check Apple Server Status And Retry after Some Time
Sometimes, the Apple server may be overloaded with iOS 15 update requests. This happens when too many users are trying to download updates simultaneously. Such a situation can create many backlogs, so you are required to wait. This simply means your request to the Apple server is in process. While waiting, you can check the server's status by logging on to the Apple system status page at https://www.apple.com/support/systemstatus/.
Apple system status page
Fix It With a Professional iOS System Repair Tool - Mobitrix Perfix
If you still can't resolve the problem, turn to Mobitrix Perfix. This dedicated iOS repair tool is a one-stop solution that fully supports iPhone 5s to iPhone 15 and iOS 17 and earlier versions. It can effectively and swiftly fix any software problems hindering the update process.
Steps:
Download and install Mobitrix Perfix on your computer.
Connect your iPhone to the Mac or PC via USB.
On the main menu, click Start > Fix Now.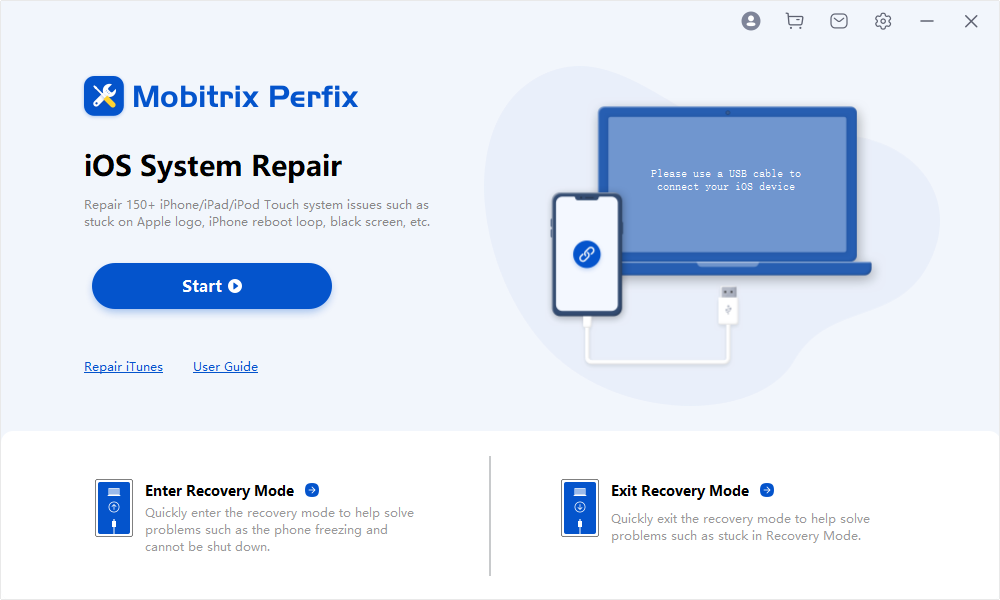 Mobitrix Perfix
Wait until Mobitrix Perfix completes the procedure, which takes at most 30 minutes. Your iPhone will then restart and ask you to unlock it. Once you open it, you will see a progress bar for the update. Your device will operate normally again once this update is complete.
Update With iTunes/Finder Using a Computer
This is the other method to try if your iPhone cannot successfully download and install an iOS 15 update by itself. You can use iTunes or Finder from your computer to update it.
Steps:
Via Finder
Your Mac has to be running macOS Catalina or later.
Connect your iPhone to your Mac.
Open a Finder window, and select your device from the sidebar.
Click General
Tap Check for Update.
Click Download and Update.
Check for iPhone update on iTunes
Via iTunes
If your computer is a Mac, it should run macOS Mojave or earlier. If it is a PC, ensure it has Windows 8 or later and the latest version of iTunes.
Steps:
Connect your iPhone to your PC or Mac.
Go to iTunes on the computer and click the Device button. It is near the upper-left side of the iTunes window.
Tap Summary > Check for Update.
Click Download and Update.
Check for the device button on the upper-left side
If this method doesn't work, you can try putting your iPhone into recovery mode or DFU mode, and try updating or restoring it again. There's a chance that you can get it back into working order.
I hope this guide can help you resolve the iPhone Update Requested problem yourself. With these techniques, you should be able to install and enjoy the iOS 15.6 updates easily. But, despite there being various repair methods, I recommend Mobitrix Perfix. With this tool, you can fix this problem within minutes. The procedure only takes a few clicks, and you are bound to find it super easy. Go ahead, try it!