How to Solve iPhone Black Screen
If there is one thing that is part and parcel of our daily life is our smartphones, so in cases where our iPhones have encountered some problems such as being stuck on the black screen, it causes inconveniences to our lives.
This article has gathered the various ways that one can use to solve the black screen, so, if you had encountered that problem this article got you covered.
Part 1: The Causes of iPhone Black Screen
Sometimes you may accidentally drop your iPhone down or in water for a long time, this causes damage to your iPhone which may result in a black screen.
Another reason for iPhone black screen is when you had performed a system update but it failed to complete, this results in your iPhone system being corrupted leading to a black screen.
Part 2: How to Fix an iPhone Black Screen
This article has gathered the possible ways you can apply to solve the black screen in your iPhone and it has arranged them from the simplest as shown below.
1. Hard Restart
One way of dealing with the black screen of your iPhone is force restarting your iPhone so as any ongoing processing in your iPhone that might be causing the black screen can be terminated.
The following methods can help you restart your iPhone according to its version:
For users of iPhone 6S and earlier versions, you can force restart by long-pressing both buttons for power and home at the same time until you can see the logo for apple.
For users of iPhone 7 and iPhone 7 plus hard restart by pressing buttons for volume down and power until you can see the logo for Apple.
For iPhone 8, iPhone 8 plus, or iPhone X start by pressing the button for Volume up release it, then press the button for Volume down shortly, and finally long-press the power button until the Apple logo appears.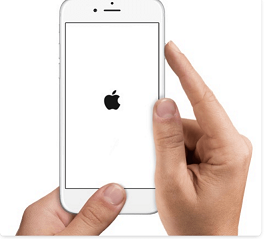 2. Restore iPhone via iTunes
If hard restarting does not solve the issue, you can try restoring it using iTunes. Restoration by iTunes is one of the recommended ways by Apple, so you can go ahead and give it a try.
Steps:
Launch the latest iTunes version on your computer and connect your iPhone to it.
Press the button for volume up shortly then release it,
Press shortly the volume down button. Once you notice the screen for connecting to iTunes long-press the power button and don't release it after seeing the Apple logo until you go into recovery mode.
You will see the Update or Restore screen. Select the Update option to update your iPhone but if no software is available to be updated then select Restore.
You should take note that when you select the update option no data will be lost but with the Restore option, you will need to back up your data first because all your data will be lost during the process. If you want to try a method that will not lose your data without backing up then you can go ahead and try the next method.
3. Use Perfix
Mobitrix Perfix is a perfect method that replaces iTunes if you had not performed a backup earlier. This tool also solves other problems besides the black screen such as your iPhone getting stuck in the recovery mode screen.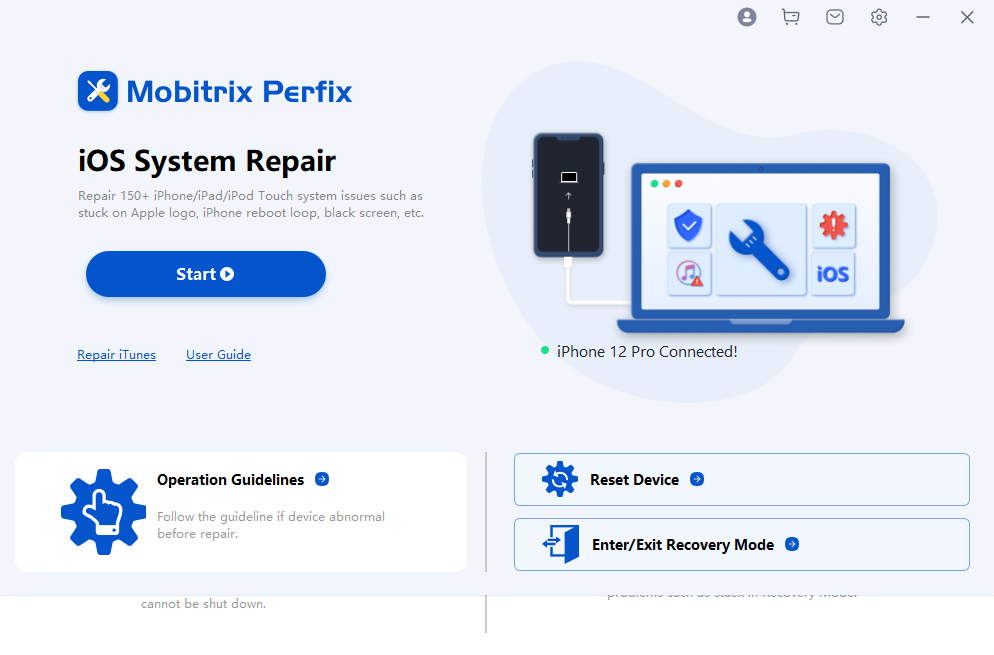 Other features of Perfix that make it be the best tool to use to solve the black screen of your iPhone include:
It does not require iTunes or Finder to use it.
Compatible with almost all versions of iPhone even the latest iOS system.
Can be used with any OS be it Mac or Windows.
Help to fix multiple issues in your iPhone without losing data.
Steps:
On your computer download Perfix from their official website and launch it.
Connect your iPhone with the computer through a cable and when it is detected click on "Free Quick Fix" but if you can not select that mode select the "Standard Mode".

Enable recovery mode and download Fixfile to repair.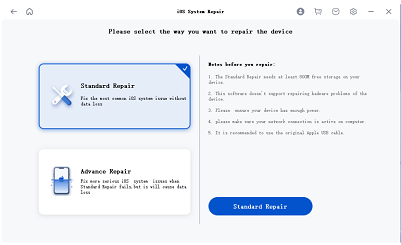 Allow the process to complete and the black screen will be removed from your iPhone.
4. Use DFU Mode
If all the above methods don't work out for you then you can use DFU mode to recover your iPhone. This method is used to solve fatal system issues that may make a device fail.
Steps:
For users of iPhone 6s and the earlier versions: Long-press the Wake button (sleep)and the button for Home for something like 8 seconds and then release the Wake button but continue holding the button for Home till your iPhone is recognized by the computer.
For iPhone 7 or iPhone 7 Plus: Press the side buttons for around 8 seconds release it then press the side and volume down button until your iPhone is detected by the computer.
iPhone 8 or newer models: start with the volume up button press it and release it, do the same with the button for volume down then go to the side button press it and when the black screen appears press the volume down button also for about 5 seconds then release the side buttons and follow the instructions on your computer.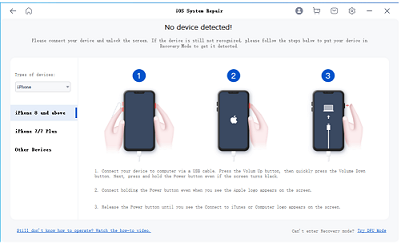 Before attempting this method, please try the other methods because this method may cause your iPhone to stop working well.
Other drawbacks of this method are that it causes loss of your data, the operation is not that simple and if you don't have the latest iTunes version it may cause you a lot of problems.
Part 3: How to Solve iPhone Black Screen Thoroughly
If no other method is working for you then you can get in touch with a local Apple store near you to get assistance. If your iPhone is under warranty, you will not incur any cost otherwise you will spend some cash to get your iPhone repaired.
Summary
To sum up, our smartphones are an important aspect of our lives and when they incur problems, they cause a lot of inconveniences to us.
But, problems like a black screen on your iPhone should not scare you anymore because this article is all you need and your issue will be solved.
The best and most convenient way of all the ways introduced is Mobitrix Perfix because it has helped many people to deal with the same problem so go ahead and give it a try.