Owning an iPhone 12 is cool, but not when you need it most and it just suddenly doesn't turn on. Well now, what to do? With my years' experience in smartphone engineering, let me show you how to fix it just in time.
First, you'll need to understand what could be the possible causes behind your iPhone 12 won't turn on. Because if it's a software issue, you won't even need to visit the Apple Store (And 90% of the time, it is). Instead, you can fix your iPhone 12 directly at home in minutes.
Why Won't My iPhone 12 Turn on?
There are many reasons why your iPhone 12 won't turn on. Check below.
Software crash
Software is like the heart and soul of any mobile. Software failures on iPhone 12 would mean an improper firmware update, internal iOS bug, outdated iOS, overheating, black screen, and more. Want to know a fun fact? iOS software issues are also the easiest to resolve.
Charging issue
Maybe your battery is running low. Or your charging cable is damaged, or dirt or dust particles block the charging port. Sometimes even a low-power charging source creates a booting issue in iPhone 12. This is easy to solve too.
Hardware/Liquid damage
Did your iPhone 12 fall from heights before it's not turning on? Did water get in? Do you see any visible physical damage? If yes, some unknown components may have been broken. You can also identify a hardware problem through other signs like poor battery life, damaged charging port, etc.
Given hardware damage is usually rare, hard to tell and very complex to tackle, I suggest you to try those quick fixes below to see if your iPhone can turn back on first.
What To Do When My iPhone 12 Won't Turn On?
1. Connect iPhone to PC
Sometimes your iPhone 12 doesn't turn on simply because its power button is not functioning. You can connect your iPhone 12 to PC via USB cable and see it boots after a few minutes. If not, move on to the next option.
2. Hard reset your iPhone 12
Hard reset does not erase all your iPhone data. It just force restarts your iPhone 12 and loads it afresh. Also, it wipes the cache that helps in turning the iPhone 12 on again.
Here's how:
Press the volume Up button and then Down button. Press and hold the Side button until the Apple logo appears. If this does not work, repeat the above process after leaving your iPhone on charge for at least 10 minutes.
3. Fix Your iPhone 12 with Mobitrix Perfix
If the above two methods can't lead you anywhere, this one surely will. Mobitrix Perfix is a quick iOS system solution to any of your iPhone 12 issues, including that it's not turning on.  
Steps:
Install and launch Mobitrix Perfix
Now, connect your iPhone device to the computer using USB cable
Connect your iPhone 12 to your computer using a USB cable
On the computer, choose the iPhone issue you want to fix
Click on Standard Repair to fix your iPhone 12 not turning on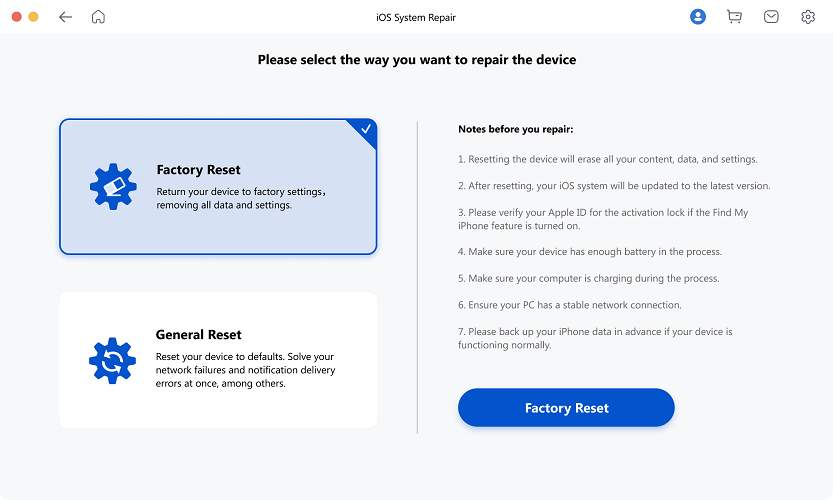 Why is Perfix your ideal choice for fixing iPhone 12 that won't turn on? 
Quick as a wink: Just download Mobitrix Perfix on your computer and you can get your iPhone turned back on within 20 minutes. Sit and relax while the issue is being fixed automatically.
95-99% success rate: I personally didn't believe this software until I tried it on 100 clients' iPhones. It fixed the iPhone not turning on issue in 20 minutes perfectly. 
Easy to follow: It takes only 2 clicks to finish the whole process.
No data loss: Unlike other solutions, none of your personal data will be lost in Mobitrix Perfix
| | |
| --- | --- |
| Pros of using Perfix | Cons of not using Perfix |
| Resolves iPhone issue within few clicks | Plenty of missed calls |
| Just require 20 minutes of your time | Inability to send urgent messages |
| Doesn't dig a hole in your pocket | No access to the internet for hours |
| No technical knowledge needed | Added frustration and burden |
| | Cannot play any games |
| | Wastes time without resolving issue |
| | |
4. Factory reset your iPhone 12
Maybe your iPhone 12 is actually turning on, but just can't get past the booting process. Then it gets stuck on the Apple logo. This happens due to a faulty software upgrade or a corrupted ROM process. Factory resetting your iPhone can fix the issue.
Factory reset erases all your iPhone data and settings and can probably fix your iPhone 12 not turning on.
To factory reset your iPhone 12, here is how:
Go to Settings of your iPhone 12
Go to General and tap on Reset.
Under Reset, tap on Erase All Content and Settings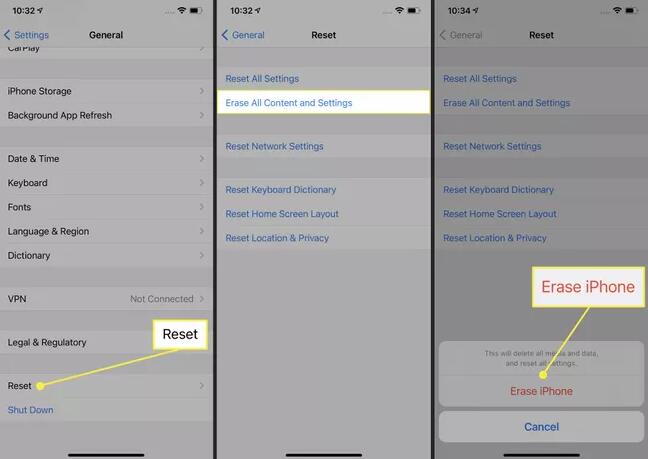 5. Fix your iPhone 12 with iTunes by putting it in recovery mode
Recovery Mode is an Apple troubleshooting feature that helps you diagnose and fix any iPhone system issue. Your iPhone needs to be connected to Mac or Windows PC. Additionally, you need iTunes or Finder app installed on PC to enter Recovery mode on iPhone 12.
This mode is preferably used to help with software update issues. For example, if the software updates on your iPhone are stopped midway due to loss of power or corrupted update files, you can use iTunes to fix it via Recovery Mode.
In Recovery Mode, after the issue is resolved, the latest iOS version will be installed on the iPhone automatically.
To enter recovery mode in iPhone 12:
Connect your iPhone 12 to the computer using a USB cable
Press and hold the side/power button on iPhone 12 until the Apple logo appears on the screen
Hold it until you see your iPhone is connected to the computer
 
A recovery mode screen will appear on the computer
Go to iTunes on the computer now 
Click on the iPhone icon on the top left corner
A dialogue box shows two options: Update or Restore
Choose Update, and all your data will be safe
If your iPhone 12 is now turning on, kudos. If not, go back to step 7 and choose Restore. 
Advantages:
This is a method introduced by Apple
It is secure and free.
Disadvantages
The Restore option would lead to data loss
Entering recovery mode is tough.
iTunes is complex to use and may not always recognize your device.
It takes up to hours but still not get your iPhone 12 fixed.
6. Fix your iPhone 12 with iTunes by putting it in DFU mode
DFU or Device Firmware Update Mode should be used in the worst-case scenarios. It helps update the iOS firmware, and restore the OS system without installing the latest OS version. However, you should only try this if recovery mode does not work, as it may bring potential damage to your iPhone.
Sometimes when the new OS version has bugs and causes the iPhone to behave abnormally (like not turning on), entering the DFU Mode ensures that the iPhone has an OS of your choice (except the latest version). All this is done by connecting your iPhone to the windows or Mac PC using a USB cable.
Steps:
Connect your iPhone 12 to the computer using a USB cable
On your iPhone 12, press and release the volume up button. Press and release the volume down button thereafter. 
Press and hold the side button until the screen turns black
While continuing holding the side button, press and hold the volume down button for 5 seconds
Release the side button and continue holding the volume down button for 10 seconds 
Release if you see a message on the computer saying, "iTunes has detected an iPhone in recovery mode. You must restore this iPhone before it can be used with iTunes". 
Press Restore iPhone.
Advantages:
It's a method recommended by Apple.
It's free and secure.
Disadvantages:
It would surely cause data loss on your iPhone.
DFU restore has a very low success rate.
You may struggle to have iTunes recognize your iPhone.
It is super slow and can take hours.
7. Charging your iPhone 12
Maybe your iPhone 12 not turning on is just a simple charging issue. Why not stop beating around the bush and just put your iPhone 12 on charging. If simply charging doesn't work, you can:
Do you think your iPhone charger has completed its fair amount of life? Try charging your iPhone with someone else's iPhone charger if your iPhone charger is creating problems. 
Do you already see some cuts in your charging cable? To ensure it's not a charging cable problem, swap the charging cable with another and try charging your iPhone 12. Does it fix the issue?
If you find your iPhone 12 behaving abnormally, like losing battery all too soon, it's time to replace the battery.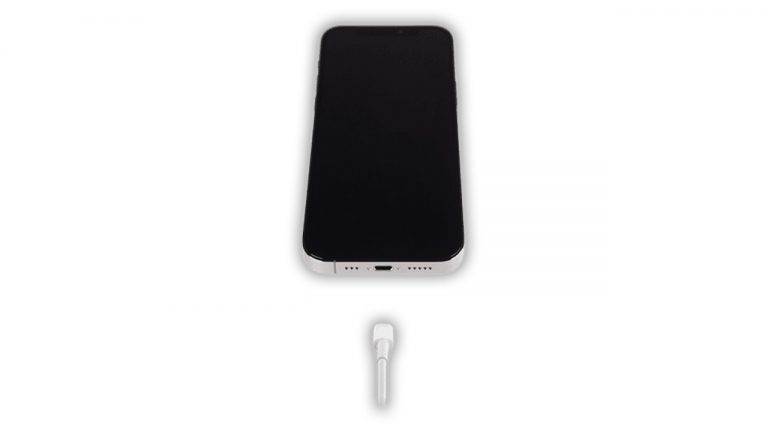 8. Dry out your wet iPhone
Perhaps your iPhone 12 does not turn on simply because you spilled liquid all over it, or you accidentally dropped your mobile in water. If that's the case, no panicking. Keep your iPhone 12 either into a bag full of rising or cover it with silica gel packets. This will soak all the water from the device. 
You can also use a hairdryer to blow it dry. Ensure all the ports are free from moisture before you put it on charge. 
9. iPhone 12 not turning on still? Go to the Apple Store or Local Repair Shop!
Bad luck if your iPhone 12 hasn't turned on yet. Did you try the Mobitrix Perfix method? You wouldn't be reading this part, if you would have.
Nevertheless, if none of the above methods works, there are more chances of a hardware issue. There is probably something wrong with the hardware parts of the iPhone like display screen, motherboard, etc.
How about consulting an Apple Store technician in such a case, or visiting a local Apple store or local repair shop?
Apple customer service definitely will shed better light on why your iPhone 12 is not turning on. If your iPhone 12 is still in warranty, take it to an authorized service center or Apple Store. They will repair it for free or replace it if it's under warranty. 
If it's no longer under warranty, you can take your iPhone 12 to a trusted local mobile repair store. Ultimately, if you have to spend a few dollars to fix it, why not get it fixed with the authorized Apple customer center. 
FAQs
How do I fix an unresponsive iPhone 12?
To fix an unresponsive iPhone 12, you can follow the below options:
Try hard resetting it as it fixes most of the iPhone 12 software issues.
Try charging it with a new charger or charging cable.
Use Mobitrix Perfix, a one-stop solution for fixing all iPhone issues.
Try restoring your iPhone 12 by putting it in recovery or DFU mode.
What to do if my iPhone 12 pro max won't turn on?
You can use Mobitrix Perfix or other above-mentioned solutions to fix the issue if your iPhone 12 pro max doesn't turn on. Not only iPhone 12 max, but these solutions also apply to iPhone 12 pro and other models. 
Summary
I have listed 9 effective ways to help you fix your iPhone when it's turning on properly. Among them, the use of Mobitrix Perfix is highly recommended, as it is easy, quick and effective. You can also try other methods listed above. Let me know which one has worked best for you.