Your iPad may not be off, just dead for various reasons.
iPad won't turn on is not a simple charging issue, but mostly a software crash.
Using iTunes for repairs can erase all your iPad data. You may need other effective solutions like Mobitrix Perfix.
Pressed the power button multiple times. Nothing happens. Your iPad won't turn on at all. Completely dead. Is this what you are facing?
Well, this can be a scary experience for you if you love your iPad. Would you be able to use your iPad again? Of course, yes.
But what to do in such a situation? I have combined all my knowledge in working as a smartphone software engineer and narrowed it down to the most effective methods you can use to turn your iPad back on. Keep reading till the end, so you do not miss out on anything important.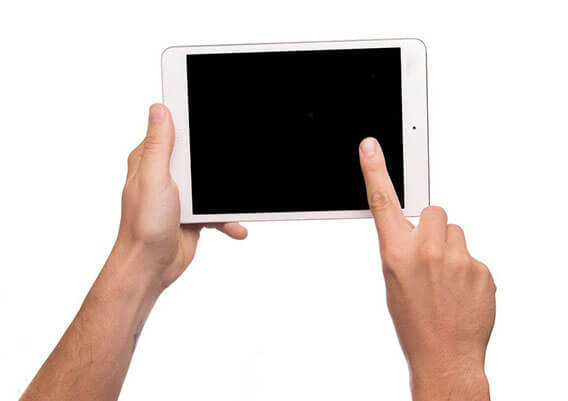 Why won't my iPad turn on?
There can be multiple tricky issues that won't let your iPad turn on. The most common ones are as follows:
Software crash

Software crashes are the most common reasons behind an iPad that won't turn on. Maybe your iPad is experiencing failed updates, or you've installed a new application from an untrusted source... But don't worry. They are also the easiest and quickest to troubleshoot.

Hardware failure

If there is a faulty hardware in your iPad, such as a broken charging port or motherboard, your iPad also won't turn on. You should go to the nearest Apple store and get it repaired.

Faulty Charger

Is your charging cable still intact? Or it already shows exposed wires? Your iPad is probably not turning on because it's not charged with a faulty charger.

Physical Damage

Did your iPad recently fall to the ground? Or did anyone in your family drop it mistakenly? This can result in a broken screen or a fault in hardware.

Liquid Damage

Did your iPad fall into water, or did you touch it with wet hands? Well, there can be some solutions provided by the Apple repair store, but they are not covered in the warranty.

What to do when my iPad doesn't turn on?

When your iPad doesn't turn on, you may do a lot of work in vain, such as charging it for hours. Instead, why not identify the root cause first, and go for some real and effective solutions to fix your iPad faster? Here I have listed solutions for all situations that'll surely work for you.

Fix software crash

With my experience in handling smartphones, I'd say, 90% of the time, your iPad is not off. There is just a software issue going on, making it seemingly dead.

If you are really anxious to put your iPad back to use, here is a real quick fix that you should try, before rushing to a repair store. Check below.

Recover your iPad with Mobitrix Perfix (Most recommended)

If you are curious to know what Mobitrix Perfix is, it is a professional third-party application introduced to solve all your iPad software crash issues. Mobitrix Perfix is one of the top recommended methods to solve the iPad won't turn on issue. Here are some of its top advantages:

Advantages:

Success rate: Mobitrix Perfix has the highest success rate of up to 99%.
Effortless: The method is reliable and easy to use with a friendly interface.
Fast: You will not have to wait long hours, as it can solve your iPad not turning on issue in 30 minutes.
Safe: Your don't lose any data while your iPad is being fixed.

Steps:

Here's how to use Mobitrix Perfix to fix your iPad:

Download the Mobitrix Perfix and launch it.
Connect your iPad to the computer and select Start.
Now, choose your issue and download the fix file for the solution.
Start repairing.

After trying both the Apple methods and the Mobitrix Perfix software, I'd say, Mobitrix Perfix literally proved to be the most helpful one for me. My iPad suddenly went black but I was able to recover it with Mobitrix Perfix in less than 30 minutes. However, if you have more time and want to find out how the Apple methods are, keep reading.





Hard reset your iPad (temporary solution)

Before I came across Mobitrix Perfix, I also tested various solutions to fix my "iPad won't turn on" issue. First thing is hard reset. This is a very common, temporary method to fix the iOS software crash. It includes turning your iPad on and off forcibly to run your iPad. If interested, check the following steps:

Steps:

For iPads with Home Buttons: Hold the home and power buttons until the screen appears.Then release the buttons.

For iPads without Home Buttons: Press volume down and volume up, and then press the power button until the screen appears.Then release all buttons.

Pros:

Apple introduces the method.
It is free to use and secure.

Cons:

The method does not come with guaranteed success to turn your iPad back on.




Factory reset your iPad via iTunes (Complicated)

When hard reset doesn't work, you can go for a factory reset with iTunes. This method is used to erase all the data, settings, and account on your iPad to solve software glitches. Here's how to go about it:

Steps:
Launch iTunes and connect your iPad to the computer while holding the home button till you see the iTunes logo.
Once your iPad goes into recovery mode, confirm the prompt, and your iPad will reset.
Pros:
It is an official method introduced by Apple.
It is safe to use.
Cons:
It has a prolonged processing time, and might take up to hours.
The method is notoriously difficult to use.
Your data will be deleted.
It has a super low success rate, say 30% or so.
Note: It may bring damage to your iPad and may affect its Apple warranty.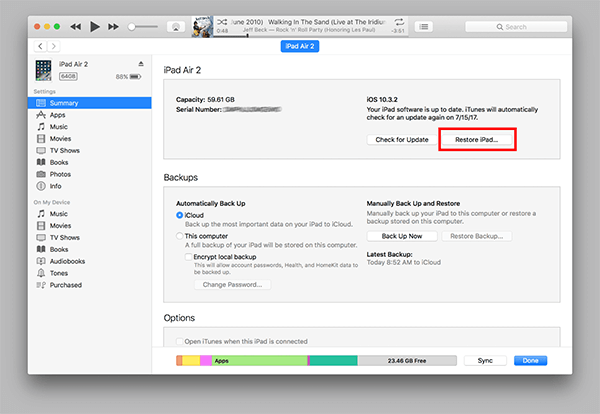 Fix charging issue
Sometimes, your iPad not turning on may simply be a charging issue. And you end up panicking. You can try one of these methods to see if your iPad will turn back on.
Try another charger for your iPad
Ask your family or friends for another Apple charger and charges your iPad for 30 mins. See if your iPad starts working. If your iPad is still under the one-year warranty, you can have a replacement for your faulty charger from the Apple store.
Replace your iPad battery
The problem may lie on your battery health. Therefore use a new battery for your iPad, and see if that works.
Charge your iPad for long hours
Some applications might extend your charging time to long hours as they keep running in the background. This might affect the screen of your iPad also. Try to charge your iPad for more time to provide enough power for applications to run properly.
Fix display issue
If you are having an issue with the display and your iPad is working with a black screen, you can try the following two methods to see if your iPad will respond.
Try Siri
To check via Siri, ask Siri to "turn voiceover off." If nothing happens and the voiceover is also turned off, then the problem is definitely with the screen. You might be able to solve this problem if you have technical experience of accessing parts. Otherwise, Apple support is your last resort.
Try burping
The second solution to solve the display issue is to burp the iPad like a baby. Yes, it might sound weird but according to most people's experiments, it might work.
Turn your iPad off and cover its front and back completely with a towel.
Tap on the backside of the iPad for one minute, like you are patting a baby. See if your iPad turns back on.
Fix hardware damage
If your iPad still does not turn on after trying all the above methods, the problem is most likely a faulty hardware such as a broken motherboard or circuit system. You must contact your nearest Apple support as soon as possible.
The Apple support team will run checks on your iPad and find a solution to help you walk out of the iPad not turning on situation. If the problem is covered under the Apple warranty, you will not need to pay a penny. Otherwise, pay some amount to use your iPad again.
Summary
Watching your iPad's screen fall into complete darkness can be a very tense situation. But you don't have to worry about anything, be it a software, charging, battery, display or hardware issue. All the methods listed above will solve your "iPad won't turn on" problem with varying success rates.
However, if you are in a hurry and want a guaranteed solution, especially since your iPad is suffering a software glitch, I recommend you follow the Mobitrix Perfix method as I turned my iPad back on with the help of this third-party application very quickly.