Users may be worried when their iPad won't update and wonder how to solve it. Some of the issues that may trigger this problem are low memory storage, weak internet speed, or battery power.
This article has gathered the solutions that can help you fix this issue, as discussed below.
Check Compatibility of your iPad with newer iOS
If your iPad is not compatible with new iOS versions, it will not update. It is recommended that you check that your iPad is not among the Vintage and obsolete iPads. If it is listed there, then it means that it is not compatible with newer iOS versions.
Check Apple's server
Sometimes when new versions of iOS are released, people may flock wanting to update their versions; this may cause congestion on the Apple servers making it slow and refusing to update.
Check herex the status of the Apple servers. When the dots are green in color, it means that the servers are running well and there is no congestion.
Restart your iPad
It is advisable to restart your iPad because besides fixing the software bugs, it can also enable your iPad to accept updates, enabling all programs on your iPad to refresh.
To restart an iPad with a home button, long-press the button for the side till you observe the slider for shutting down shows up.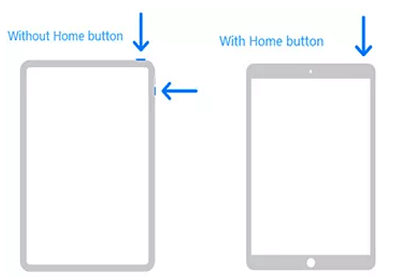 If your iPad doesn't have a home button, you can long-press either of the buttons for Volume and the Top button at the same time until the slider apereas.
Swipe the icon for power to the right to power off your iPad in either of the cases above. Wait for a few seconds, then restart the iPad.
For iPads with the home button, long-press the power button, and for those without the home button, press the top button till the iPad restarts.
Check the storage
Sometimes the updates may require large storage space for them to be successful. Ensure you have enough storage space by going to Settings > General > iPad Storage.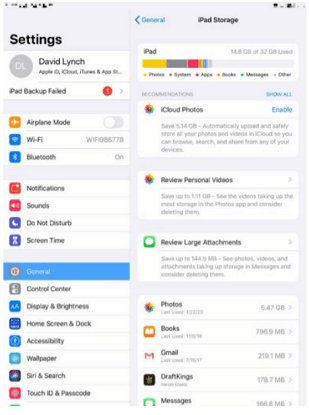 You can check on top of your screen for recommendations on how to save storage space on your iPad. You can also delete some of the apps you no longer need and other files and media files.
Ensure you have Enough Battery power
Before updating your iPad, ensure that it is fully charged to ensure that the update can be done smoothly before your battery drains.
Check the internet connection
For the update to be done smoothly, you must have a strong internet connection. If using a wireless network, you may need to restart the Wi-Fi router and ensure that the network is strong during the update.
If the network is weak, the update may take long or even refuse to finish the process.
Reattempt the update later
You have to ensure that your Wi-Fi connection is strong enough and you have enough storage space; if after even ensuring all that the iPad refuses to update, you can give it some time and try later on.
Update via iTunes
If no method works for you, you can try to use iTunes to update your iPad.
1. The first step is to ensure that the iPad is connected to a computer via a cable.
2. Open the iTunes application on your Mac or PC and select your iPad from the corner on the left hand.
3. Go ahead and check if there are any updates on Summary > Check for Update, then download and install them by clicking on the "Download and Update" option.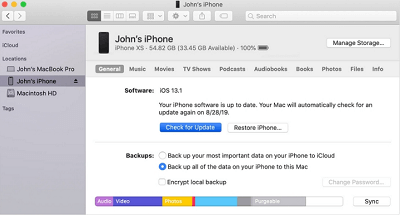 Launch iTunes for users on mac with macOS Catalina 10.5, select your device's icon, then go to Locations > Check for Update > Download and Install.
Update using Perfix
Perfix is a powerful third-party tool that can help you to update your iPad easily.
This tool is specifically developed to ensure that Apple users can easily fix various issues such as iPad refusing to update, your device getting stuck in random restarts, low Volume on your device, and other issues.
The following are advantages of using this tool:
It is easy to use as compared to iTunes.
It can fix multiple problems with your device, such as a frozen screen and other issues.
No data is lost during the process of making updates.
Even when your iPad is not operational, this tool can fix the problem.
It is compatible with all iOS devices and versions.
It is fully secure, so no need to get worried about your data being leaked.
Allows you to select the iOS version that you want to be installed on your iPad.
The steps are as follows:
1. Download Perfix on your computer, install it, launch it then connect your iPad to it.
2. Select the "Standard Mode," then click on the "Start" button.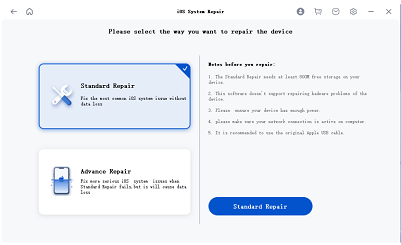 3. Click on the "Download" option to download the latest firmware, then on completion, click on "Start" to start updating your iPad.
Allow the process to complete, and your iPad will update the iOS version.
Restore the iPad via DFU
Device Firmware Update can also be used to update your iPad. However, this method will lead to data loss; hence, you should back up your data before using it.
This is the least recommended method, and you can only use it when no other method works for you.
The following are steps for updating via DFU:
1. Connect your iPad to a computer that has iTunes (or Finder in macOS Catalina 10.15) installed in it.
2. Start iTunes or Finder, then press both the buttons for Home and Power till the screen is black.
3. Hold it for three more seconds, then release the power button, but hold onto the home button until it shows up in iTunes or Finder.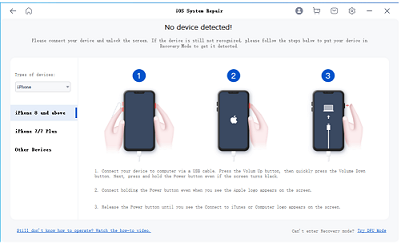 To put an iPad without the home button into DFU mode:
1. Please turn off your iPad, then connect it to your computer and start iTunes or Finder.
2. Press the power button for a while, then continue holding the same button together with the Volume down button. Hold the buttons for around ten seconds.
3. Let go of the button for power after ten seconds but hold onto the other button for five seconds.
If the apple logo appears, you have to repeat the process until it shows in iTunes or Finder.
After entering DFU mode, click on Ok > Restore iPad > Restore and Update; this will erase everything on your iPad.
iTunes will then download the latest iOS version and install it for you.
Summary
To conclude, the methods explained above can be useful in fixing an iPad that refuses to update. Perfix is the best method because it is easy to use and does not consume much of the user's time.
If you want a method that will not consume much of your time, then Perfix is the best method for updating your iPad.