You can factory reset iPad via Settings, iTunes, and iCloud.
A factory reset is good for serious iPad failures or when you plan to sell or give away your iPad, as it will erase all your iPad's data, as well as settings.
If you just want to fix a simple isse, then you can choose to restart the iPad.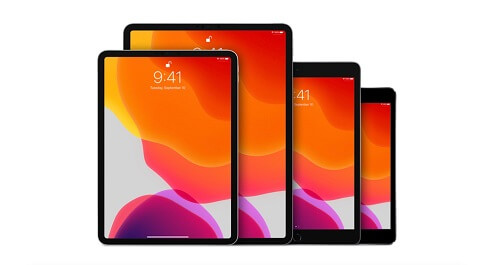 Is your iPad freezing, failing to respond to screen taps, or do you want to sell it out so you can lay hands on the latest release?
If this is you, congrats, this article is for you.
I'm a veteran iPad user, and I know how bad it feels to have a device that isn't functioning properly. I have been there countless times, and the good thing is I've always resolved it. Wondering how?
Interestingly, a common trick like an iPad factory reset will do the magic. But, your choice depends on whether you want to erase all your information and settings or not. This guide puts together the four effective solutions I have tested for iPad factory reset. So, without further ado, let's dive in.
Part 1 Why should you factory reset your iPad?
The two primary reasons are:
Transferring Ownership: This is whereby you are giving away or selling your iPad. You don't want your private information in the new owner's hands, so it is better to delete everything once.
Troubleshooting: It is when your device encounters a severe issue, and you have tried some common methods, but with no luck. You only have the option to restore the iPad's factory settings.
But, before you can proceed, I must warn you that performing a factory reset deletes all the data stored in your iPad. Losing this information can be infuriating as you will have to start all over again.
It is always good practice to first put measures in place to prevent data loss and ensure smooth unlocking like I will show you below:
Part 2 Prepare for resetting iPad factory settings?
Can you imagine everything you have worked for vanishing with just a single tap on your iPad screen? Well, you surely don't want that to happen. The following are actions you should take before factory resetting the device:
Backup your info so that even when the iPad is ever replaced, damaged, or lost, you won't lose your most important data.
Disable the Find My settings to prevent the iPad from being locked after resetting. Go to Settings > Tap on your name > select Find My, and toggle it off on the settings screen.
Disable Apple's two-factor authentication. Sign in to your account, head over to the Security section, click Edit, and turn off two-step verification. Create new security questions and verify your date of birth.
At this point, your information is safe and the iPad ready. Let's see how you can factory reset the device without any worries.
Part 3 How to reset iPad via settings
If you think factory resetting an iPad is impossible, you are in for a ride. In this part of the guide, I will illustrate how you can factory reset your tablet hassle-free. You only need access to the device settings as follows:
For iPadOS 15 or higher
Open the General Settings on your device.
Scroll down to Transfer or Reset iPad.
Tap Erase All Content and Settings, then input your passcode.
Proceed as prompted.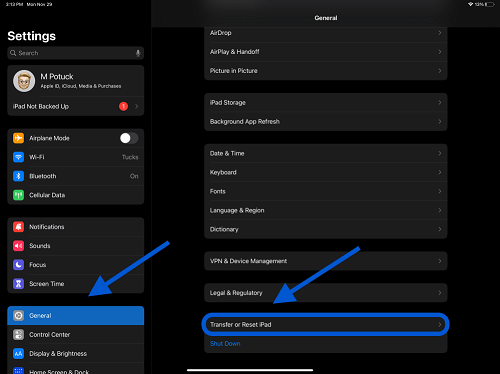 For iPadOS 14 and below
Go to the Settings app and click General.
Swipe down to the Reset button.
Hit the Erase All Content and Settings button and enter your passcode.
Tap on the Erase iPad tab, enter your Apple ID password, and tap Erase in the top right corner of your screen.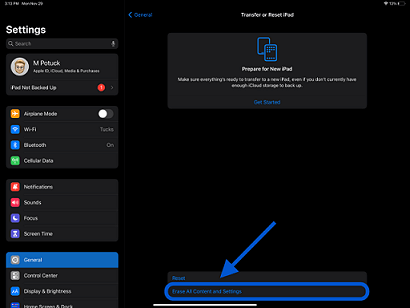 Unfortunately, if you can't unlock your iPad screen or switch off authentication features like Find My, then you can't use the trick for factory resetting. But don't worry, I have other methods to help you accomplish the task quickly.
Part 4 How to reset iPad without password via Mobitrix Perfix?
What can Mobitrix Perfix do?
Mobitrix Perfix helps repair most iOS system problems. You won't need iTunes. It has two modes that quickly resolve iPad issues. The Standard Repair retains your info, and the Advanced Repair fixes severe problems but erases all your data, which is the same as a factory reset.
Advantages
It is fast enough and completes iPadOS repairs within 30 to 60 minutes.
The standard repair has a 95% success rate, while the advance repair is 99%.
Anyone can use the easy solution, including those without any tech background.
Steps
Step 1: Download and install Mobitrix Perfix on your computer and launch it.

Step 2: Connect the affected iPad to the computer.

Step 3: Click on "Start" in the main menu on the computer screen, the repair will commence.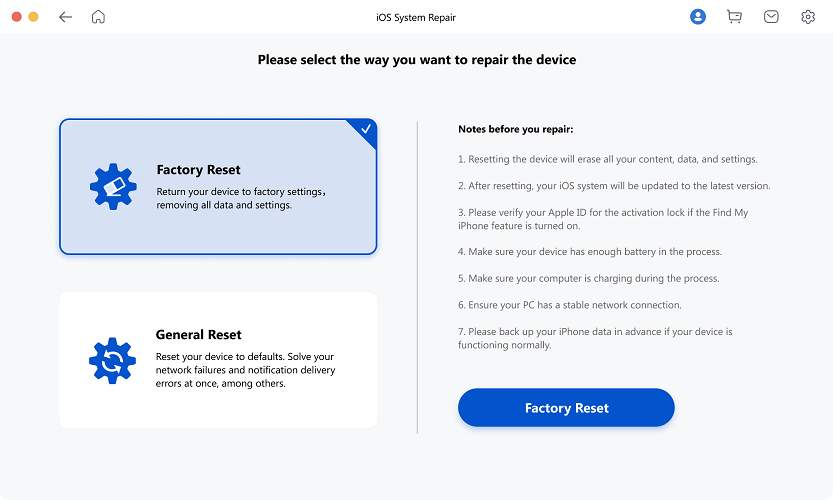 Wait for it to complete and the device to restart. Voila! Your iPad is reset, and you can set it up now.
I recommend that you first try the Standard Repair mode to check if it fixes your iPad. As for my case, I couldn't remember my iPad password, so I opted to use the Advance Repair mode.
But, before that, I had tried to use iTunes to factory reset the device. Surprisingly, it didn't work for me and I ended up giving it up. Like many tricks, it requires some credentials and if you have them, then here is how it works:
Part 5 How to factory reset iPad via iTunes?
Many people looking to factory reset their iPad may find iTunes perfect. It is provided by Apple, making it very safe, and comes at no charges.
However, using iTunes requires your patience as the process takes a few hours. You must turn off the 'Find My iPad' feature and have your Apple ID and passcode or screen password. What's worse is that there is no guaranteed success.
The following are the steps on how to go about it:
Open iTunes on your laptop, PC, or Mac and connect your iPad.
Select your device once it shows up on your computer.
Click restore and click it once again to confirm and wait for the computer to reset your iPad to factory settings and install the latest iPadOS software.
Once your device is restored to factory settings, it will restart so you can set it up like new.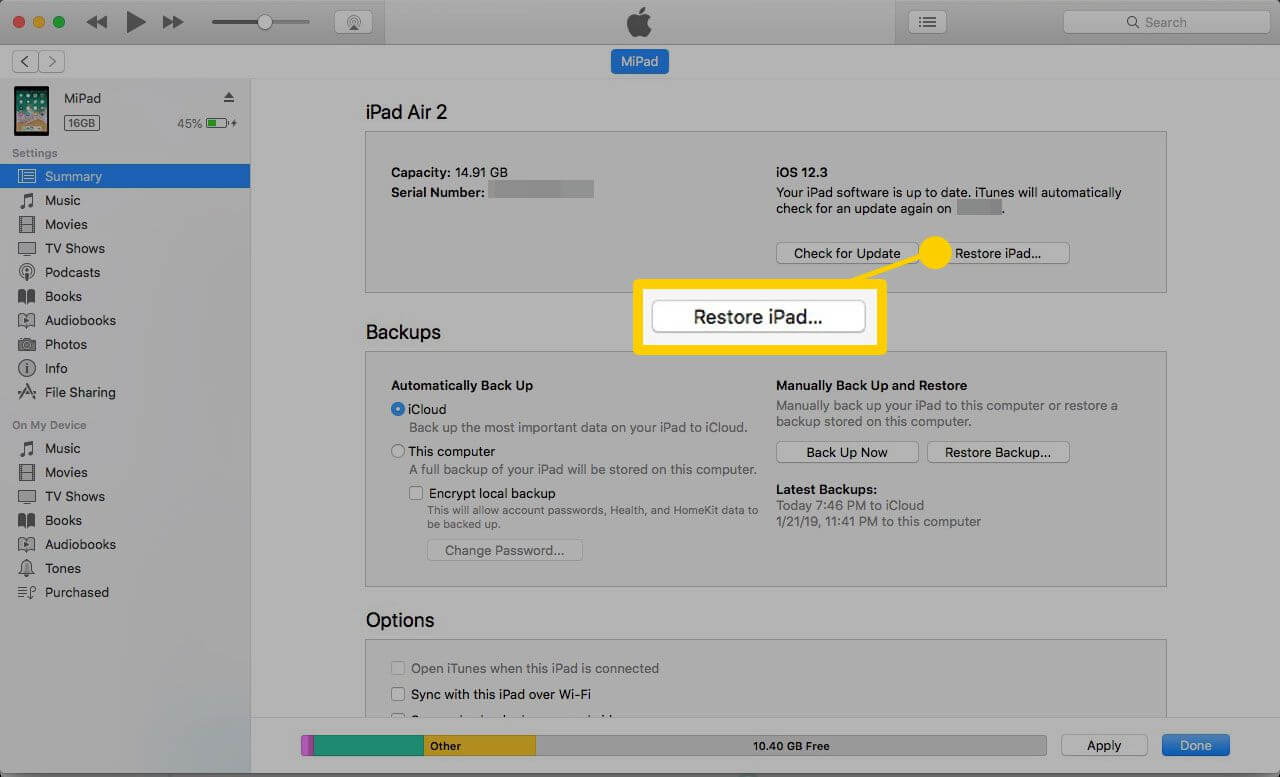 If that doesn't work for you, keep reading as the following method might be your solution. You don't need a screen password or a computer. As for me, the trick couldn't work because I had no Apple ID, but below is how to go about it:
Part 6 How to make an iPad factory reset via Find My iPad/iCloud?
Like iTunes, this method is taking a feature provided by Apple, making it secure and free. It also offers a web-side operation to reset an iPad remotely as the feature is turned on by default.
On the contrary, you must enable the Find My device feature and enter your Apple ID and password. You will also need a good internet connection and a backup of your iPad to avoid losing data.
Using this method isn't challenging since you only have to find another e-device. You can use a computer, an iPhone, or another iPad, to access the internet and follow these steps:
Sign in to iCloud on a web browser with your Apple ID and passcode.
At the top center of the web page, choose All Devices and select your iPad from the list of visible Apple devices.
Click Erase iPad and confirm the action.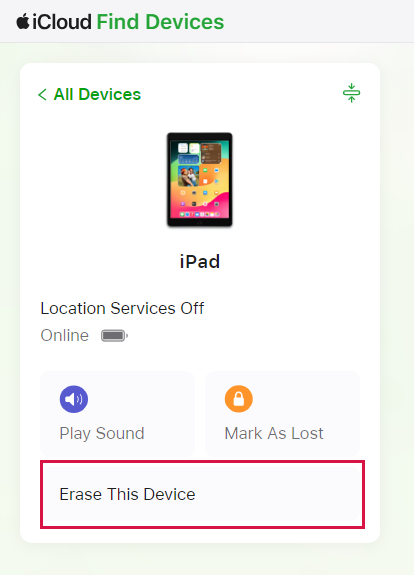 *After the confirmation, iCloud will walk you through the steps to factory reset your iPad and display a welcome screen when it completes the process.
Generally, the methods shared above will help reset an iPad successfully. Take a closer look at them and thank me later. You will never have to worry about how to make an iPad factory reset anymore.
If you have any lingering questions in mind, check below. I have compiled some frequently asked questions on the topic, hopefully shedding more light on factory resetting an iPad. Let's check them out:
Part 7 FAQs about "iPad factory reset"

What is the difference between resetting the iPad and restarting it?

Resetting an iPad removes all your data and content, so the device is made brand new. But if you wish to sell your used phone one day, don't do it repeatedly, as this will definitely impact its market value. You should reserve it for more severe issues like reboot loops and ownership transfer.

On the other hand, restarting the iPad is the equivalent of turning it off and on to start afresh. It has no risks and works best for minor issues. Use it if your device is sluggish, a misbehaving app, or the web browser won't open web pages correctly.

How to hard reset or force restart iPad?

Force restarting an iPad isn't a complicated process. You will need to hold down both the Power button and the Home button together for a while until the device turns off and reboots, displaying the Apple logo on the screen.

If your device lacks a Home button, you may need to press and quickly release the Volume Up button and repeat the same for the Volume Down button. Proceed to press and hold the Power button until the iPad reboots.

How to restore your iPad from a backup after you factory reset it?

Restoring data to your iPad from a recent backup after a factory reset shouldn't be a difficult task. You can restore easily with iCloud or use a computer. If you have a PC or a Mac running macOS Mojave 10.14, iTunes will help restore the iPad. For those using Mac running Catalina 10.15 or newer, Finder should be your best solution. You can check more on Apple's tutorial.
Summary
In this article, I have shared in detail the various methods of "iPad factory reset", including Settings, iTunes, iCloud and Mobitrix Perfix.
From my personal experience, if you can do this trick via Settings or iCloud, that's great! But if you can't, Mobitrix Perfix is definitely the best option. After all, this tool is so simple to use, but the results are amazing!