How to Show Battery Percentage On iPhone in 8 Easy Ways
The most common way to check how much battery you have left in your iPhone is through the battery icon at the top-right corner of your screen. However, that's not a very accurate representation. I wanted to see the exact amount of power left in my phone, so I went and found some answers on the net.
Surely, I can't be the only one with this concern, so I decided to share the solutions I found with you. Most new iPhone users seem to have this question, so it's okay to need a little help getting started. Learn how to show battery percentage on iPhone 11, 11 Pro, 12, and 12 Pro in this article.
8 Best Ways to Check Battery Percentage on Newer iPhone Models
All iPhone models after iPhone X that have the Face ID feature, don't show the battery percentage on the status bar. The percentage was a complementary feature to the tiny battery icon, therefore its disappearance isn't a complete surprise.
Having said that, there are some ways to see the battery percentage on newer iPhone models like 12 and 12 Pro. Let's find out what they are.
Way 1: Swipe Down to See Battery Life
One fast and easy way of seeing how much juice your phone has left is to simply just swipe down. Yes, go to the Control Center and swipe down the screen from the top-right end.
You should see the battery percentage appear in the corner automatically. This is a handy way of checking your battery life without having to change any settings. These types of cool and unique features are exactly what separates Apple from the pack.
Way 2: Use the New-Style Widget
As an operating system like iOS progresses, developers add new and exciting options for the user to enjoy. One of such features was brought forth by iOS 14, a collection of new widgets. This collection has options for new battery icons as well.
Now, let's see how you can enable the new batteries widget. Long-tap your home screen's wallpaper. You will see a "+" option appear, tap it. This will open the widgets gallery from where you can select any new design of your choice. Just make sure that the one you choose displays the battery percentage.
Way 3: Use Your Assistant - Siri
One of the main pros of Apple products is the most helpful phone assistant, Siri. Whenever you want to check your battery percentage, you can simply ask her and she'll be at your service. In fact, any variation of the following questions will get the job done.
Battery percentage?
How much battery is left?
What's my battery percentage?
This way, you can make use of Siri and easily find out your battery percentage.
Way 4: Charge Your iPhone
Another effective way to see your battery percentage is to charge your iPhone. Obviously, for this method, you would need a charger at hand.
What happens is that as you plug in your phone to a charger, the date and time on your lock screen will be replaced by the battery percentage and its icon for a few seconds. Thus, charging your iPhone is also a viable way to see the battery percentage.
Way 5: Tap Your Asleep iPhone
Similar to when you start charging your iPhone, whenever you wake it from its idle-sleep state, the date will be briefly replaced by the battery percentage.
So, instead of the date, you'll see something like "55% Charged". However, this percentage is displayed only for a few moments, and the date will be back afterward.
Way 6: Pause Charging
Another way to conveniently check your battery percentage is to unplug the charger or the charging cable from your iPhone. You will see, similar to the last two methods, that the battery percentage is displayed instead of the current date.
Way 7: Use the Settings App
If you've exhausted all your options, and none of the previously prescribed methods worked for you, this one is your best bet. You can use the Settings app to check your battery percentage - although an efficient way to do things, it gets the job done.
Navigate to your Settings app and open it. The next step is to select Battery and let the information load for a few seconds. There you'll see something like "Last Charged to 85%" or something similar.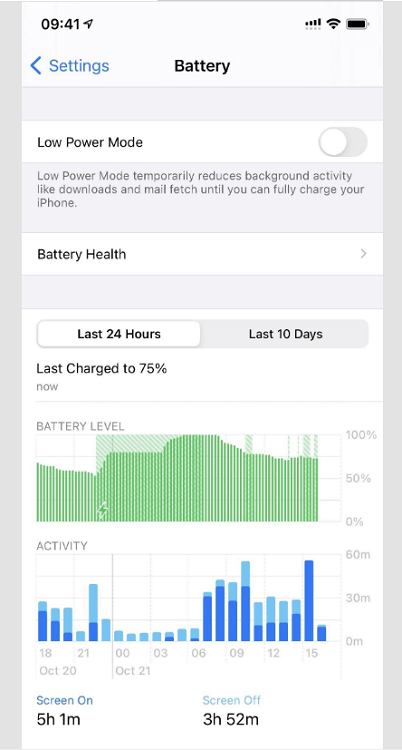 However, this number is only the percentage till you charged your phone. So, if you wanna check your current battery percentage, connect a charger.
Way 8: Try a Third-Party Application
Most iPhone users, including myself, were lucky enough to get one of the above options working. However, if that's not the case with you, worry not, as there's one last thing that you can try. Although not recommended over any of the previously described ways, you can use a third-party app to see your battery percentage.
Go to your App Store and search for something along the lines of "battery life" or "battery monitor". You'll find dozens of apps that are built specifically for this purpose - to show your battery usage and display the amount of battery percentage left. Some apps that you can try are given below.
Battery HD+
Battery Life
Battery Life Doctor Pro
Battery Percent
Battery Widget & Usage Monitor
As you must've noticed by now, you can get apps and widgets both for this purpose. Choose your pick!
To Sum Up
Users that are new to the Apple world often need some time to get accustomed to its unique features. Similar is the case with the battery percentage. Newer iPhone models like 11, 11 Pro, 12, and 12 Pro don't show the battery percentage by default.
However, it's super-easy to view it regardless of your iPhone model. In this article, I listed 8 super-easy ways you can use to show battery percentage easily. Hopefully, you are now able to conveniently monitor and check your battery life.