If you are looking to sell your old iPhone, give it away, or need to solve an issue with your iPhone. It is advisable to reset the device to help resolve these issues.
A factory reset will erase all the data and content of your iPhone.
In this post are my tips on resetting an iPhone to factory settings.
When your iPhone runs into a problem. It is advisable to reset the device to help resolve these issues. It may appear to be a complex task, but the truth is that anyone can pull it off with relative ease. In this post are my tips on resetting an iPhone to factory settings.
I have tried multiple solutions myself and compiled some of the best methods for such a situation.
Whether you are looking to sell your old iPhone, give it away, or need to solve an issue with the device without data loss, I will guide you through it by sharing my firsthand experience.
I guarantee you'll leave contentedly with the answer you want.
Let's dive right in.
Part 1: When do I need to reset iPhone to factory settings?
Resetting your iPhone deletes all your customized settings and stored data such as images, videos, docs, contacts, apps, and browser history. There are several reasons why you might wish to reset your iPhone. I found that most people will face different iPhone issues that will require resetting. The following are some of the most common ones:
You're experiencing significant iOS errors, including issues connecting to networks, screen freeze or glitch, unable to charge, or apps crashing. Resetting the phone to factory settings should fix these issues and restore it to proper functioning.
You have forgotten your iPhone's screen passcode and cannot access it.
If you're selling, trading, or giving your iPhone away, you'll want to reset it to safeguard your sensitive personal information.
You bought a second-hand iPhone that still has old information; you may want to reset it and set it up to your preferred settings.
You simply want to wipe all of the information on your iPhone.
Part 2: How to reset iPhone to factory settings?
Are you staring at your iPhone and cannot remember the password? Relax! In this post, I will cover four solutions to factory reset your iPhone without the device password, including iTunes, plus an extremely secure and fast solution.
The table below contains my simple evaluation of the best methods to factory reset your iPhone. Simply choose the method that suits your needs.
| Method | Estimated time | Requirements | Operation |
| --- | --- | --- | --- |
| Settings | 10 mins | Password, disabled Find My iPhone | Easy |
| Mobitrix Perfix | within 30 mins | None | Easy |
| iTunes | Several hours | Password, disabled Find My iPhone | Complex |
| iCloud | 30 mins or more | Apple ID, Password, enabled Find My iPhone, connect iPhone to the internet. | Take a few steps |
When I needed to reset my phone to factory settings, I happened to have it with me. At that instance, I clicked on the settings menu icon and started the process from there, and it worked magic! Plus, it's a lot faster, easier, and more straightforward.
Fastest in 10 mins: How to reset iPhone to factory settings via settings?
The settings option on the iPhone is full of commands that I found helpful in resetting my iPhone and safeguarding my data before selling it. Unlike the other techniques in this guide, this is the go-to option if you previously owned the iPhone and still have complete access to it.
Advantages
I found this to be relatively easy for anyone without any technical expertise.
The method is fast and will take you just 10 mins or less to complete.
It is a free option for resetting an iPhone.
All my data remained safe.
Disadvantages
I had to disable Find My iPhone.
It required my previous password.
I also needed to have access to my iPhone.
Steps
Back up your data if you wish to restore your personalized settings after resetting the iPhone.
Go to Settings >scroll down and click on General>Click Reset.
Finally, click on "Erase All Content and Settings".
You will be asked to enter your passcode and confirm to you that you want to delete everything. Tap "Erase" to confirm.
Then waiting for the process to finish. This process can take a few minutes, depending on how much data you have stored on your iPhone.
Notes: This factory reset option via iPhone settings is also useful when restoring the default settings on your device.
I managed to successfully reset my iPhone using the above method, but as mentioned before, I found that some people are trying to fix some iPhone issues by factory resetting the iPhone(Part 1-1). In this case, I would recommend they use a professional repair tool that I found. It will help them fix iPhone malfunction and achieve the effect of repairing factory settings within 30 minutes.
Part 3 Quickly: How to reset iPhone to factory settings or Fix iPhone without passcode via Mobitrix Perfix
Mobitrix Perfix is a computer program that helps troubleshoot iPhones without requiring authentication details or iTunes. With this professional tool, I was able to help a friend resolve an iPhone not charging problem without losing any of my data.
Based on my experience, trust me, this is a no-brainer tool. You'll be happy to use it. Try it out today!
The Mobitrix Perfix solution has two repair modes. The standard repair option is ideal for remedying iPhone issues like iPhone hotspot not working and being stuck in airplane mode while keeping the device's data safe. We used this repair option on my friend's device.
On the other hand, the advanced repair option troubleshoots deeper issues of iPhone devices as well as restoring the iPhone to factory settings and getting rid of all the data/content on the device.
Advantages
Fast - It took less than an hour to reset my iPhone.
Dual repair options - We could choose between factory resetting with data loss or troubleshooting with data preservation.
Easy to use - My nerd skills were no use here; the program is easy to use with an intuitive UI.
No authentication - It didn't ask for any authentication details.
Steps
Download and Install Mobitrix Perfix.
Connect iPhone/iPad to Computer.
If you want to fix iPhone issues, then click on "Start".
If you want to reset your iPhone, choose "Reset Device".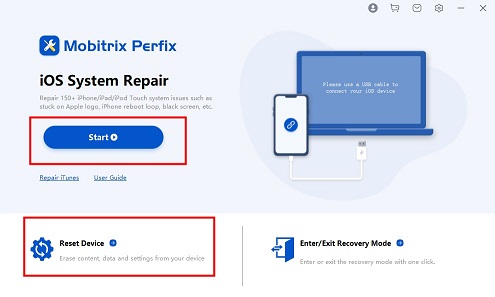 Part 4: How to factory reset iPhone with iTunes?
iTunes is a native app developed by Apple and available across all its devices. Although primarily an entertainment app, it also comes with device management capabilities to help you troubleshoot and reset your iPhone to factory settings.
Advantages
The platform is a brainchild of Apple.
It is very secure.
It is free.
Disadvantages
Requires passcode to restore the device.
You have to log out of Find My iPhone.
The method takes a long time to complete.
Steps
Open Finder or iTunes on your computer, and connect your device to the computer with a USB.
Enter the passcode or click on Trust This Computer and follow onscreen instructions
Select your device on your computer screen, and sign out of Find My iPhone.
Click "Restore" and confirm restore, then wait for the device to restart.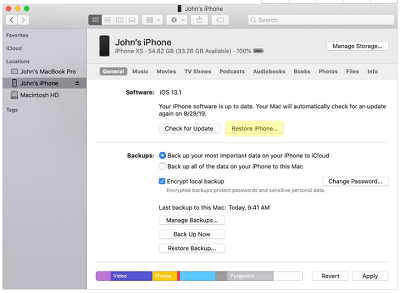 As I dived deep into researching restoring my iPhone to its factory settings, I also found that it is possible to reset my device via iCloud. This next section covers how you can do this in simple steps.
Part 5: How to reset iPhone to factory settings without a computer via iCloud
iCloud is the premier cloud service from Apple that powers all of its devices. It is also an invaluable tool that can factory reset your iPhone.
Advantages
Apple developed the tool.
It's among the most secure ways of resetting an iPhone.
It is free to use.
Web access allows for convenient use.
Disadvantages
The device must be connected to the Find My iPhone program.
It requires an Apple ID and password.
An internet connection is necessary on the target device.
Deletes all data; hence need to create a backup.
Steps
Login into your iCloud account from any web browser.
Find your iPhone from the list of devices available.
Click erase to restore the factory settings of the chosen device.
Part 6: Will the factory reset erase all the data off my iPhone?
When you reset your iPhone to factory settings, each of the methods I've outlined above will remove all unbacked-up data on your device. Essentially, the iPhone will be brand new. If you just want to repair iPhone issues, I suggest you make a backup in advance or use the professional tool.
If you still want to restore your iPhone data after a factory reset, or if you replace your iPhone, you can check out Apple's tutorial on how to restore a backup, or how to transfer the backup of your old iPhone to the new device.
Summary:
There are numerous reasons you may need to restore or troubleshoot your iPhone. Whether it is a black screen or your iPhone stuck while making an update, resetting your iPhone helps resolve this issue.
By sharing my experience, I hope you've learned some of the most efficient ways to factory reset your iPhone. However, should you need to troubleshoot your device without losing your data, the Mobitrix Perfix helps avoid the cumbersomeness of the process.