You can reboot your iPhone with iPhone settings, buttons.
You'll need to reboot your iPhone when it has some malfunctions, such as when your iPhone suddenly goes black; or when your apps shut down abruptly during use.
Sometimes you may not be able to successfully restart your iPhone, in which case you will need to force restart it.
Are you here because you have no idea about how to reboot your iPhone? Or you're having an issue with your iPhone?
Well, first, no need to be concerned! The same thing happened to my iPhone too.
You won't have to go anywhere to find bulk information in pieces because I'll provide you with all you need to know, so you can effortlessly reboot your phone without any hassle and your problem will be resolved soon.
What Can A Reboot Do?
You may need to reset your phone for a variety of scenarios. Usually, if your iPhone needs to restart, it could be for any of the following reasons:
Your iPhone has black screen suddenly;
Your iPhone becomes stuck in the middle of a task when you are using any application;
Your iPhone is extremely slow.
Your apps shut down abruptly during use.
Restart VS. Reboot What's The Difference?
To put it another way, rebooting or restarting involves cycling the power status. The device does not receive power when you switch it off. It is getting power when it is pulled back on.
When you choose the restart option on an iPhone, you are urging your phone system to restart all of the apps that are now running on it.
Types of restart, reboot, and reset:
You may have a variety of causes for rebooting an iPhone, and there will be various solutions for each. First, let's know more about the different types of restart/reboot:
| Method | Definition | Data Deleted? | How |
| --- | --- | --- | --- |
| Reboot(Restart Or Soft reset) | It is when the phone is turned off and then on again. | No | With settings or buttons. |
| Force restart(Hard Reset) | It does nothing more than switch off the phone and then turns it back on. It is also called a hard reset. | No | With buttons. |
| Factory reset | It is the software that restores a device to its original system state by deleting all data on the device. | Yes | With iPhone settings, iTunes, or professional software. |
If your data isn't backed up, there's a strong possibility it'll be lost. I would prefer that every one of you preserve your backup beforehand in order to avoid any problems.
However, if this happens, you can use other backup solutions, including your PC and iTunes. Apple provides highly extensive and useful techniques for backing up your data.
How To Reboot An iPhone?
I can now explain to you the precise procedure of rebooting the iPhone after knowing the basic notion of rebooting. If the iPhone is still usable, you can restart it via two methods below: 
How To Reboot iPhone via The Settings Menu:
It's the quickest and most convenient way to get an iPhone up and running. Here's how to do that:
Open the Settings app.
Tap "General" , then tap on the "Shutdown" option. The slider will show on the screen.
Then, to turn off your phone, drag the slider all the way to the right.
To turn your iPhone back on, hit the Power button after some seconds.


How To Reboot iPhone via Buttons?
Are you unable to reset your phone in the settings because of an error such as a frozen screen? You can do it by hitting the right buttons.
There are numerous advantages to resetting your iPhone. For instance, it's extremely simple to accomplish. Furthermore, it is safe and costs less. There's no need to worry about losing data, preserving memory, avoiding crashes, working more efficiently, or extending battery life.
I'm now going to describe how to reboot an iPhone on various iPhone models via button since the technique for each iPhone generation is different:
How to reboot iPhone X, 11, 12, OR 13?
Hold and fast release the volume up and down buttons, then press and hold the side button.
Release the button when the Apple logo displays.


How to reboot iPhone SE, 8,7, OR 6?
For those first few seconds, press and hold the power and home buttons together so that your screen turns black.
Hold it until your display turns back on.
You can let off the buttons after the Apple logo displays, and your device will start.


How to reboot iPhone 5 or earlier?
The switch-off slider will appear if you press and hold the top button.
Wait 30 seconds after dragging the slider for your device to switch off.
To reactivate your device, hold and take the top button until the Apple logo appears.


If this approach does not work, you will need to use an app to deep reboot your iPhone. I've tried various apps like that and can promise you that your iPhone can be rebooted with this method and that you can use it normally afterward.
How To Reboot iPhone via Mobitrix Prefix?
One great software to go for is Mobitrix Perfix. This tool provided me with much more than I expected in terms of outcomes. It fixed my black screen issue without using iTunes or any other Apple app.
It has 2 repair modes: standard and advanced.
The standard repair can address 95% iPhone difficulties while keeping all data on your device intact. An advanced repair can resolve 99% iPhone difficulties.
Advantages:
When I first used Mobitrix Prefix after reading rave reviews, I discovered numerous fantastic features, which is why I am confident that you will enjoy it as well. The following are some of the benefits:
Fast: This app is quite quick, as it just takes 30-60 minutes to fix the device.
High success rate: With a 95% success rate, standard repair can resolve iPhone faults while maintaining all of your device's original data. The upgraded repair has a 99 percent success rate.
Easy to use: The simplest approach as it is designed for everyone with or without technical experience.
Steps:
Get Mobitrix Prefix and install it.
Connect iPhone/iPad to Computer. In the main menu, select "Start."
Start repairing the issue of your device in a very short amount of time.


I would recommend you to first try the standard repair and then if the standard repair doesn't address the problem, then you can use the advanced repair mode of Mobitrix Prefix. This is how you may restore normalcy to your iPhone without any trouble.
In addition, I've covered the procedure of forcing a restart in great detail below.
How To Force Restart The iPhone?
It's simple to use, safe, and completely free. Furthermore, it does not result in data loss.
However, there is one drawback to forcing a restart that it isn't always beneficial. The lesser the second-hand recycling price, the more forced restarts there are.
To force restart iPhone X, and later:
Press and quickly release the volume up button, press and quickly release the volume down button。
Then press and hold the side button. When the Apple logo appears, release the button.
Force restart iPhone 8 or iPhone SE (2nd generation)
Press and quickly release the volume up button, press and quickly release the volume down button.
Then press and hold the side button. When the Apple logo appears, release the button.
Force restart iPhone 7 Series
Press and hold both the volume down button and the Sleep/Wake button at the same time.
When the Apple logo appears, release both buttons.
Force restart iPhone 6s or iPhone SE (1st generation)
Press and hold both the Sleep/Wake button and the Home button at the same time.
When the Apple logo appears, release both buttons.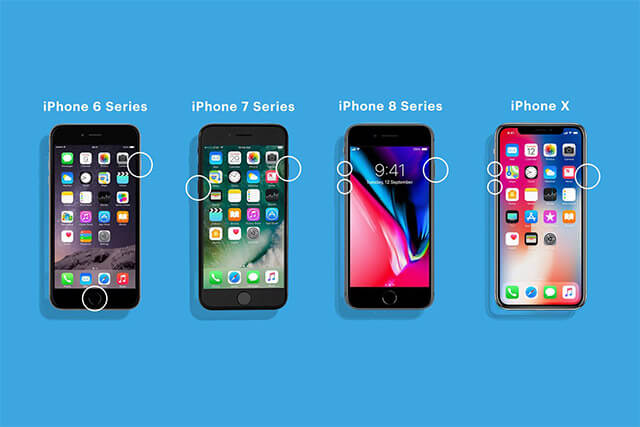 I've also developed a list of frequently asked questions that you might find useful. The frequently asked questions are listed below.
FAQs About "How To Reboot iPhone"

What should I do if I reboot my iPhone but there is still no response?

If your iPhone still doesn't respond after rebooting, I recommend using Mobitrix Prefix to repair it because it's incredibly efficient, secure, and simple to use.

Apart from the Mobitrix Prefix, try charging your iPhone and restarting it, or call an Apple store in your locality.

Which method should I use to reset my iPhone?

It is primarily determined by your requirements. You can pick between a soft or hard reset if there are minor issues without deleting data. You can choose the remaining options if the problem is more serious.
DFU mode: It allows the device to connect to iTunes, update the software, and recover the software. It's handy for reinstalling prior versions of iOS if a preview causes your phone to hang or if a jailbreak fails.
Mobitrix Prefix: You can use perfix to factory reset your device.
What to do before you sell, give away, or trade-in your iPhone, iPad, or iPod touch?
Transfer all of your data to the new device or computer first, and then delete your personal data from the old one.
Furthermore, never manually erase any other iCloud data because it can cause you difficulties. View the entire operation procedures on the Apple website to do so.
Conclusion:
I have introduced details on how to reboot the iPhone, as well as its alternative ways. You can generally resolve the issue of an iPhone by using the procedures listed above, as I have tried each technique numerous times to get many iPhones back to normal.
If a simple reboot does not solve your iPhone malfunction, then I suggest you use a professional repair tool directly, like Mobitrix Perfix, which does not require you to have any technical knowledge, just a few clicks and your iPhone will be back to normal and restart automatically!