Any part in the entire charging process can cause the iPhone not charging.
90% of the time, it's your iPhone software deciding whether to charge or not.
Changing the battery or rebooting doesn't always solve the problem. You'll need deeper types of restore. For hardware damage, you'll need to contact Apple support.
Is your iPhone not charging when plugged in? You might have an important call to make, or an urgent task to attend to, but there is just no lightning bolt in or beside the battery icon shown at the top right of the iPhone screen, a bad sign that your battery simply refuses to charge. And it is running low…
You may have tried changing cables, adaptors, or cleaning possible lint and dust on your iPhone, or rebooting. Still, it's not working?
The struggle is real, I know, especially when most professional and personal activities are closely linked to your phone.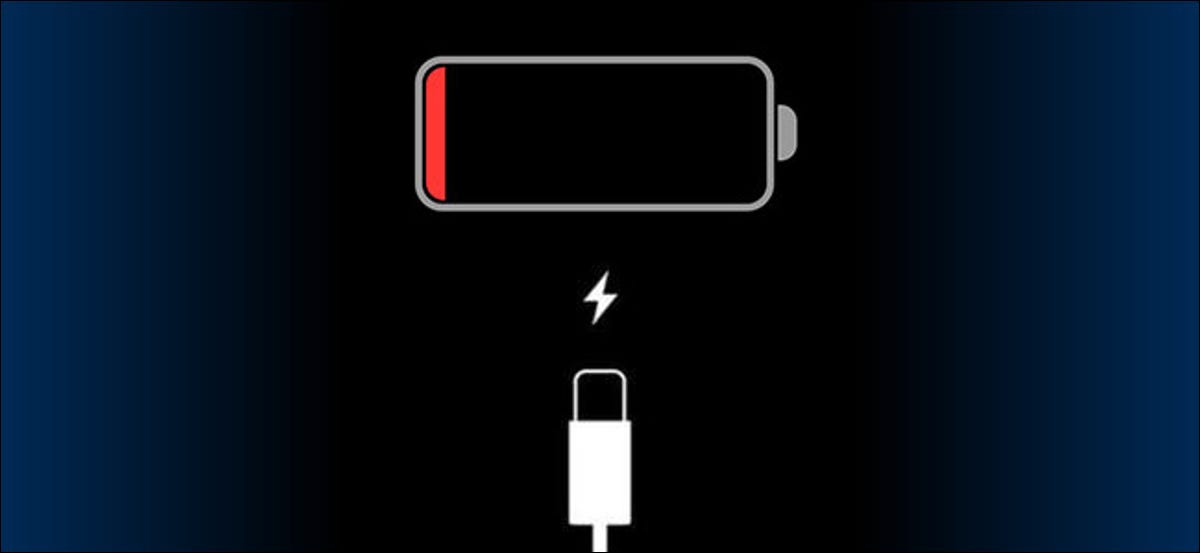 Working at an Apple customer care center for years, I have helped hundreds of anxious customers like you with an iPhone that won't charge. I am confident to say, this will be your final read to fix yours too.
If you are in urgent need of getting your iPhone charged, simply skip here for a quick fix. If you are keen to know all the ins and outs of an iPhone not charging, keep reading. But turn on the Low Power mode first, before proceeding with anything else.
How the iPhone Charging Process Works
Just so you know, iPhone not charging is an issue that you can DIY fix easily at home. And 90% of the time, it's not related to battery or hardware, but the iPhone software. You'll need to understand how an iPhone is charged first, to resolve it better.
In an iPhone charging process, there are 4 main components at play: the phone itself, charging cable, AC adapter, and the power source. This means, if any of the 4 components goes wrong, your iPhone will fail to charge. But which one is the leading factor?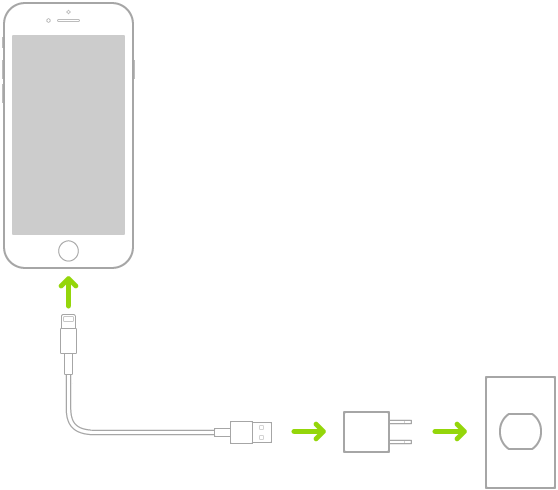 You may guess however you like, but the truth remains that the iPhone's software is critical to its functionality. It acts as the brain, deciding if and when the iPhone needs charging. Changing batteries won't always do good.
iPhone Won't Charge. How to Fix?
Working at Apple, 90% of the iPhone charging issues I have dealt with are software-related. Therefore, I'd suggest you focus on software crashes first. And this is usually the easiest type to handle.
Compared to physical damage, you should feel lucky if your iPhone is not getting charged due to software errors. Because my methods can help you fix such problems directly at home within 30 mins.
Software Crashes
To solve software issues, here are my recommended methods.
Perform a Hard Reset on Your iPhone
Hard reset is the most common way to fix an iPhone charging issue caused by software crashes. Normally, you can do so by pressing the power button and the volume down button together. For iPhone X or more recent models, you can press and release the volume up and down buttons, then press and hold the Side button until the Apple logo appears.
Most often, after performing a hard reset, your phone gets charged again. But this is merely a workaround. Those charging difficulties may resurface anytime. When that happens, you'll need to look at other options like iTunes.
In case of losing your value phone data in using iTunes, you'll almost always need to create a backup first. But what if your battery is already running low? Can you still afford to use the battery-consuming iTunes for backup?
To avoid this, I've included a quick option below that can be very effective. Mobitrix Perfix is your savior, if you want to fix the problems without risking losing a lot of data or battery.
Mobitrix Perfix
Perfix is a useful and effective repair tool, able to solve a variety of iPhone issues without data loss. It will bring your phone back to life in a matter of seconds.
The procedure is straightforward to carry out. I'll walk you through how to use Perfix to resolve things step by step.
Download Perfix on your computer.
Connect your iPhone to the computer and launch Perfix's standard mode.
Click the Start button. And the mending procedure will begin immediately.

Pros:
It has a high success rate and is really effective.
Offers quick resolutions. Doesn't take much time to run the procedures. Fixes issues in or under 30 minutes.
Cons:
The only drawback is that you must connect your iPhone to a computer.
Put Your iPhone into Recovery Mode And Restore with iTunes
In most cases, Mobitrix Perfix is already enough to repair your iPhone not charging issue. However, for those interested, I have also listed how to restore an iPhone with iTunes, by putting the device into recovery mode. After all, this is an Apple-recommended method.
If you have enough battery left, and want to give it a try, check the procedures I have offered below.
Mind you though, iTunes might be a bit complicated to use. Even when working at Apple, we wouldn't recommend users to try it. Often users cannot even connect their iPhone with iTunes. It's loading slowly. And it surely causes data loss.
Steps:
Use a USB cable to connect your iPhone to a computer.
Try launching iTunes or Finder, depending on compatibility.
Now press and hold the volume up button for a few seconds before releasing it.
Release the volume down button after pressing and holding it.
Hold the side button down until the recovery mode appears.
Make sure you have a backup on iTunes to restore the iPhone again.

Pros
It's a trustable method offered by Apple.
It is super secure and is completely free.
Cons:
It's possible that you'll lose your phone data.
Your battery will deplete faster since you must backup data first. The treatment may take an hour or more, and there's no guarantee of success.
Put Your iPhone into DFU Mode and Restore with iTunes
If you've tried the recovery mode and it hasn't worked for you, then a DFU restore is your last resort. You can try to put your iPhone into DFU mode first, and fix it with iTunes. This mode aids in the resolution of underlying software problems that may be causing your iPhone not charging.
Here's how you can execute it.
Steps:
Connect your iPhone to your computer and, depending on your device's compatibility, launch iTunes or Finder.
Press and hold the Sleep and Home Button for 8 seconds on an iPhone 6s. Press the volume down button on your iPhone 7.
Now press and hold the Home button until your iPhone shows in iTunes or Finder, then release the sleep and volume down buttons for the respective models.
Release the volume down or home buttons once you've successfully entered DFU mode. If the screen does not go completely black, you will have to start the process again.
The next step is to use iTunes or Finder to restore your iPhone.

Pros:
Highly reliable because it is provided by Apple.
It provides security and is totally free of cost.
Cons:
You will surely lose your phone data.
Because you must backup data first, which means your battery will drain faster. The procedure can take an hour or more, and there is no assurance of success.
This method will devalue your iPhone massively. Think twice if you plan to sell it sometime later.
By carrying out such actions above, in most cases, your charging issues will get resolved. Otherwise, the problem may not be with the software, but with other parts of the entire charging process.
Don't worry. I have easy solutions for you as well.
Check Cables
I'd admit it. Apple doesn't really offer an amazing experience with its lightning cables. They break way too soon. Now check both ends of your USB cable. Is there any evidence of wear and tear? If you discover something, time to replace it!
If there isn't any visible damage, connect to a computer. If your iPhone charges, there isn't a problem with the cable. Or you could borrow the cable from a friend to see whether it works.
Swap Chargers
If you've ruled out the possibility of a damaged cable and your phone is still not charged, the next step is to try charging it with a different charger. Chargers can be tricky, especially if they've been used erratically and haven't been properly maintained.
How can you determine if your charger is defective or not? Attempt to charge your smartphone using a variety of methods, such as a wall adapter or a USB port on your computer. If your phone charges fine with one adapter but not with the other, the problem could be with your charger.
Clear Out The Charging Ports
The charging ports on the bottom of your iPhone can get slightly clogged. They collect a lot of junk and filth, which might make charging your phone difficult. Your phone will not be charged if it gets in the path of the lighting cord. So make an effort to keep it in good condition. If you see any debris or lint, try to get rid of it. You must keep the port clean to avoid damaging the components and complicating the problem.
Bad Power Button
If you notice that the power button is not working, you should try plugging the iPhone into a power source and checking if the device gets automatically turned on. If the phone is working and has power, then there is a possibility that the power button or the power button cable might be at fault. So examine the power button and see if it needs a replacement.
Bad Display
Check to see whether the display is broken. When the display is poor, the screen goes black. Check to determine if the display is still black after replacing the screen.
Hardware Damage
If you've tried all of the solutions listed above and still have a problem with your device, the problem may be with the hardware. This is when you must go to an Apple Store to have it repaired.
iPhone Charging Tips To Consider
Undoubtedly, phones help us stay in touch. From personal shengenians to professional chores, we depend on our phones to a large extent. This is why it is essential to maintain our iPhone well in our daily charginging activities. As an ex-Apple employee, I tell you that the best way to avoid iPhone charging problems is to maintain your phone properly. I recommend following tried and tested tricks to prevent such issues in the future:
Authentic chargers should be used instead of third-party chargers.
Make use of the low-power mode.
Don't leave it charging overnight. Unplug it after it is fully charged.
Avoid storing in temperatures that are too hot or too cold.
Make an effort to clean the ports and maintain the cable after each use. Use it with caution.
FAQ
How do I clean my iPhone charging port?
The simplest way is to check if there's any lint and clear it out using a toothpick. There are a lot of other ways to do it as well. For instance, you can use a compressed air can. You can take your iPhone to the nearby repair center, and they'll clean it for you.
How do I know if my battery needs to be changed?
Look for signs like your iPhone taking longer than normal to charge and quickly running out of battery. Sudden shutdowns or lags, iPhone heating up quickly, apps crashing, and trouble using the iPhone could all be signs that your iPhone battery needs to be charged.
Summary
There could be various reasons why your iPhone is not charging, from cables, power source to software glitches and hardware damage. And most likely it's a software issue. Based on my years of working in Apple as a customer service representative, some of the solutions that work well are: performing a hard reset, restoring with iTunes by putting your phone in recovery or DFU mode.
But the problem with all of these is the risk involved, time consumed, and the lack of reliability. This is why I highly recommend using Mobitrix Perfix to fix your iPhone charging problems. Easy to use, quick in resolution, and a high success rate - this solution checks all the right boxes.
Recharge your phone and connect with your friends, clients hasslefree, with Perfix now.