(2022 Solved) Guide on Fixing I Don't See iPhone in iTunes
iTunes is a software that can help you to solve many issues with your iPhone. But sometimes, iTunes may not be recognized by your iPhone, making you not see it. In this article, we will discuss the various ways that you can use to solve the issue
Method 1. Restart your devices
Software problems can make your iPhone not be recognized by iTunes. To fix the problem, the first thing is restarting your iPhone.
Step 1: Open your computer.
Step 2: Plug your iPhone into the computer
Step 3: Restart your iPhone
iPhone 8 or later; first press the volume up button shortly, do the same for volume down, then finally press the Side button until the logo pops up.

iPhone 7 or 7 Plus; Find the side or top button and volume down button, then hold them long enough to observe the logo.

iPhone 6s or earlier; long-press the home and Side buttons simultaneously till you see the logo.
Step 4: Remove your iPhone' screen lock, then select "Trust This Computer." If you choose the option for not trusting the computer, the iPhone may not be detected by iTunes
If you think you selected the option for not trusting the computer, you can navigate Settings > General > Reset > Reset Location and Privacy and reset your settings.
Method 2. Check accessories
Using a cable not compatible with your iPhone may make you not see your iPhone in iTunes. Check your accessories by following the steps below: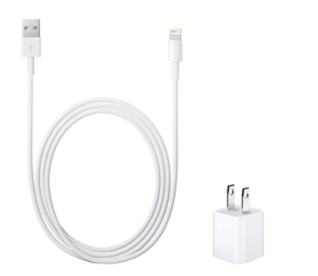 1. Remove the debris for charging your iPhone. It is located at the bottom of your iPhone.
2. Look carefully to see if you can see any observable damages. If there are damages, try a different one.
3. Try another USB cable and make sure that the connection is firm.
Method 3. Check iTunes Updates
If still, you don't see your iPhone in iTunes, you should ensure that there are no pending iTunes updates.
To update iTunes on a Mac computer, follow the steps below:
1. Open "App Store"
2. Hit the option for "Updates."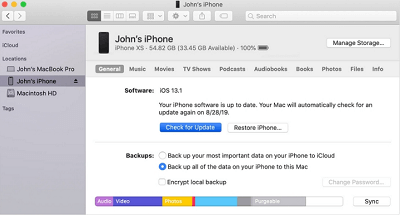 To update iTunes on a Windows platform:
1. Navigate to help on iTunes.
2. Select the option for checking updates.
Method 4. Solve the problem with Perfix
Perfix is a tool that is useful in solving various problems of your iPhone. Perfix is suitable for both iOS and Android platforms. It is also user-friendly with a few steps that even beginners who have never used it can follow without any difficulty.
Other advantages of using Perfix include:
1. It ensures the safety of your data during the process of fixing the problem.
2. Perfix can recognize your iPhone easily.
3. It fixes the problem of your iPhone with a single click.
4. It has a few straightforward steps.
To use this tool, follow the guidelines below:
Step 1: Visit the official website and install Perfix on your Mac or PC.
Step 2: Launch the application, connect your device to it, then tap on "Standard Mode"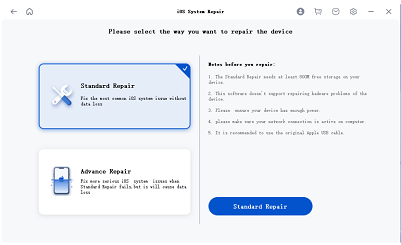 Step 3: Select the "Fix Now" option, then follow the guidelines that will be displayed.
Step 4: Hit the "Download" button to install the appropriate firmware.
Step 5: Select "Start"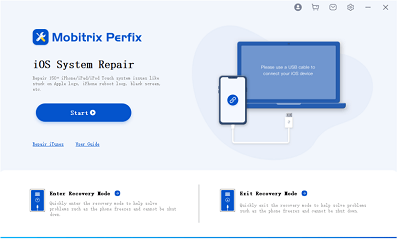 Let the iPhone be connected till the process of fixing it is completed.
Method 5. Update your iPhone to the latest version of IOS
Your iPhone may be having pending updates that may make it fail to show up in iTunes. It is recommended to update your iPhone y following the steps below:
1. Launch the Settings app
2. Head to the General option.
3. Select the "Software Update" option.

4. Hit the "Download and Install" option.
The advantages of this method are that it is free, you can perform the steps from your iPhone, and no data is lost during the updating process.
However, the update may result in another version of iOS with a different user interface from the one you are used to.
Method 6. Windows Computer Users: Update iPhone driver
To update the iPhone driver, follow the steps outlined below provided you downloaded the iTunes version from the Microsoft store:
1. If the iPhone is connected to the PC, disconnect it, unlock the device, and reconnect through a USB cable.
2. On the start button, right-click on it > Device Manager > Portable Devices
3. Right-click on the option for your iPhone, then tap on "Update driver". Then select 'Search Automatically for Updated Driver Software."
New driver software that is updated will be installed on your computer. You can test if iTunes can detect your iPhone.
For iTunes installed from the App Store:
1. Use a cable to connect your device to the PC, then unlock it.
2. Press the Windows + R at the same time to open the Run command, then type the command "%ProgramFiles%Common FilesAppleMobile DeviceSupportDrivers"
3. Tap OK.
4. Right-click on 'UsbaapI64.inf or Usbaapl. Inf then hit the Install option.

5. Disconnect your iPhone, go ahead and restart your computer, reconnect your iPhone, then launch iTunes.
Method 7. Mac Users: Check Your System Report
Step 1: On the top side to the left, click on the logo for apple after holding down the option key.
Step 2: Click "System Information or System Report"
Step 3: Select USB
Step 4: In case your iPhone is listed but cannot be seen in iTunes, you have to update the OS of your Mac.
Method 8. Uninstall Security Software
Installing security software from companies other than Apple's may make you not see iPhone in iTunes.
For Mac computer users:
1. Press down the option key, then after clicking on the menu for Apple, select "System information or System report."
2. Select "USB".
3. Check your iPhone, then uninstall any third-party security software.
For Windows computer users:
1. Navigate to the control panel, then select Programs.
2. Search for security software tools from third-party tools that are installed.
3. Right-click on the software, then uninstall them.
Method 9. Turn to professional help
1. Contact Apple Support
If you still won't see your iPhone in iTunes, it is time to seek professional help. You can contact Apple and tell them the problem. To call the apple support team, click here to find a suitable contact according to your region.
2. Discuss in Apple Support Communities
Alternatively, you can start a conversion with the support team and share your problem with them. They will connect you to an expert who will help you fix the iPhone that won't be detected on iTunes.
However, it is recommended to book an appointment from a nearby store because it may take a long time to get a response from the support team
Summary
To conclude, there are many ways of fixing an iPhone that iTunes won't reflect, as explained in this article. All the presented methods have been tested and can help you to fix the problem.
If you want a fast and efficient method, Perfix is the recommended method. With Perfix, you will be able to fix the problem within a few minutes by following simple steps.