iPhone XR, introduced by Apple in September 2018, has been the favorite of many due to its fast CPU, excellent battery life and favorable pricing. If you are one of those iPhone XR users, you may get a great headache when your iPhone XR suddenly gets stuck on the Apple logo.
Want to know why this has happened, and how to solve it?
Well, as an iPhone expert, I have got everything you need covered in this article about your iPhone XR white Apple logo issue. Let's get rolling!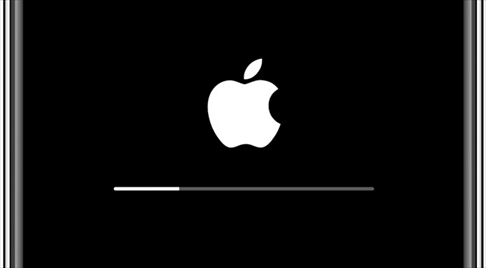 iPhone XR stuck on the white Apple logo screen of death
Why is my iPhone XR stuck on the Apple logo?
The reasons can be many. Here are the most common ones.
Jailbreaking
When you jailbreak your phone, you give up the security offered by Apple. Unofficial apps are not verified by the Apple App Store and therefore pose a security risk to your device. You no longer receive iOS updates or security updates from Apple, which once installed can clean malware and fix bugs automatically, hence the white Apple logo issue.
Low storage
Your iPhone storage matters a lot to keep your iOS device stable and running. When you operate multiple apps, especially when you power on your iPhone, it needs space to fully load the operating system. Low storage space stops your iOS from running properly. As a result, your iPhone fails to boot past the Apple logo.
Interrupted data transfer, update or restore
When transferring data from your iPhone to your Mac or PC, or trying to update or restore your iPhone with iTunes, you may use incompatible unofficial cables, which can interrupt the process and your iPhone XR gets stuck on the Apple logo.
Update error
Newer iOS versions are rich in graphics and features, requiring more advanced CPU and RAM to run smoothly. iPhone XR, as an old iPhone model, may not fully support the latest iOS 15.5.
System crashes
Sometimes when you use an outdated version of iOS on your iPhone XR, it crashes and prevents the iPhone from properly loading. Or the apps on your iPhone XR are conflicting against each other. System crash is usually the most common reason behind the Apple logo screen of death.
Running iOS 15.5 beta version
Apple's iOS 15.5 beta is incomplete software. Such pre-release software is notorious for having flaws and poor performance. There have been iPhone users who claim that when they installed the iOS 15.5 beta version on their iOS device, they faced various issues like Wi-Fi connectivity issues, Face ID problems, and the iPhone XR stuck on the Apple logo.
Hardware damage
Sometimes your iPhone gets stuck on the Apple logo when you drop your device on the floor, or if it is immersed in water. Its internal hardware components like brackets or adhesives can get damaged. Especially when your iPhone is damaged due to water, its battery terminal gets rusty and fails to pass the proper current that is required to turn on.
1. Force restart
A force restart acts as a simple yet useful troubleshooter. It abruptly shuts down all the apps running in your iPhone XR. When you force restart your iPhone, it refreshes your device by cleaning the primary storage. Nothing is removed from the secondary storage. Your data will be safe.
Force restart iPhone XR
Press and hold the volume up button for a few seconds, then press and hold the volume down button for a few seconds.
When the Apple logo appears, press and hold the side/power button, then release.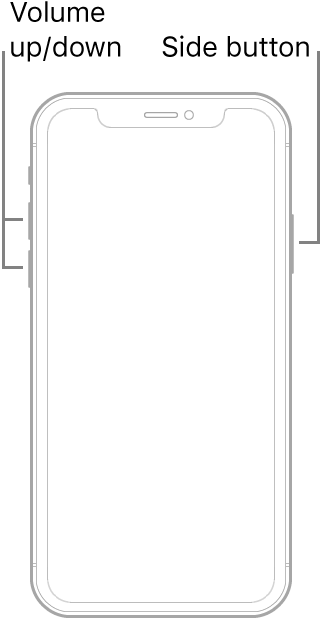 Force restart an iPhone XR
Now, wait for a while until your iPhone restarts. If your iPhone XR turns on, be noted that it's probably only temporary. Skip to know what to do then. Otherwise, read on.
2. Fix with Mobitrix Perfix
Mobitrix Prefix is a professional iOS repair software tool specially designed to fix various problems on iOS devices. It fully supports iPhone 5s to iPhone 15 and iOS 17 and earlier versions.
This method is much easier and more effective. It requires a computer with an internet connection. You can connect your iPhone XR to your Mac or PC to get your iPhone fixed. If you have all these things, here is what to do next.
First, download the Mobitrix Perfix Mobitrix Perfix software and run it on your PC after the installation.
Now connect your iPhone XR with your computer using a USB cable.
A window will appear. Here you will find the type of issue and click on Fix Now.
Now click on Standard repair.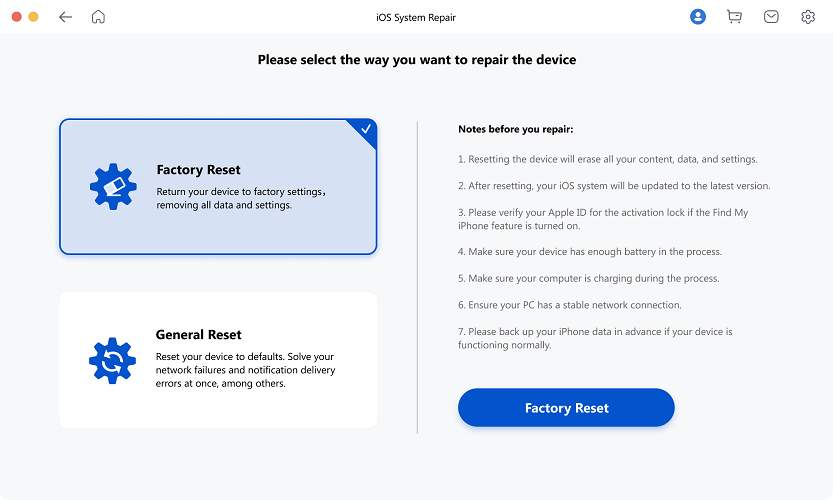 Standard repair of Mobitrix Perfix
It only takes 30 minutes to fix the Apple logo stuck issue and any other bugs on your iPhone. This tool is also super newbie friendly, requiring zero tech knowledge. It has a nearly 100% success rate too. Plus, you don ;t lose any data.
3. Factory reset iPhone XR via iCloud
You can also try to fix your iPhone via iCloud, by wiping out all its data and settings. But this method comes with certain requirements. You need to have your Find My enabled beforehand. Also, you need to have your Apple email ID and its password. If you have both, you can easily restore your iPhone to its working condition.
Here are the steps
Click "Find my iPhone" and enter your Apple ID.
Select your iPhone from the All Devices list and tab Erase iPhone. Then, all the data on your iPhone will be erased.
Note: A factory reset erases all your data and brings your iPhone back to its factory settings. So it's always recommended to create your iPhone backup first.
4. Update/restore/reinstall iOS with iTunes via recovery mode.
Recovery mode is a special built-in repair mode in an iPhone. It can restore your iPhone XR ;s functionality when it goes faulty. You need to connect your iPhone XR with a computer. Also, make sure that you have installed the latest version of iTunes on your Mac or PC. If you use Mac running macOS Catalina or after, then update your Mac and then open Finder instead.
Here are the steps.
 First, connect your iPhone XR with your PC using an original USB or lightning cable.
 When it is connected, press and hold the volume up button for a few seconds, then press and hold the volume down button for a few seconds. Press and hold the side/power button. Don ;t release until the Apple logo appears and you see that your iPhone XR has entered recovery mode.
Now open iTunes. Here you will find an "Update or Restore" option.
If you want to update your iOS, select "Update", and if you want to restore it, click on the "Restore" option. However, clicking on Update will not erase your data, while the Restore option removes everything from the device.
5. DFU restore
Putting your iPhone XR in DFU mode and restoring it is the last resort, if your iPhone XR is still stuck on the Apple logo. It is a restore option that overwrites incomplete software and firmware with a new code.
Connect your iPhone XR to a computer using an Apple-approved USB cable. Then follow this DFU guide to finish the necessary steps.
6. Contact Apple
If you have tried all the methods above and still can ;t fix your issue, It's time to contact Apple support. Apple should cover repairs for free, as long as your iPhone XR is within warranty.
You can find support via Twitter using @AppleSupport. If that Twitter doesn't help, you can speak directly to an Apple support via Support communities or by Phone.
What to do after you ;ve fixed your iPhone XR?
If you have recovered your iPhone XR, you must do the following to avoid this problem again.
1. Clean storage
Low storage can get your iPhone X stuck and can ;t turn on easily. Make sure you clean your iPhone storage regularly.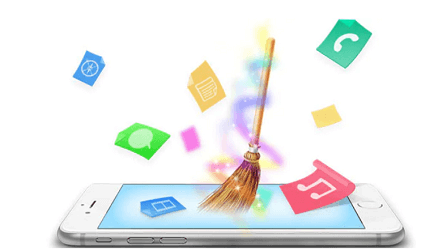 Clean your iPhone XR storage
2. Update apps
If you keep your iOS and its apps updated, it would act as an antivirus against malware and glitches. Because developers always try to make changes in the apps to keep malware away.
If your iPhone XR is stuck on the Apple logo, this article will serve as a comprehensive repair guide for you. I ;ve discussed various approaches to resolving this problem, including force restart, iTunes and Mobitrix Perfix.
Force restart is simple, but doesn ;t always fix the problem. Using iTunes is a bit complicated, especially when you go for a DFU restore.
So, if you want to fix your phone in a very short time without losing data, try Mobitrix Perfix. It is easy to run, and only takes 30 minutes to fix any iPhone XR bugs. You don't have to be technical to use it.