Reboot iPhone 11 via AssistiveTouch or Voice Control
After trying the first hack but with no luck, turn to the AssistiveTouch or Voice Control. The AssistiveTouch provides a virtual on-screen button to help perform gestures and actions if the screen isn't working. With Voice Control, you interact with and navigate your iPhone 11 using your voice to swipe, tap, type, lock the screen, and more. If you haven't set up these features before, you would need to turn them on to use them.
Use the AssistiveTouch
From Settings, go to Accessibility.
Open Touch, then turn on the AssistiveTouch toggle.
The virtual AssistiveTouch button will appear on your screen. Press it to view the menu options.
Tap Device > tap and hold Lock Screen.
Swipe the power-off slider to the right to power off your iPhone 11.
How to power off iPhone with AssistiveTouch
Use Voice Control
Voice Control can also help in this scenario. It requires iOS 13 or higher, and before using Voice Control, you must connect to Wifi to download a file.
From your iPhone 11 Settings, open Accessibility.
Choose Voice Control and tap Set up Voice Control. A file will download in the background. Once complete, you will see a microphone symbol in your iPhone's status bar to indicate whether or not Voice Control is listening.
With Voice Control turned on, speak the command "Show me what to say" to see all the available commands.
Say "Reboot device" to lock your iPhone 11. Your iPhone 11 will restart right away.
Shutdown iPhone 11 with voice control
Hopefully, the problem should be resolved. But if not, it is time for a hard reset.
Perform a force restart to unfreeze your iPhone 11
Unlike a normal reboot, a force restart or hard reset will forcefully cut off power to all activities in your iPhone 11, ending all faulty processes that may make your iPhone 11 freeze. And then it starts everything afresh and boots up all software processes anew.
Steps
Click and quickly let go of the Volume Up button.
Press and immediately release the Volume Down button.
Press the Power Button without releasing it until you see the white Apple logo.
Force restart iPhone 11
Fix your iPhone 11 with Mobitrix Perfix
If, until now, your iPhone 11 is still frozen and unresponsive, try Mobitrix Perfix. It is a simple, smart, and secure solution to help you repair 200+ iOS system errors. You will unfreeze your iPhone 11 at home without any technical skills and no data loss.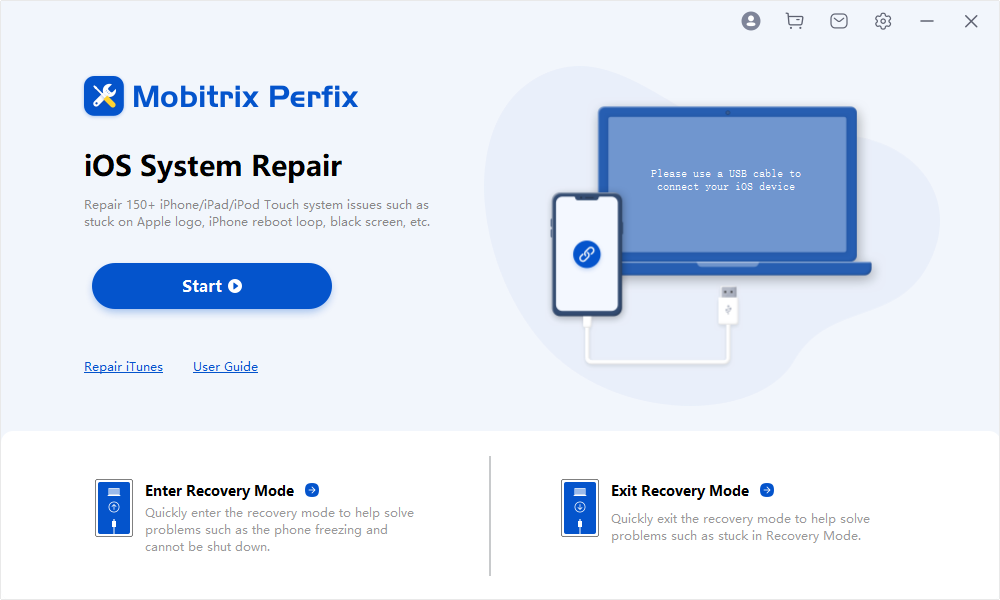 Mobitrix Perfix iOS System Repair
Steps
Set up Mobitrix Perfix on your computer.
Connect your iPhone 11 with a USB lightning cable.
Launch Mobitrix, click Start, then Fix Now.
Give it around 30 minutes to complete the process. Your iPhone 11 should restart and the freezing issue is fixed.
Here's a detailed video tutorial on how to use Mobitrix Perfix:
Update or restore your iPhone with iTunes
The other solution is to update or restore your iPhone 11 using iTunes or the Finder app. There are two ways to go about it.
Via Recovery mode
Recovery mode is a special troubleshooting mode that allows iTunes to communicate with your iPhone 11 firmware on a computer. You can use it to erase the iPhone and then set it up again as new or from a backup. Hopefully, this will unfreeze your iPhone 11.
Steps
Connect your iPhone 11 to a computer and launch iTunes.
Press and immediately release the Volume Up button and repeat the same step for the Volume Down button.
Press and hold down the Side button. The Apple logo will appear on your screen, but don't let go of the button. Keep holding it down until the recovery modescreen appears, then release it.

Put your iPhone 11 in recovery mode

On your PC or Mac, select your iPhone 11 in iTunes. A message will pop up indicating your iPhone 11 has entered recovery mode.
You will see the options to either Update or Restore. Select Update to see if it fixes the freezing issue. If not, repeat the process and, this time, click Restore.
Update or Restore iPhone 11 with recovery mode
Via DFU mode
If recovery mode doesn't fix your frozen iPhone 11, resort to DFU mode. DFU mode is more comprehensive and can help solve more difficult issues. While in DFU mode, your iPhone 11 will be powered on but won't boot up the iOS allowing you to make iOS changes while it isn't running.
Steps
Open the latest version of iTunes on a computer.
Shut down your iPhone 11 and connect it to a Mac or PC.
Put your iPhone in DFU mode.

Press the Volume Up button and quickly release it. Repeat the same for the Volume Down button.
Hold down the Sleep/Wake button and wait until the screen goes black. If there are any icons on the screen, your iPhone 11 is not yet in DFU mode.
As you continue holding the Sleep/Wake button, again hold down the Volume Down button for a while.
Let go of the Sleep/Wake button while you hold the Volume Down button.
Once the iTunes/Finder app on your computer shows it has detected your iPhone in recovery mode, release the Volume Down button.

On the iTunes app, click Restore iPhone.
By restoring your software and firmware, DFU restore should fix your freezing iPhone 11.
Erase your iPhone
You can eliminate all faulty apps, activities, settings, etc by factory resetting your iPhone. Go to Settings > General > Transfer or Reset iPhone. Tap Erase All Content and Settings.
If your iPhone is too stuck for you to do anything about it, you can erase all the content and data remotely with iCloud. But this requires that your Find My App has been enabled beforehand. Since your iPhone 11 is frozen, you will use another iOS device to access your iCloud account.
Steps
On another iPhone or iPad, open the Find iPhone app. You can also visit iCloud.com using a computer's web browser to sign in to your iCloud account.
Click All Devices and select your iPhone 11.

Erase iPhone 11 using iCloud

Click Erase iPhone.
This will wipe all your data from the iPhone 11, and you can return to using your device as usual.
Fix iPhone 11 frozen on apps
Sometimes a frozen app(s) can make your iPhone 11 unresponsive. If that is the case, you may have to delete, uninstall or update the app to fix the situation.
Delete apps
Permanently deleting the suspected app will remove it and all its related data from your iPhone 11. That clears out errors caused by the app and could stop your iPhone 11 from freezing.
Steps
On your home screen, tap and hold the app you want to delete.
Click Remove App.
On the new pop-up, tap Delete App. Lastly, tap Delete to confirm your actions.
Delete an app from the home screen
The App Library or the Settings App can also be used to delete apps.
Uninstall apps
Another way is to uninstall unused or faulty apps. This frees up the iPhone's memory, helping the iPhone load faster. But it keeps the app's related settings and data so you can restore them if you ever reinstall the app again.
Steps
Navigate to Settings > General > iPhone storage.
Tap the application to uninstall and click Offload App.
Tap Offload App once more to confirm your decision.
Uninstalling apps on iPhone 11
Update apps
If an outdated app was causing the problem, then updating it should return your iPhone to normal. All apps downloaded from the App Store will automatically update by default. But if that fails, then you should manually update it to fix the iPhone 11 frozen on apps problem.
Steps
Go to the App Store and click on your Profile Icon at the top of your display.
A list with all your apps will appear, and you can scroll to see if there are any available updates or release notes.
Tap Update on the app you want to update or tap the Update All button to update all pending updates.
Update apps on iPhone 11
Generally, all these methods are tried and tested. They should help fix any system or software errors that could be causing your iPhone 11 to freeze. But if the issue isn't resolved up to this point, it is probably a hardware problem. You should contact Apple Support or visit your local Apple Store for a physical check-up.