We all love it when there's a new iOS update, but what can be more annoying than when an error occurs while updating your iPhone?
Well, first confirm if your iPhone model supports the latest iOS 15.5. For iPhone 6 and earlier, you cannot install iOS 12 and above. iPhone 6s and higher can install up to iOS 15. Still experiencing installation issues? Keep reading. This post will outline the actions you can take to solve the issue!
An error occurred while installing ios 15
Basic Fixes
First thing you should do is to try those simple tricks below. Sometimes they can work wonders. And you don't need any external apps, or any tech expertise to apply them.
Soft Reset/Hard Reset Your iPhone
A soft reset is a popular and easy way to handle iPhone errors. It's the same as a restart. By performing a soft reset, your iPhone closes all running applications and starts anew.
A hard reset, on the other hand, is a force restart, forcefully rebooting your device. It must not be confused with a factory reset, which would wipe out all your iPhone's data. A hard reset would not lead to data loss. It is initiated from the hardware keys, (volume, power, etc.) whereas a soft reset is initiated from within the devices software.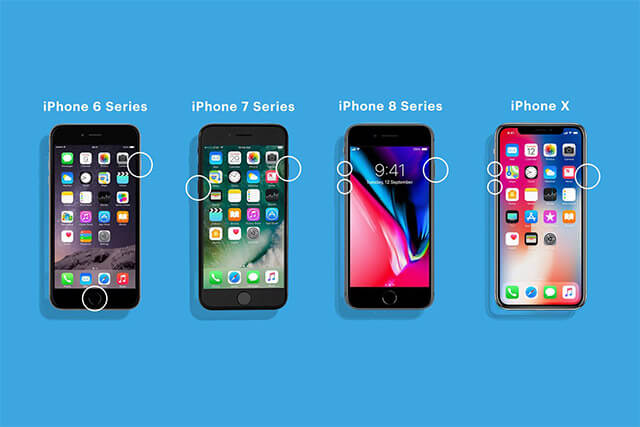 c
Force Quit The Settings App
On some occasions, the Settings app can lag or become unresponsive during an update. You can force-quit the Settings app, to quit this process and start afresh.
This move will not delete data saved to your iPhone. However, your unsaved data can be removed. To force quit the Settings app, here's what you do:
iPhones With a Home Button
Click on the Home button to bring out the apps you used most recently.
To find the app you wish to quit, swipe right or left
To close the preview card of the app, swipe up on it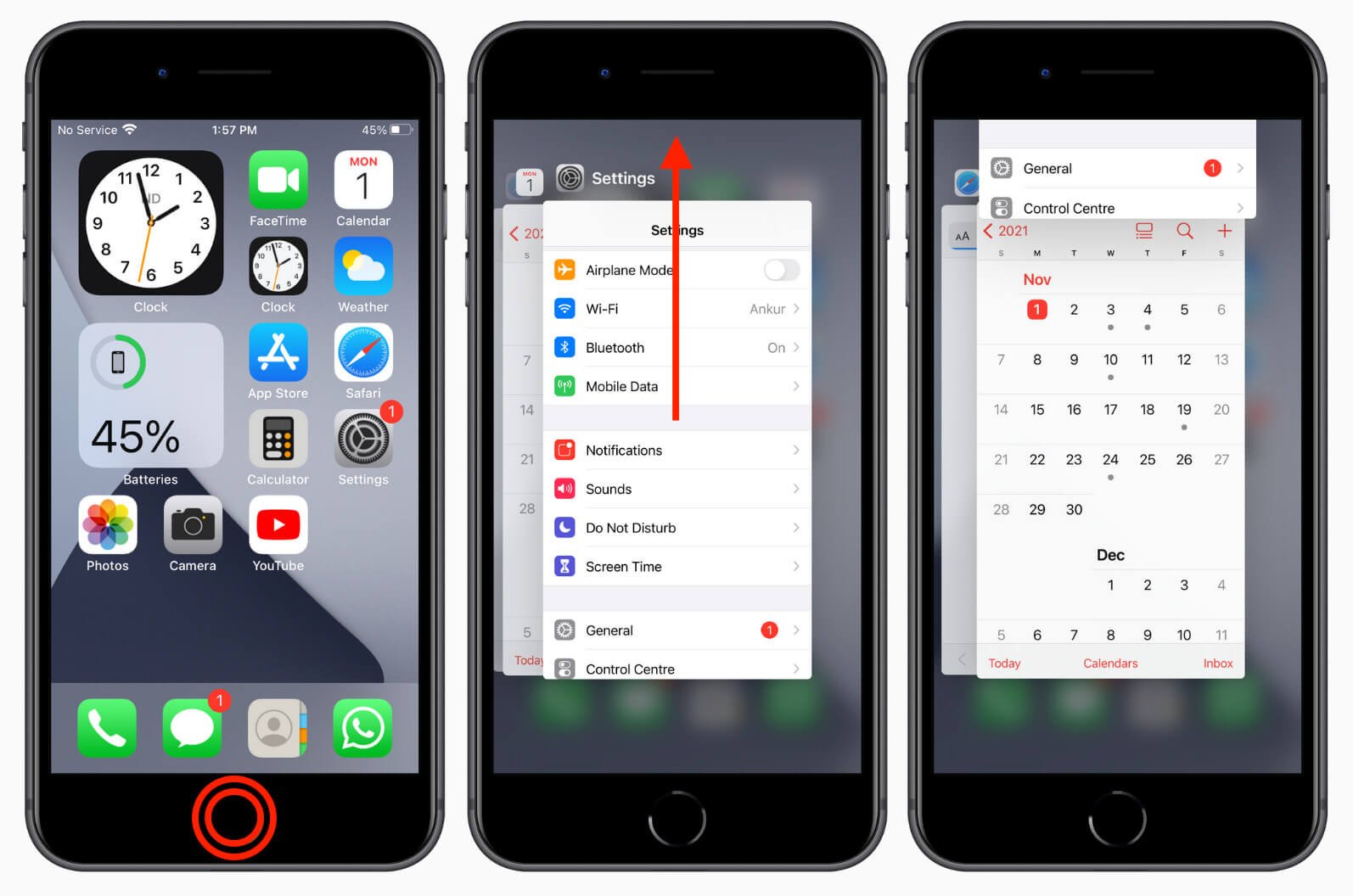 Force quit the Settings app on iPhone with a Home button
iPhones With No Home Button
Swipe up from the bottom of the iPhone's Home screen or if you're in an app, hold down the screen for a little period of time and then release it when the App Switcher displays.
To identify the app you would like to close, swipe left and right through the many app cards.
To quit the app, quickly swipe upwards.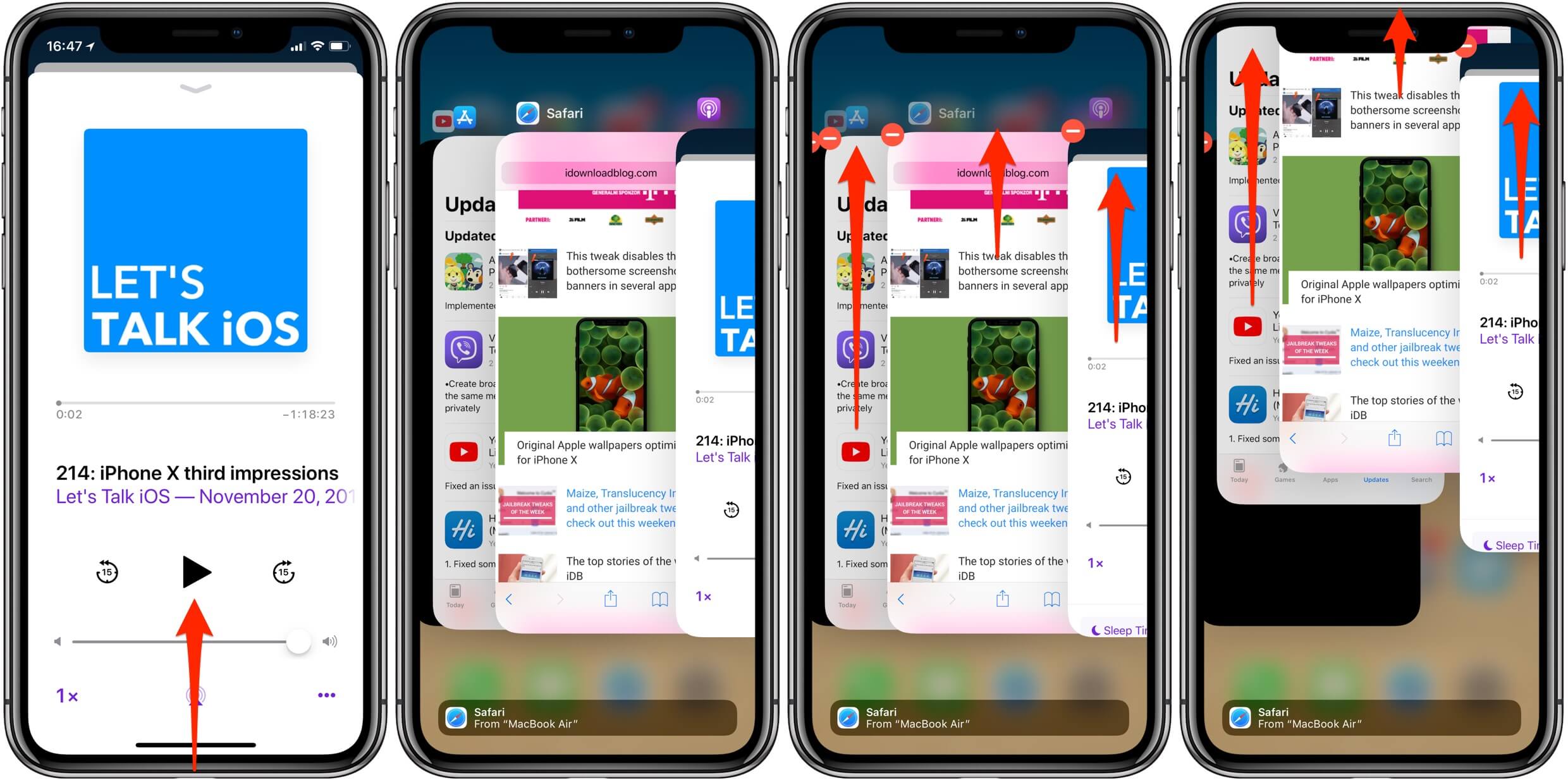 Force quit the Settings app on iPhone without a Home button
Clean iPhone Storage
When your iPhone has insufficient space for the iOS update, it will first attempt to make space by removing app data that can be redownloaded. Then, the error occurs.
To avoid such delay next time, check your iPhone storage before you start downloading updates. Just so you know, the update files can be as large as 4GB, depending on your last update. To clear your storage you can do the following:
Open the Settings app
Select the General menu
Select the Storage menu from the list. You will see the amount of space each app takes on your phone. You can then proceed to remove unnecessary stuff like browser cache, duplicate photos, cookies, crash logs generated by third-party apps, etc.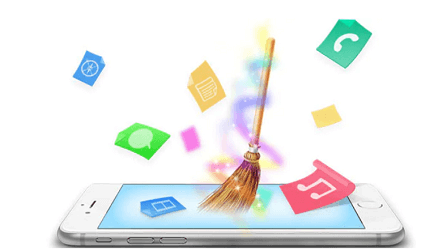 Free up iphone storage
Check Network Connection
A slow or broken network can freeze your update process, thereby making your iPhone stuck. To download your update packages smoothly, you should use a WiFi network instead of mobile data. If you are experiencing network issues, try the following:
Switch the internet connection: If the network you are connected to is slow, it will not permit large file downloads, or does work well with specific sites. Try a different internet connection at a friend's or your workplace.
Reset network settings: All internet and networking-related data, including Wi-Fi names and passwords, network login credentials, and other data, will be deleted from your device if you choose to reset the network settings. If the installation error was due to a problem with the network, the reset should have erased it.
Here's how to reset network settings:
Open the Settings app > General menu > Reset menu (Transfer or Reset menu) > Reset Network Settings > Enter passcode if prompted. Your device will automatically restart. Then, turn on your WiFi, connect to your preferred network and restart your download.
Reset network settings

Restart the router: Update errors sometimes occur when there is an inconsistent supply of data packets from the router between computer networks. This could cause a poor connection and stop the update. To solve this, try restarting your router by unplugging it and connecting it back.
Forget and reconnect to WiFi: If the error was caused by your iPhone's WiFi connections, forgetting and reconnecting will allow your iPhone to initiate a network connection again so you can continue/restart the update. Open Settings and select WiFi. Then Click the i icon beside the network you want to forget. Click Forget This Network. Next, reconnect to your WiFi and enter the password.
Remove And Download The Update File Again
Sometimes your previously updated iOS 15 file may have been corrupted or damaged, then the installation error occurs. Deleting the update and downloading it again may help the entire package get installed properly. Here is how:
In the Settings app, open the General menu
In General, open the Storage menu
Search for the iOS 15 update in the list and click Delete Update
Return to the General menu, select the Software Update menu and download the latest iOS again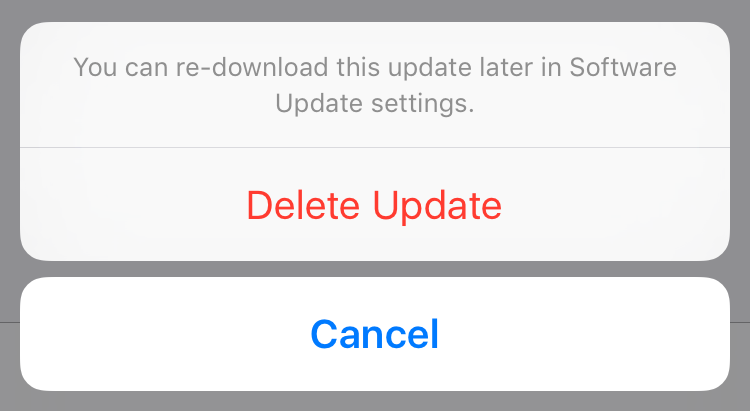 Remove the previously downloaded update packages
Check The Apple Server Status And Retry Later
When there is a new update, there is usually a lot of pressure on Apple servers. This is because a lot of people are trying to download the latest iOS. Should you see "waiting to update" on your device, check the Apple server status to ensure the server is not down. If it is down, you should know that it's not your iPhone issue. Simply try to update it later.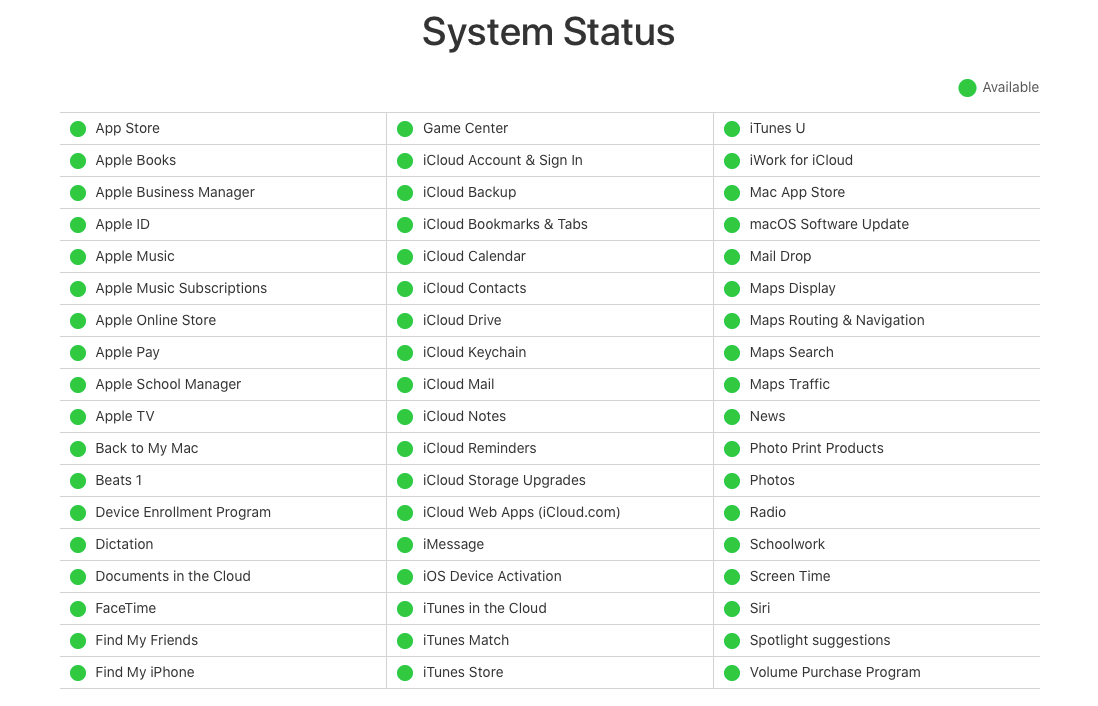 Check the Apple server status
Disable Restrictions
Maybe your iOS 15 update is getting held up by a privacy restriction on your iPhone. Check to confirm.
Open the Settings app
Select Screen Time
You will see Content & Privacy Restrictions. If it's on, tap the switch to turn it off.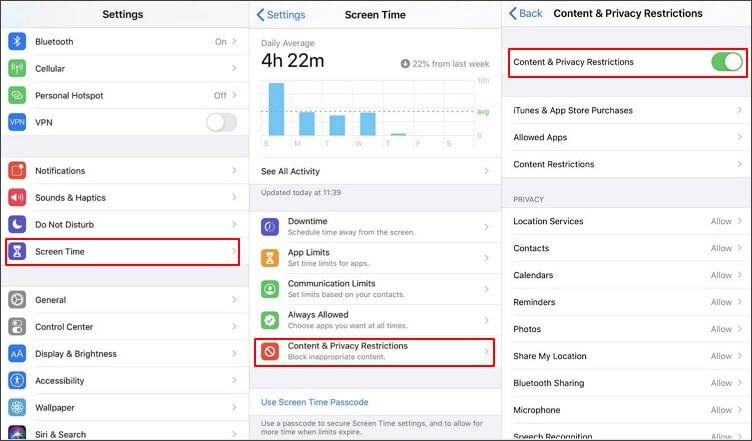 Disable privacy settings
Advanced Fixes
Sometimes, those basic fixes above are incapable of fixing your iOS 15 installation error, since sometimes the major issue lies in the iPhone's core. But not to worry, I've got some advanced, professional iOS repair tools for you that will surely work out.
Fix your iPhone via Mobitrix Perfix
First on this list is Mobitrix Perfix because it is the best and easiest repair software solution on the market, designed to solve all types of iPhone system and software problems, including iOS update issues. With it, you can solve most iPhone issues swiftly from the comfort of your home. To fix the error occurred when you are installing iOS 15:
Connect your iPhone to your computer with a USB cable.
Download and launch Mobitrix Perfix on your PC. Click Start.
Click the Standard Repair on the dashboard that appears.
Download the presented firmware. Soon the repair process will automatically begin. Make sure you do not disconnect your phone during this process. In around 30 minutes, your iPhone will be fixed as new.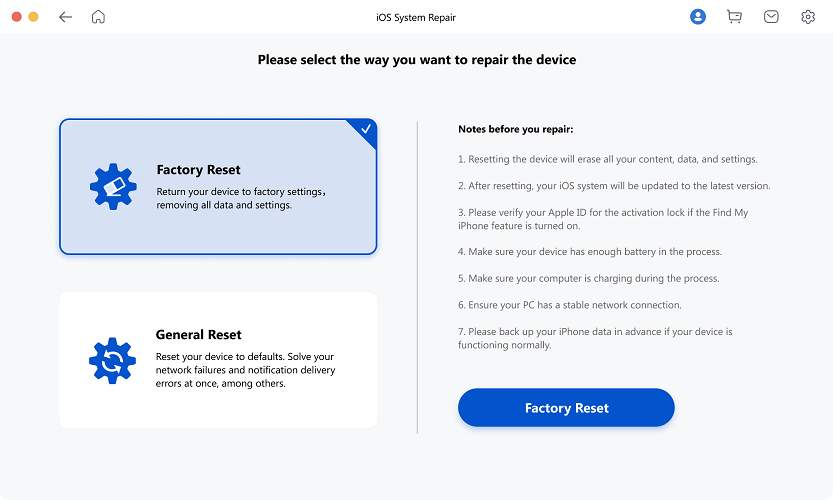 Standard repair option of Mobitrix Perfix
There is no loss of data from your iPhone.
It is very easy to use. Only a few clicks are needed. You don't need any coding or tech experience to know how to use it.
It can fix a large number of iPhone problems that iTunes and many other iOS repair tools cannot fix, including stuck screens, repeated restarts, black screen, and network problems.
It is compatible with all iOS models and versions.
It has a 99.99% success rate.
Update with iTunes via Recovery Mode on PC/Mac
Although tricky and time-consuming, this method can still fix several iOS issues.
If you are a Mac user with macOS Catalina or later, you should update your Mac first and turn on Finder, but if you're using macOS Mojave or earlier or a Windows PC, install and launch the latest iTunes instead.
To avoid interrupted connections between your device and computer, you should first:
Make sure you use an original Apple cable
Plug the Apple cable onto your computer port, not a keyboard USB port
Here are the exact steps:
Connect your iPhone or iPad to your computer.
Open iTunes. iTunes will automatically read your device.
Click Update when you get a message, "There is a problem with the [device] that requires it to be updated or restored."
If you get another message saying "If your [device] can't be updated, you will need to restore it to its factory settings", click Update again

Update or restore your iPhone
Update should be the first option you choose, as it doesn't delete your data. If it doesn't work, you will get a reminder to choose Restore instead. However, your data would be erased at Restore. If you don't want that to happen, go back to Mobitrix Perfix.
You can also put your iPhone in DFU (Device Firmware Upgrade) mode and try again. While recovery mode uses iBoot bootloader, DFU mode bypasses the iBoot bootloader to connect your iPhone to iTunes.
To put it simply, DFU mode is for more complicated iOS problems that recovery mode cannot handle. DFU mode can be used to downgrade your iOS, prevent the default OS from loading, and jailbreak your iPhone. Here is the tutorial on performing a DFU restore.
Download The IPSW File And Update Manually
IPSW files are individual firmware downloads for certain iOS devices. This means that you update your iPhone with such files manually with the help of iTunes or Finder. For people with restricted access to broadband internet, using firmware files offers a substantial advantage, because you can obtain software updates over a remote, quicker connection. The IPSW file would then typically be copied to a USB key or DVD and brought home to manually update a device. To use this method:
Connect your iPhone to your computer using a lightning cable.
Launch iTunes or Finder on your computer.
Hold down the Option key on your keyboard, then click Update. If you are using a Windows PC, hold down the Shift key instead.
Choose the IPSW file you have downloaded. Next, allow your iOS to update completely.
Other fixes
You can also try those minor fixes below. They may not have a really high success rate, but are still worth trying.
Turn off Low Power Mode
Power saving mode can delay the update of some features because it chokes the processing power given to apps. Also, some tasks might not work until you turn off Low Power Mode.
If low power mode is on, your battery icon will be yellow. Turn it off and restart your update. Also, remember to keep the iPhone battery above 50% or plugged into power for an update. A low battery can abruptly stop your update. To turn off low power mode:
Open Settings.
Scroll down and tap Battery.
Move the slider to the left to turn it off.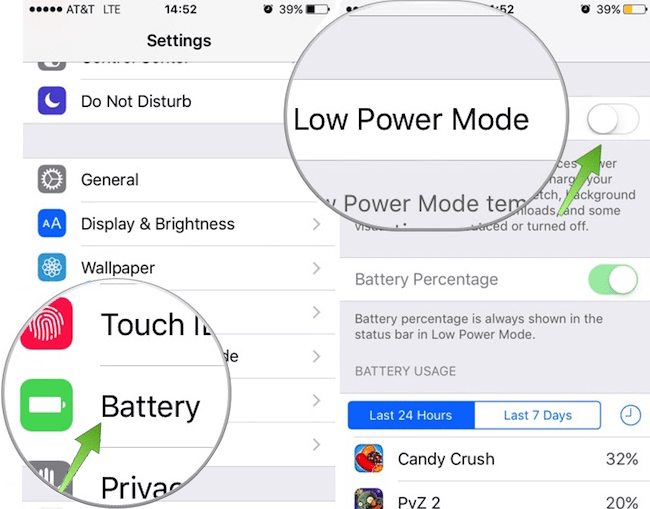 Turn off the Low Power mode
From Control Center, you can also enable and disable Low Power Mode. Select AALow Power Mode to add it to the Control Center by going to Settings > Control Center > Customize Controls.
Turn off VPN
When installing updates on your iPhone, it is best that you connect to WiFi and not any other network like a VPN. Because a VPN reroutes and encrypts your connection to the internet through the VPN server, your connection speed might drop significantly, and this can lead to an error. Open your Settings app > General > VPN & Device Management > VPN > Turn off VPN.
Disable Hotspot
When your hotspot is on, it can slow down your network, which, in turn, affects your update download. To disable hotspot, swipe down from the top-right corner of your screen. Tap the hotspot icon to turn it off.
Turn Airplane Mode on and off
Turning on Airplane mode will disable all your network connections. Similar to restarting your phone, toggling Airplane Mode on or off can also refresh your device's internet connection. Turn it on, then turn it back off, and see if your internet gets any faster. If it works, restart your update and it should proceed smoothly.
Swipe down from the top-right corner of your screen.
Tap the Airplane icon to turn it on.
After about a minute, tap it again to turn it off.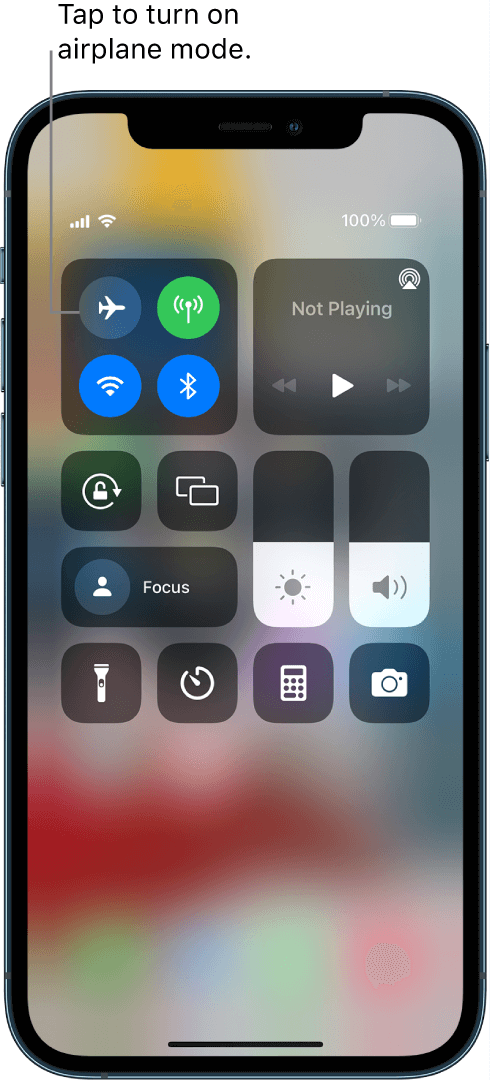 Turn on the Airplane mode
Remove SIM
Your SIM card is like an entry ticket to all data and services on your iPhone. Sometimes, the iOS 15 update is halted because of bad signals, since your SIM card is not seated well in the SIM tray.
Also, your network speed can be affected by your network carrier, especially if the signal is poor or inconsistent. If you don't have up to 10Mbps' internet speed, you might keep getting the error message.
To solve this network problem, you can reconnect to your mobile network by removing and reinserting your sim card.
Sign out of Apple ID
The update error is sometimes caused by an error with your Apple ID. You can solve this by signing out your Apple ID to remove some saved settings. After you sign back in, the error should have been erased. Try restarting the update. To sign out:
Open Settings > Apple Profile > Sign Out > Enter ID Password > Tap toggle to keep copy of data > Sign Out.
To sign in again, Open Settings > Tap Sign In > Enter Apple ID and password > Enter Verification Code sent
Close Background Applications
When an iPhone has a lot of apps running in the background, they can take up its resources like RAM, hereby disrupting iOS updates. To close background applications:
iPhone X or later
Swipe upwards from the bottom of the home screen. This can display the apps that are opened.
Swipe up on the preview of each app to close them.
iPhone SE, iPhone 8 and earlier
Click the Home button twice to show the apps you used most recently..
To find the app that you wish to quit, swipe right or left
Swipe up on the app's preview to close the app.
With shining new features and assuring security updates, etc. iOS 15.5 updates mean a lot to your iPhone experiences. And for you, it never should be a battle when you try to install them. The methods discussed above will fix errors occurred installing iOS 15, and your iPhone will be up to date in no time. If you need a quick solution, then Mobitrix Perfix is the best, as it offers the simplest and fastest steps of all, with the highest guaranteed success rate.