Sharing location comes with a lot of advantages but hiding your location also has some pretty amazing benefits.
You can roam freely without being spied on or plan a birthday surprise for your friend with them knowing about your location.
This article lists the five most efficient methods of learning how to hide your location on your iPhone and enjoy your freedom.
Sharing location with your close ones can save you in an emergency situation but do you feel like being bound or spied on all the time from having fun?
Well, this is a genuine feeling as I got the same feelings by sharing my location. Is there any way to get rid of this? Of course, Yes. Hiding your location can solve this problem.
Are you confused because you do not know any method to hide your location on your iPhone? Don't worry; I got you covered with five excellent ways to hide location.
But to have an effective result and a great experience, make sure to go through this guide till the end.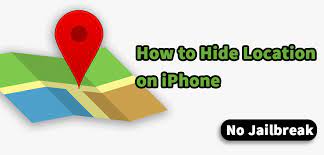 Before getting to the methods, I assume that you might wonder how sharing my location on iPhone actually works. Well, there is no reason I will neglect this concern of yours. In this next part, I have listed how sharing location on iPhone works.
How Does iPhone Share My Location work? And The Way You Should Avoid
iPhone has always been popular for its location-sharing technology. It lets you share your location with your friends and family by creating a location-sharing group. This can prove to be a good feature if you are stuck in an emergency, but hiding your location can also be good sometimes if you want to spend some time alone.
Let's discuss an important thing before we get on to the methods. You might have heard people say and read online that turning Airplane mode on your iPhone is the easiest way to get rid of location sharing. But I'm afraid that's not right. iPhone still lets others track your location with the latest iOS 16 update. I was curious about what was true and tried this method multiple times, but nothing seemed to work.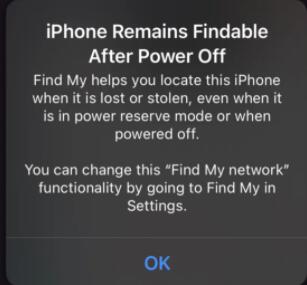 Let's start with the first method of how to hide location on iPhone.
Trick 1: How to Hide Location on iPhone without Them Knowing
Do you know hiding your location by turning it off in the iPhone notifies others about your action? Well, it does, but this can be prevented by faking your location. In this way, people on your list will not be notified, and your actual location will not also be disclosed.
Mobitrix MagicGo is your ultimate solution for hiding location. It is a professional tool that can fake your location on different location-based apps and games to hide your actual location. Here are some pros of Mobitrix MagicGo for a better understanding of the application.
Pros
The steps are super easy and fast.
It does not notify others.
You can change your location multiple times.
Works with all location-based games and applications such as Tinder and Pokemon Go.
Steps
Launch Mobitrix MagicGo
Connect your iPhone to the computer.
Click "Start"
Set a location from the map and click "Move."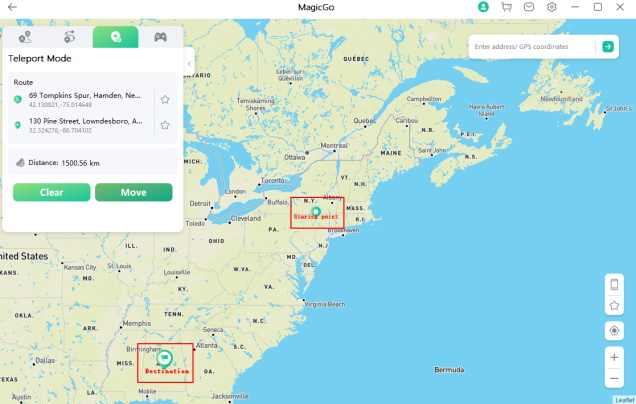 While hiding my location, I always use Mobitrix MagicGo as it is one of the best ways to hide location, but I can understand if you are curious to know more methods. Let's get to the second method of hiding your location.
Trick 2: How to Hide Location on iPhone on Find My Friends
iPhone comes with a location-sharing feature that is to find my friends. You can use this feature to share your location with your family and friends so they can know where you are or if you need any help in an emergency. This feature can also be turned off to hide your location if you do not want to share your location. Let's take a look at some pros and cons of the method followed by steps.
Pros
You can easily follow the steps.
It can remove someone you do not want to your location with.
Cons
The person will be notified with whom you have removed from the location sharing list.
Steps
Open the Settings on your iPhone
Click on your name at the top of the window.
Tap on "Find My."
Turn off "Share My Location."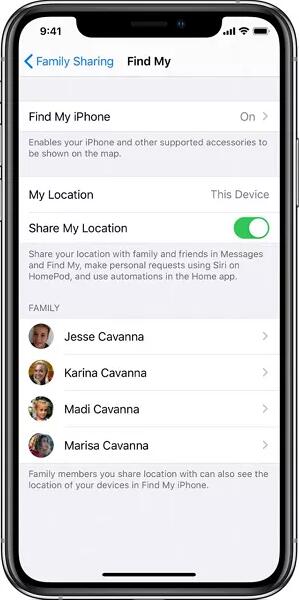 I tried this method, but I had a strange interaction afterward. A friend of mine started asking why I stopped sharing my location with him. This got me thinking if I got into the same situation with my parents. That's when I found Mobitrix MagicGo and decided to use it every time.
Sometimes a method might not work for some people, so here is another method for you if you want to try. For this method, you must have a spare iPhone or any other iOS device.
Trick 3: Use another iOS Device to hide your Location
Another iOS device can be used to mock your actual location so you can hide your location on your iPhone. But you might not be able to follow this method if you do not have a spare iOS device. Let's take a look at some of the pros and cons of the method before moving to the steps.
Pros
It does not notify others.
Cons
You must have another device.
Location can be discovered easily if you stay in one place for a long time.
Steps
Launch Settings on another iOS device.
Click on your name at the top.
Select "Find My" and
Click on "Use This iPhone as My Location."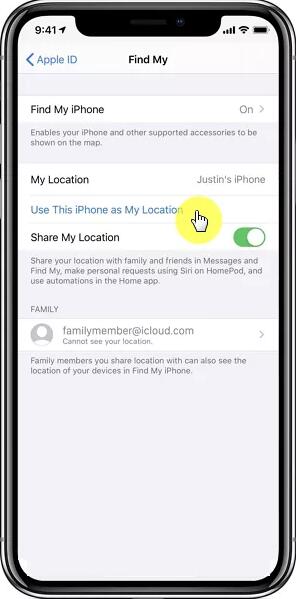 I know what you might be wondering right now. Are you having trouble sharing your location with a specific app? Don't worry; I am here to keep you sorted. The following method tells you how to hide your location from a specific app.
Trick 4: Hiding iPhone Location with a Certain App
While installing apps, almost all applications want to access your location, but what if I don't want to share my location as it feels like someone is spying on me. Here is what you can do.
Pros
The steps are quick and easy.
It can stop certain apps without blocking others.
Cons
It only works for apps.
Location-based apps will not be able to work.
Steps
Launch your iPhone's settings
Go to privacy settings.
Select the location services.
Select the applications you want to block for location service.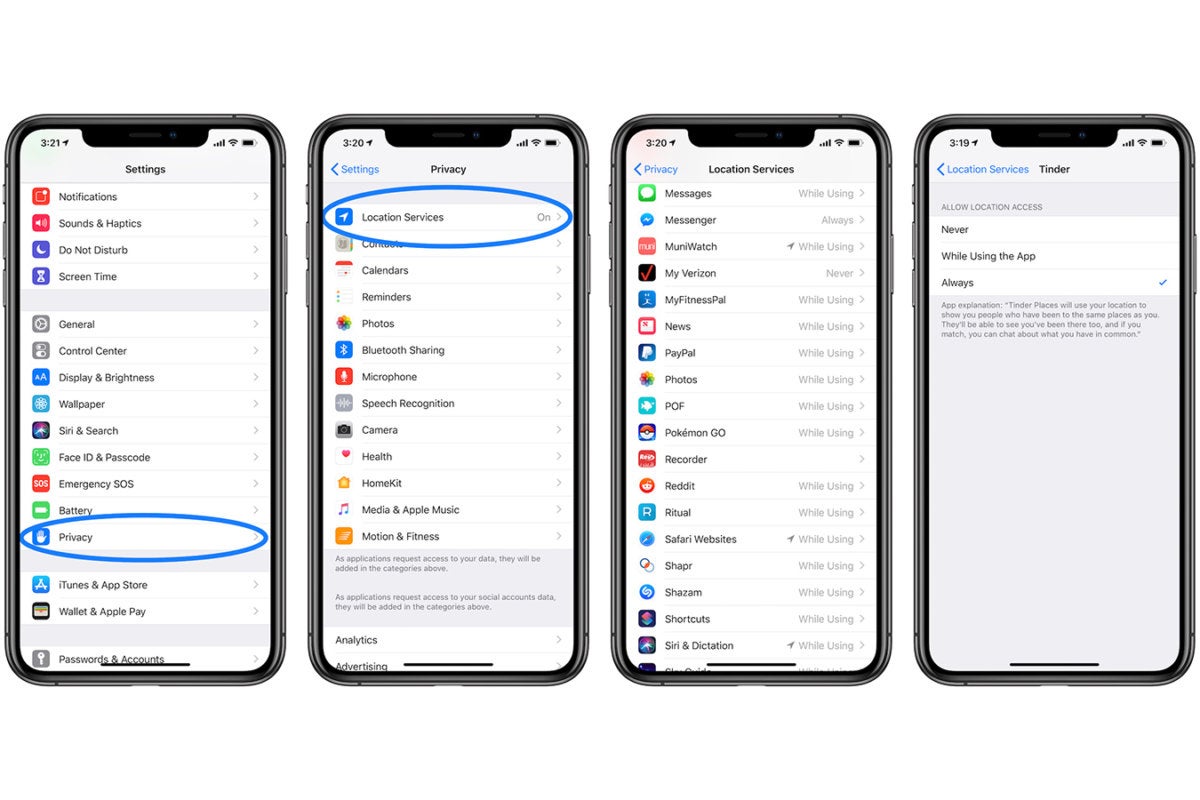 Have you ever encountered this weird situation where you do not want to share sensitive information such as location, but applications won't process? Faking location is the best solution, and Mobitrix MagicGo is always my savior in such a situation.
As I have reached the last method of this article, let me tell you this will be my last option to choose since it is a temporary method, it is not wise to use this method very often and for longer.
Trick 5: Disable Location Service to Hide Location on iPhone (for temporarily use)
Apple introduced an official way to hide your location by turning it off from the settings but using this method for long might not prove to be an excellent idea.
Pros
The method can quickly be followed.
Cons
Maps, forecasts, and other location features can't be accessed.
Your action is notified to the people on your list.
Steps
Go to privacy settings
Locate general settings.
Select location services.
Turn off the location services.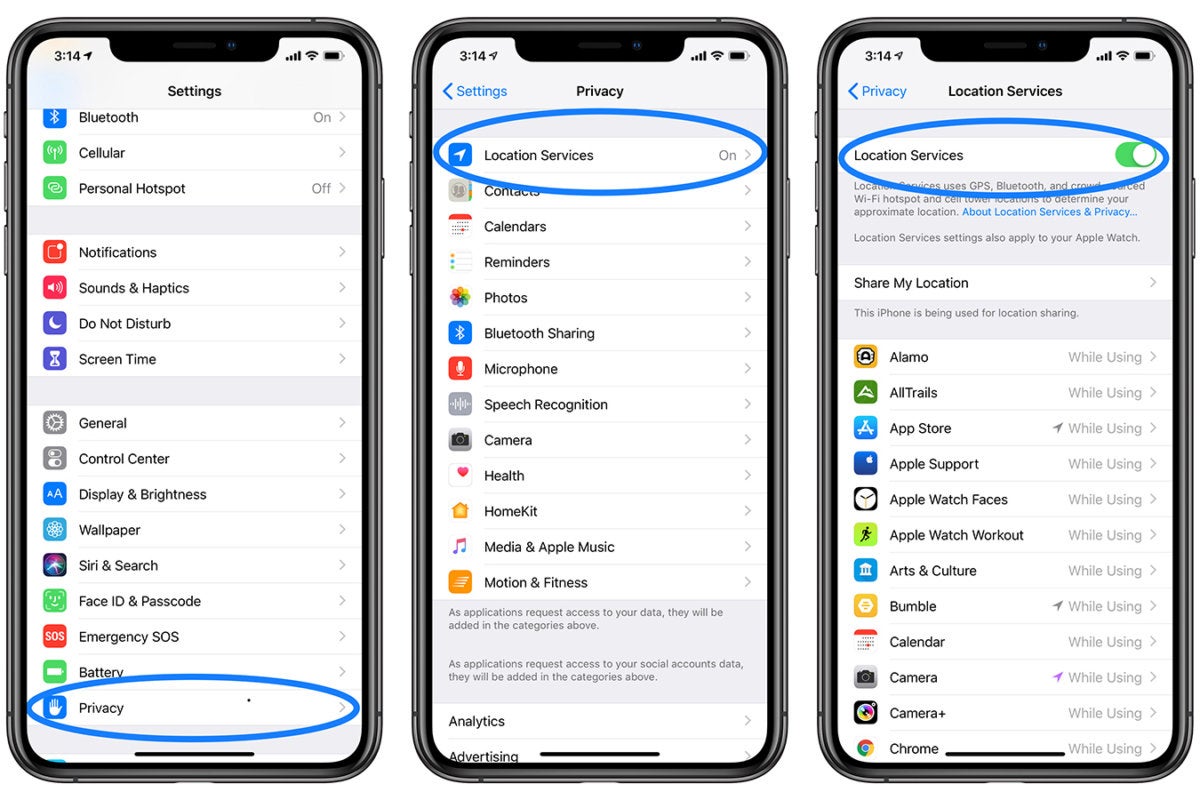 Hiding your location can sometimes make you feel light if you like to spend your time alone. Even if you do not have any background in tech, you can still follow the above methods as they are pretty straightforward and always work.
However, Mobitrix MagicGo is and will always remain my top option to hide location as it works with just a simple click. Also, it got some of the best features and an easy-to-use interface.