Several applications on the iPhone ask for location access to work properly. However, everyone is looking forward to enjoying the services of other areas.
To help you improve your location services experience, I listed out effective methods explaining how to fake location on an iPhone in 3 ways.
But faking your location all the time to access GPS-restricted games or applications, is not right. It can create a problem for you as spoofing location can get your account banned.
Do you love personalized suggestions by iOS location settings? Well, I do, and they are fantastic for providing accurate location services such as weather, GPS, news, etc.
But is it enough? Definitely not. Do you know you can also enjoy location services of other areas such as GPS-restricted games or applications?
Yes, it is true. I have faked my location several times and visited any place in the world I want. Are you also excited to go on an adventure around the world?
Well, for that, you have to go through this guide till the end because I explained how to fake location on iPhone in 3 ways.
Why Do You Need to Fake Your Location on iPhone?
When I first heard of faking locations, I was surprised about why one wants to fake their location. However, after a lot of research, I concluded the following reasons:
Someone might not want to share their location on social media apps.
People want to play location-based games without any restriction.
Boosting signals for GPS on your current location.
Several applications on the iPhone ask for location access to work properly. However, everyone is looking forward to enjoying other areas' services, so here I listed the three effective methods of how to fake location on an iPhone.
Way 1: Via Mobitrix MagicGo (Most Recommended)
Didn't you ever heard of Mobitrix MagicGo? Not a problem. I will explain everything to you in detail. Mobitrix MagicGo is a third-party tool and one of the most effective ways you can use to fake your location settings anywhere in the world with just one click. It helps you in getting complete control over your location settings.
The steps to Mobitrix MagicGo are as follow:
Steps
Launch Mobitrix MagicGo on your computer.
Connect your iPhone and computer and click start.
Choose a place you wish to move to from the map.
Click on the move option.
And you are done to enjoy all your location-based applications in a new place.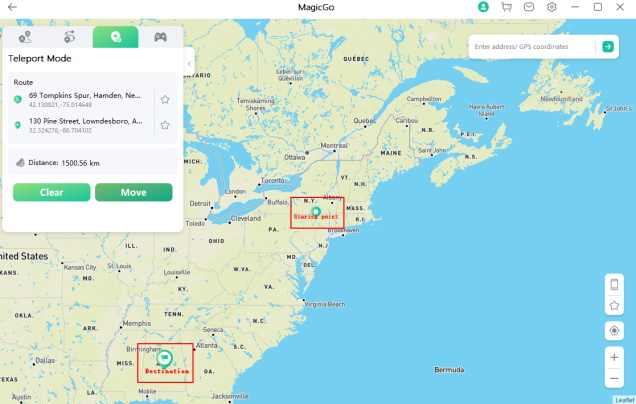 Pros
Mobitrix MagicGo is super easy to follow.
The processing of Mobitrix MagicGo is fast.
Fake locations by Mobitrix MagicGo can also be shared on social media accounts.
You can run it for all location or GPS-enabled applications such as Maps, Whatsapp, Facebook, or fitness apps.
Movement in location-based games such as Pokémon Go can be synchronized.
Way 2: Via VPN (for web browser only)
The second method I brought you to fake your location on your iPhone is via VPN. What is VPN? It is a third-party app that protects your information such as address or location by constructing a virtual wall-like shield in front of your actual IP address.
You can follow these steps for VPN connection:
Steps
Download a VPN software from the Apple store such as Turbo VPN, Express VPN, or Nord VPN.
Run the VPN application.
Sign up for your account.
Select the location VPN of the place you wish to move to.
Click on the 'connect' button.
Boom! You are done.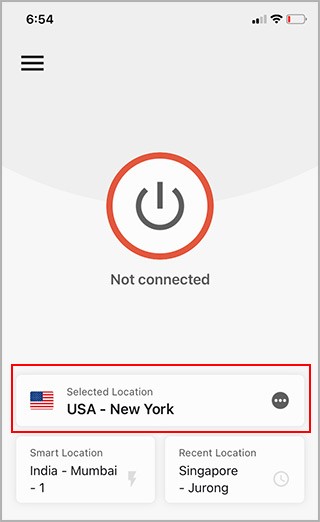 Pros
It is an easy to follow method
Websites can be unblocked if they are banned in your region, such as Facebook, YouTube, Skype, or any other.
Cons
VPN is only compatible with a web browser and does not work on applications.
The VPN method might cause you some issues as it comes with cons, such as letting your fake location on only web browsers. However, if you are looking to fake locations on applications, the following method is listed in detail.
Way 3: Via Relocate (Jailbreak required)
The relocate application is our last method in this article. Fake location technology is used by relocating apps to virtually move you to a new region in the world so you can enjoy the GPS services of that area. The steps to relocate the app are here:
Steps
Download and launch the Relocate app.
Choose a location and then click on a region.
Select confirm.
You are in a new location to enjoy the services of that area.
Pros
It does not cost you anything and is completely free
You do not have to perform any complicated tasks
Cons
Pokémon Go will delete your account for spoofing the location if detected.
You will have to jailbreak your iPhone.
FAQs about fake iPhone GPS Location
Have you gone through all the methods? Is there still some confusion? Do not worry. I got some most frequently asked questions to clear your thoughts and concerns.
What are the limitations and attention when we use fake locations?
iPhone tracks your GPS or location for multiple reasons while maintaining a location history also for multiple reasons such as personalized suggestions for a specific area. However, fake location methods can also be used to enjoy other areas' services.
But if you keep on faking your location all the time, it can create a problem for you. You might get banned out of applications or games that are GPS-restricted.
Let's consider an example. If you keep using fake locations on a location-based game such as Pokemon Go and their system detects your location spoofing, then there is a high chance that you will be banned.
How Accurate is the iPhone Location?
Mainly the GPS services on iPhone or iPhone location settings are precise up to some feet when you have complete signal strength GPS available. However, precision can be a problem if you lack signals. In such a case, precision can be compromised up to some 100 feet.
It does not matter what situation you are stuck in or why you want to fake your location. All the three methods I listed above will do your work. However, you have to be careful while spoofing your location.
Honestly, if you ask me, I am never going to leave the Mobitrix MagicGo method. I have been using this method for some weeks now, and I would recommend it to you also. Simple interface and quick processing made it one of my favorite ways to fake location.