How to Unlock Your Locked iPad
iPads have become a very essential part of our lives. But sometimes, you forget your password and can't unlock your iPad. Other times, you buy a second-hand iPad, and you find out later that it's locked.
These are extremely irritating situations. I've compiled a list of ways you can unlock your iPad. So, if your iPad has gotten locked and you want to unlock it without a password, read ahead.
And don't worry, you'll even find ways to unlock your phone even if you don't have a computer available.
Part 1: Unlocking Your iPad When You Don't Have a Computer
If you're locked out of your iPad and you don't have a computer near you, don't worry. Just follow one of the methods below to unlock the iPad.
1. Use 'Find My iPhone'
You can easily use the Find My iPhone feature to unlock your iPad.
Note: You need to have the Find My iPhone feature enabled on your iPad to be able to use this method.
In case you have an iOS device other than your iPad with you, just open the Find My iPhone app on it. Alternatively, you can also go to the Find My iPhone website on any other smart device with a browser.
On the website or app, sign in with your iCloud ID.
In case you are using the website, you will find a device dropdown at the top with all the connected devices. Find your iPad in this list and select it.

You will see a window that will inform you that all your data and settings will get erased. To proceed with restoring your device, click Erase.
If you're using the Find My app instead, just select your device from the list of connected devices. Afterward, click Action.

Now tap Wipe iPad and then tap Wipe Mac to restore your iPad.
This method will restore your iPad and unlock it. If it doesn't work for you, you can try the other methods instead.
2. Try iCloud
This method is, in some parts, like the previous one. If your iPhone is connected to your iCloud account, you can use your account to activate the Find My feature on your iPad. It is an effective method, and you don't need a computer to use it.
To use this method, follow these steps below:
On any device, open iCloud.com.
Sign in to iCloud.com with your iCloud Id. You will also need the password.
Go to the Find My iPhone page.

From the list titled All Devices, select your locked iPad.
When you select your iPad, you will be shown a confirmation popup saying that your device will be restored, removing all settings and data. Click Erase to continue.
This method will also unlock your iPad by restoring it just like the last method.
Part 2: Unlocking Your iPad With a Computer
If you have a computer available near you, you can easily use one of the following methods to unlock your iPad.
1. Try LockAway
One of the most secure and efficient ways of unlocking your iPad is by using software such as LockAway. It is a professional tool, and you can use it very easily. To use LockAway, follow these steps:
First, download LockAway. Do this on your computer, whether it is a PC or Mac. Then install it.
Use your iPad's USB cable and connect it to the computer.
Launch the tool.
From the options you see on the main window of LockAway, select the option called Unlock Your Apple ID.

On the next screen, select Unlock Screen Passcode option. This will start the process to unlock your iPad.
Advantages:
Using LockAway gives you many benefits as compared to all other unlocking methods:
You can unlock your iPad without a password.
You don't need iTunes to use LockAway and fix your iPad.
It is user-friendly, and you can operate it easily without any training.
It supports all iPhone models from 5s to 13.
It is compatible with every version of iOS (including iOS 14).
You can unlock your iPad with just a single click.
It is completely safe and secure.
These advantages make LockAway the ideal tool to unlock your iPad whether you're a tech wizard or a novice.
2. Try iTunes
You can even use iTunes to unlock your iPad. For this:
Open iTunes on your computer (Mac/PC).
Use the original USB cable of your iPad to connect it to the computer.
Open recovery mode on your iPhone. To do this:
For an iPad having Face ID: Press the volume up button and then quickly press the volume down button. Then, press the power button. Keep on pressing it until a Recovery Mode shows up on your iPad's screen.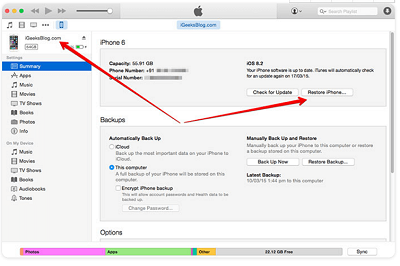 You'll see a warning on your computer (iTunes) saying that there's something wrong with your iPad. Click on the Restore option.
For confirmation, click Finish. iTunes will start the process for your iPad's recovery.
3. Use DFU Mode
You can use DFU (Device Firmware Update) to restore your iPad. This will unlock the device. But it will also delete all your data and content.
To use this method, do the following:
Install the current iTunes version on your PC or Mac.
Force your device into recovery mode as follows:
For iPads with Face ID: Quickly press and release the volume up button and then the volume down button. Then press and hold the power button on the top till the iPad start rebooting. Keep pressing the power button until you see that your iPad has entered recovery mode.

For iPads with Home Button: Press and keep holding both the home button and power button simultaneously. Do this till you see that your iPad has entered Recovery Mode.
On the recovery screen, you'll see two options: Restore or Update. Select the Restore option. Your iPad will start the restore process.
After the restore process finishes, you can configure your iPad's settings again just like a new device.
Summary
There are many ways to unlock your iPad. And it is up to you if you want to use a computer or not. Every method has its benefits and problems. You can go through them all to see which one suits you best.
As far as the easiest option is concerned, we would recommend using LockAway. You can easily use it to unlock your iPad with a single click. Otherwise, you can use iTunes, but it is a relatively unreliable method because it crashes a lot.