If your iPhone keeps restarting, there may be a software malfunction or hardware damage.
You can fix this glitch by restarting, resetting, or restoring your iPhone.
In this article, I will detail the possible causes and solutions of iPhone keep restarting.
Why does my iPhone keep restarting and how can I fix It?
Well, you just landed in the right place.
I often hear stories of people who updated their iPhones, only to realize it was the beginning of other problems. The phone kept rebooting from time to time, which, if unresolved, can cause major damages.
As a senior cell phone engineer, I know how annoying the situation can get. It denies you peace of mind completely. Because of that, I have done a comprehensive analysis and will share some insights about the reboot error.
I will first introduce the reasons causing your iPhone to restart itself and share their solutions based on my personal experience. Let's get started:
Why Does My iphone Keep Restarting?
iPhones have an excellent build and performance to work at all times. It would be great if this error was caused by a single issue, but there is no magic bullet for it. So why does my iphone keep restarting? Here are the reasons for the iPhone restarting issue:
An Interrupted Update: This happens when the process of updating your phone software gets halted in between due to various reasons. For example, a lost internet connection.
Malware: Although rare on iPhones, jailbroken devices can be vulnerable. Using free public WiFi and using apps from untrusted sources also puts you at greater risk.
Insufficient Storage: Heavy iPhone users are likely to experience the storage issue. This is especially for people who game a lot or store podcast materials on their devices.
Damaged Hardware: A damaged Power button, an aging battery, or water in the charging port could be causing the problem. I can't overemphasize the use of a good iPhone case.
Unstable Driver: As a result of a prominent change in your iPhone, a driver may become unstable. This can make the phone reboot in loops.
APP Problems: Most iPhone apps are designed compatible with the devices. However, if installed wrongly, you may encounter a reboot error.
Now, let's take a look at the two consequences of the above-mentioned reasons:
Case 1: iPhone rebooting from time to time:

This is where an iPhone works for a while without any issues at all, and then all of a sudden it reboots.

Case 2: iPhone constantly rebooting without being able to turn it on:

It is when an iPhone restarts in loops and is totally unusable. Only the Apple logo shows up and disappears on the screen.
If your iPhone falls into the second category, skip ahead to Case 2 since it is impossible to use the methods in Part 2 if you can't access the software on your device. Let's head over to check out the solutions for different situations that could cause spontaneous iPhone reboots.
Case 1 - Why Does My iPhone Keep Restarting Intermittently?
iPhone can turn on but restarts intermittently? This is an error where your iPhone reboots suddenly, from time to time, but remains functional. I will show you how to fix it. But, before doing anything, it is important to take a few measures to prevent data loss - and, here is how:
Wait! Back Up First!
Always ensure your iPhone is backed up before troubleshooting. It is the last chance to save your recent data, especially if there is a hardware issue. You will need to restore the phone in a later step. Once everything is safely stored, you can proceed to fix the iPhone like below:
Method 1: Update iOS and Apps
Check whether your apps and iOS version are updated. You should be keen when updating apps, especially from untrusted sources and those you recently installed. Always ensure the updates are successful to prevent system malfunctions.
Method 2: Find and Remove Faulty Apps
If your iPhone still reboots, scan all installed apps to find any that are faulty. You can do that using the built-in iOS security software or a third-party tool. Go ahead and remove the faulty apps and check whether the issue is resolved.
So far, the methods above should fix your iPhone. However, if the error persists, I recommend using a professional repair tool as it will save you time. Let's check it out:
Method 3: Fix iPhone Keeps Restarting Without Data Loss - Mobitrix Perfix
Why does my iphone keep restarting and how to fix it quickly? Look no further! This is your one-stop tool for almost all iOS system errors. It has a Standard Repair mode that can fix iPhone rebooting quickly. Even better, your data remains intact and you don't need any computer expertise.
Advantages
All the original data on your device remains untouched.
The tool has a 95% success rate and normally repairs within 30 to 60 minutes.
It is the easiest solution that's designed for everyone regardless of their tech background.
You can use the method for both when the iPhone can be turned on and when it can't be turned on.
Steps to use Mobitrix Perfix
Are you new to Mobitrix Perfix? Don't panic, I will show you how easy it is to set it up and get started. Here are a few easy-to-follow steps for the standard repair:
Download and Install Mobitrix Perfix.
Connect iPhone/iPad to Computer. Then click on "Start" in the main menu
Choose "Standard Repair", start repairing and your iPhone will reboot itself.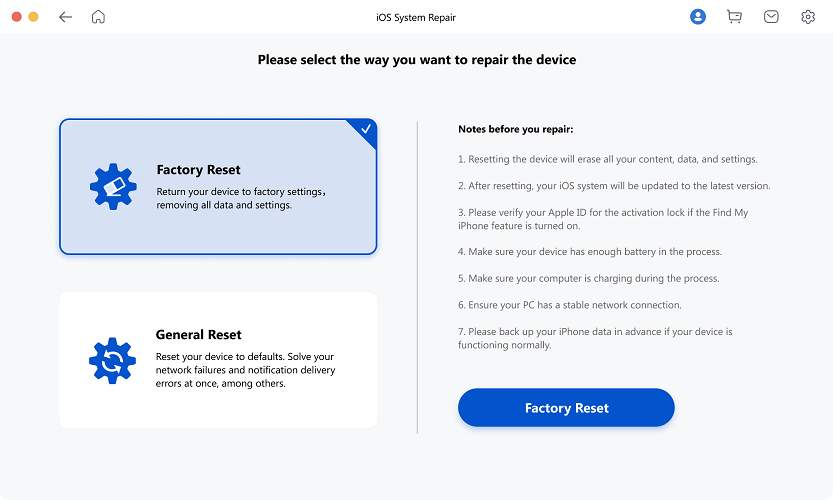 Note: Please give it a moment before the iPhone returns to normal after the updates. If it fails to repair, you can click Retry to repair again or repeat step 4 and use the Advance Repair mode. It resolves most iOS system problems.
Method 4: Manually Set Up Date & Time
Is the issue still there? Well, no worries. Go to your iPhone settings and turn off the "Set Automatically" toggle to manually choose the time zone or the date and time.
Method 5: Free Up Space on Your iPhone
You can try removing unnecessary data (like photos, videos or Apps) from the phone or transferring them to the cloud. The lack of space slows down the system and can lead to the restart loop error.
Method 6: Check Battery
For an iPhone that keeps restarting itself while charging, make this your first method. Check whether the battery works properly, is damaged or worn out.
Method 7: Delete all outdated apps
Do you have any outdated applications? They cause a lot of phone problems and should be removed.
Method 8: Reset All Settings
Resetting your iPhone won't do all the magic but can help to resolve the problems. Go to phone Settings, look for Transfer or Reset iPhone, tap Reset then Reset All Settings. You won't lose any apps or data but will have to re-enter your Wi-Fi password.
Method 9: Restore your iPhone to factory settings Via device settings
Unlike in method 8, here all the settings together with unbacked data will be erased. Go to your device settings, Transfer or Reset, then tap Erase All Content and Settings. It may prompt you to enter your passcode or Apple ID passcode.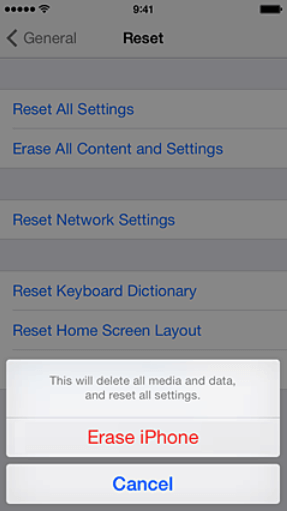 If the above methods don't resolve the "iPhone keeps restarting" issue, don't worry. I have other tricks that will come in handy. Let's check them out:
Case 2 - iPhone Won't Turn On And iPhone In A Restart Loop
This is a situation whereby your iPhone is completely unusable since it restarts in loops and can't turn on to let you access the phone. All that happens is the Apple logo appears and disappears on the screen in a cycle. The methods below can help you resolve the issue:
Method 1: Force Restart
Restarting your phone means the system starts afresh. The best thing is it is straightforward, secure and free, and doesn't lead to any data loss. Contrary, it doesn't always work when it comes to the reboot issue. Follow Apple's tutorial to restart or force restart your iPhone.
Method 2: Take Out Your SIM Card
Another way is to check the wireless carrier connection by removing the SIM card. It is safe and nothing can go astray. In fact, once you put it back, the iPhone will reconnect to your carrier immediately.
Method 3: Fix iPhone Keep Restarting With Perfix
Again, I would like to recommend you try Mobitrix Perfix, and I have introduced its standard repair before. But guess what?
It has an even stronger mode! i.e. Advanced Repair! This mode can repair an iPhone that is stuck on the Apple logo by restoring it to factory settings quickly. You don't need authentication credentials or tech expertise. And, it takes 30-60 minutes with a 99% success rate.
Steps
Download the Mobitrix Perfix.
Connect the affected iPhone to the computer with a USB cable.
Once it is connected successfully, click Start in the main menu.
Choose Advanced Repair.
Method 4: Restore Your iPhone By iTunes To Fix iPhone Restarting
A good thing about using iTunes to restore your iPhone is it is provided by Apple. It is free and very secure. However, it isn't user-friendly, takes several hours, often can't be connected, and deletes all your data. And, if it takes over 15 minutes to download the software on a computer, your iPhone will exit recovery mode. That way, you will have to repeat the process again.
Steps
First get a computer and connect it with your iPhone. Open iTunes if you are using a PC or a Mac with macOS Mojave or earlier. For Macs with macOS Catalina, use the Finder.
Proceed to locate your device on the computer and select it.
Turn off your iPhone, and put your iPhone in recovery mode.



Click Restore then Restore again to confirm the action. The computer will erase all the data in your device and install the latest iOS software version.
Wait for it to finish factory resetting until it restarts on its own to set it up as brand new.
Method 5: If you have tried everything above
Up to this point, I have shared with you the best, easy-to-follow methods to resolve the "iPhone keeps restarting" problem without any tech knowledge and I hope your issues are fixed.
Unfortunately, if you have tried my tricks but haven't been successful, I would advise you to seek help from the Apple Store. Remember to make an appointment.
Besides, I have collected some questions about iPhone restarting and others about third-party tools and compiled them with their answers. Let's take a look:
FAQs About iPhone Keep Restarting

Here are the most frequently asked questions about the time to time iPhone rebooting problem:
Q: What to do when your iPhone reboots while charging?

A: Start by checking the charging port if something is stuck and clean it with a small, clean brush. Also, check if your cable is damaged and try to replace it. Otherwise, take your iPhone to a specialist to look for any broken hardware that could be causing short circuits.

Q: Why is my app crashing?

A: It could be that you forgot to download app updates from the Apple Store when upgrading your iPhone software. Or, the lack of space and unstable Wi-Fi or cellular data.
Summary
We have discussed the reasons and solutions, so I bet you now will no longer suffer from "why does my iPhone keep restarting".
iTunes is very secure and has no charges. However, it has a low success rate and you risk losing your data. By comparison, Perfix is the simplest solution with high reliability and security. You don't have to do away with your data and it resolves almost all iOS system-related errors.