Ever since the developer beta version of iOS 16 was rolled out, the standard users have been anticipating the release of the public beta.
Well, now it is finally here!
So, what new features the iOS 16 update is offering and when will the full version be available?
I have all the answers for you here. Check it out!
iOS 16 Release Date - When Will this Update Reach Your Phones?
In July, the iOS 16 beta 3 was released by Apple. Beta 3 fixed problems reported in the earlier versions and expanded the App Store with several new features. Just seven days later, Apple opened up beta 1 of iOS 16 to the public.
It is a big change from how they proceeded with older versions of iOS in past years. Though the iOS 16 release date isn 't officially announced, the final version may be released in September of 2023, right before Apple 's next-gen phones(iPhone 14) launch.
iOS 16 Compatibility - Which iPhone Will Get the Latest Version?
iOS 15 even ran on older iPhone models, such as 6s and SE. However, after the developer beta release, rumors started to spread around that the latest software update and iOS support would not be available for devices before iPhone 8.
Well, now it is official, as Apple has announced that iOS 16 will be rolled out for all iPhones from 8 to the soon-to-be-launched iPhone 14. It is quite understandable as the older devices simply lack the processing power to keep up with the latest features available in iOS 16.
All the New Features Introduced with the iOS 16 Update
There will be an extensive variety of new iOS 16 features now available for users in the public beta. Apple 's focus was to make iOS more interactive for the user, and I think they have somehow succeeded in it, as this will allow you to customize the device more freely.
I have listed the key ones below:
Lock Screen:
The lock screen in iOS 16 has improved greatly. You 'll have a bunch of new options to help you organize your daily routine and make the lock screen more stylized, enabling you to edit the clock 's size, color, and font. Also, now you can create more than one lock screen.
With the new update, your iPhone lock screen now has slots for different widgets that show information like the weather, time/date, battery levels, alarms, events, and much more.
You can now select different styles of the lock screen that allow you to celebrate cultural moments you hold dear, such as Unity and Pride. Also, these styles will be available from sets of classic, dynamic, and landscape lock screens.
The iOS 16 update offers more personalized features than ever. You can now create patterned screen locks based on any emoji you like. It seems a bit silly, but who can ever guess an emoji-based screen lock other than the person who has set it up.
You can get real-time updates on live events, such as sports or your Uber ride, from your lock screen without unlocking the device. It is pretty convenient, to be honest!
New Notification View and Design
You can now set how you wish to view notifications on your iPhone 's lock screen with the iOS 16 update. It also lets you pinch the screen to quickly change the layout, whether in the stacked, count or expanded list view. Moreover, the new design makes the notifications easy for the eye.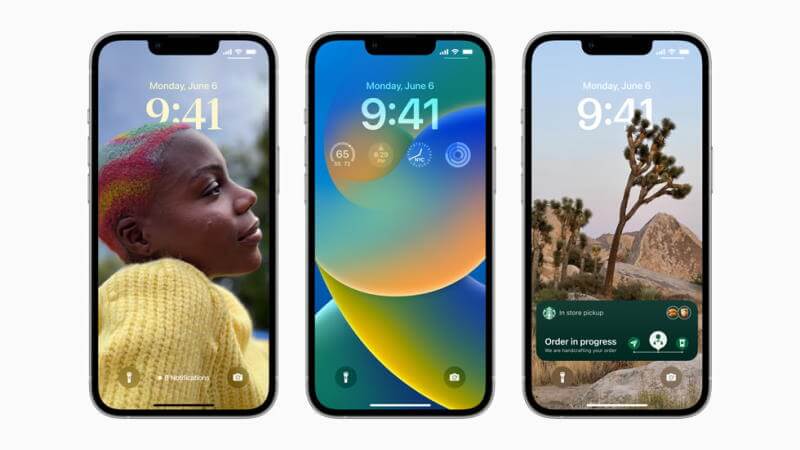 New Screen Lock Look
Apple Pay and Wallet:
The Order Tracking feature with Apple Pay should certainly offer another useful tool for those keen on keeping track of payments. With detailed receipts and order tracking information to boot, you 'll be able to manage your purchases right from within the Wallet app on your iOS device!
iOS 16 allows you to securely store your home, hotel, office and car keys inside Apple Pay. You can now share these keys via iMessage or other messaging apps. As this information is stored securely inside the Wallet database, it is therefore classed as private!
Verify Your Identity in Apps
Wallet can store ID cards and credit or debit card details, so if you make payments in apps that require identity or age verification, you 'll only need to confirm their identity (by logging into Face ID or Touch ID) when requested by an app that needs it, every time.
With Apple Pay, it is possible to manage all your transactions performed through the Apple Cash card. It also lets you filter your deposits, payments, and recent purchases.
Privacy and Security:
If you had previously given specific phone or app access to another person and wish to revoke the authorization, then iOS 16 now enables you to do that with the new Security Check feature.
You can now install all the recent or vital security updates even faster than before. These updates will automatically be installed between standard iOS updates.
Lock Hidden and Recently Deleted Albums in Photos
Now, you can keep hidden or recently deleted media in Photos private and away from prying eyes by applying an authentication method like Touch ID/Face ID, or Screen Passcode.
Apps can 't automatically access the pasteboard without your approval. Previously, no such permission was required.
Focus:
Focus Mode was a fan favorite with the iOS 15 update, and now it is available with extra goods. Not only is it much simpler to set up a focus, but also it has extended to more apps that were incompatible with the older updates.
You can keep your Work Focus and Personal Focus apart(set boundaries) with the help of the new filter utility. It is now accessible on multiple applications, such as Safari, Calendar, Mail, and Messages.
If you want to enable the Focus Mode at a specific time of the day or while using a certain app, automatically, then it is now possible with iOS 16.
The Focus Mode can be turned on with just a swipe of the finger. How? Well, it is accessible from the lock screen. Simply connect Focus with the lock screen. and you are all set.
Photos
Duplicate photos have always been an issue for iPhone users as they take unnecessary storage. However, with this new iOS 16 feature, the device will identify similar photos so that you can delete or sort them quickly.
Turn Off Featured Content
Now, you can disable Featured Photos and Memories from automatically appearing in your Photos and Photos widget.
Copy/Paste & Undo/Redo Edits
It is now possible to copy one picture to another one available in the Photos app. Also, you can undo or redo changes you made to a specific image during editing.
Intelligence/Siri
Automatically Send Messages
Using Siri, you can instantly send messages to other users by skipping the confirmation step. This new iOS 16 feature is available in the Settings menu.
There will be no set-up required to run app shortcuts once you download them. You can access the new apps by using Siri.
Simply say, "Hey Siri, hangup" once you are done with a phone or Facetime call. However, there is one downside! The person whom you had called will hear these words.
Messages
If you are unable to respond to a specific user instantly, then now you can mark the received text as Unread, enabling you to remember to reply to it when the time is appropriate.
Recover Recently Deleted Messages
Suppose you have accidentally or impulsively deleted important texts. In that case, you can recover them within 30 days of deletion. Quite convenient, isn 't it?
Well, this is a handy feature presented by iOS 16. You can undo an already sent message for up to 15 minutes. This new utility is similar to the one offered by WhatsApp, where you can also delete a text.
You now have the option to edit an already sent text message within 15 minutes of delivery.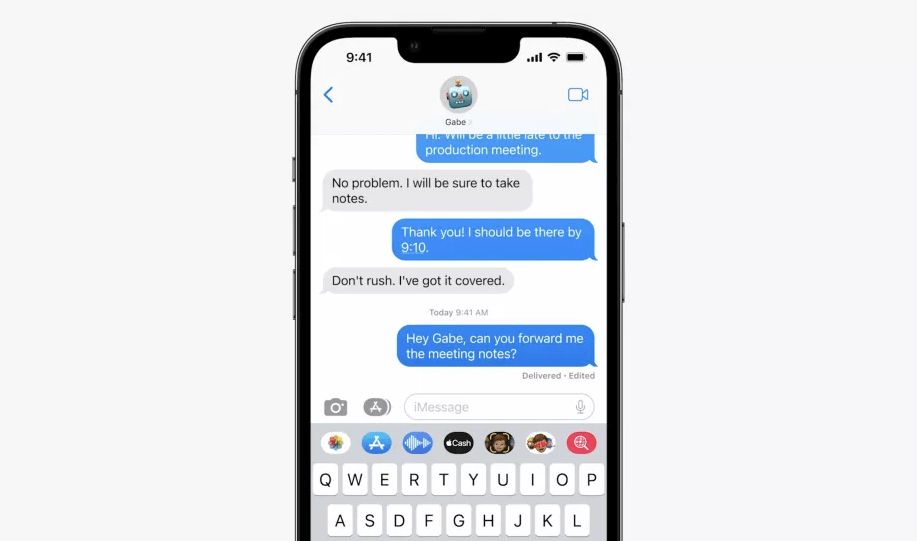 Undo Sent Messages
Safari and Passkeys
You can share a set of tabs opened on your iPhone Safari browser with friends and family members. These tabs will be updated in real-time, allowing you to collaborate with each other efficiently.
You can edit passwords saved in Safari and replace them with the ones suggested by the browser itself.
Passkeys - Safe from Phishing
Passwords can now be replaced with Passkeys that will remain on your iOS device and are specific to the website it was created for. This is a more effortless and secure way to protect your data from phishing.
Synced Across All Apple Devices
These Passkeys can be synced through iCloud Keychain across every Apple device you own. Also, the keys are end‑to‑end encrypted.
Accessibility
Detection Mode in Magnifier
You can now get in-depth descriptions of all your surroundings using the Magnifier app 's Detection Mode. The utility offers several functions, such as Door Detection, Image Descriptions, and People Detection.
Well, this feature was a long time coming! Now, you can control(completely) the Apple Watch from your iPhone and navigate it using Voice Control, Switch Control, and other similar functions.
Apple Watch Mirroring

New Languages
The VoiceOver and Spoken Content feature offers more than 20 new languages, including Vietnamese, Bengali(India), Bulgarian, Catalan, Ukrainian, and more.
Dictation
This feature will suggest where to add punctuations(commas, question marks, periods) when writing a message, making it simpler to create an error-free text.
Well, this is a fun new feature! You can insert emojis using your voice while dictating a text on the iPhone.
There will be a new cursor popover visible on the text field when the Dictation Mode is enabled. You can simply tap it to stop the feature from offering suggestions.
CarPlay
Automatically Send Messages
While in CarPlay, you can bypass the confirmation step when sending a text message. This feature is available in Settings under the Siri tab.
Fueling and Driving Task Apps
Specific apps that offer info related to your car 's fuel tank and navigation are now accessible in CarPlay. You can also get toll support and towing help.
With CarPlay, you can instantly access the Podcasts app library so that you can save or download your favorite episodes quickly.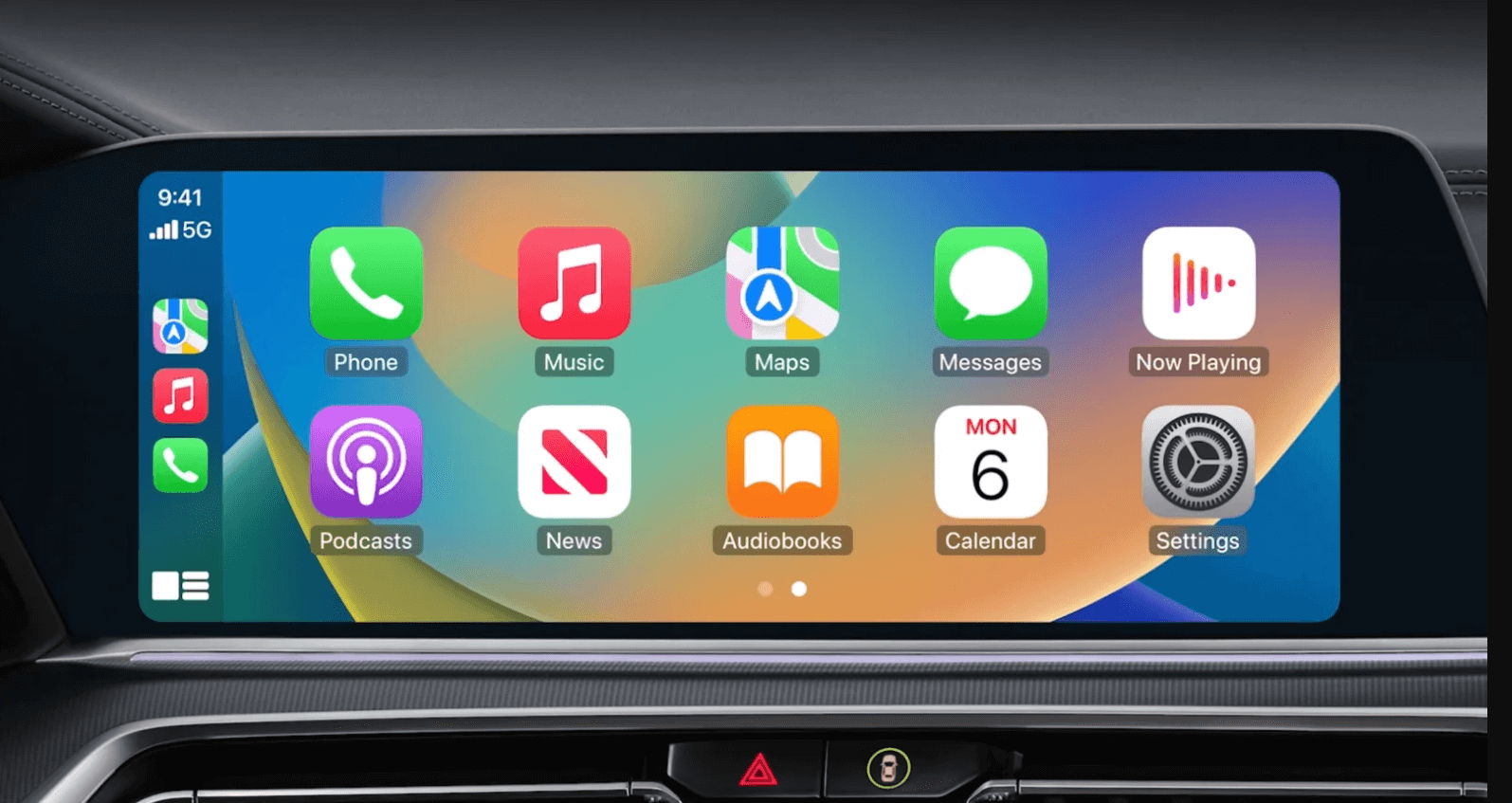 iOS 16 CarPlay feature
Maps
Apple Wallet integration with Maps helps users plan ahead without switching apps/websites.
You can add multiple stops on your Apple Maps route by tapping on the app interface. If you happen to add the routes via your Mac, then this information will automatically sync to the Apple Maps app on your iPhone(iOS 16).
Apple Maps now incorporates public transit information. You can check the fare for your upcoming trip and add cards to your Apple Wallet to check if you have enough credit on your card to get where you're going.
Add Multiple Stops via Apple Maps
Mail
Smart Search Corrections and Suggestions
If you are creating an email, then the AI will not only suggest options to complete the task quickly but also automatically correct typos.
Similar to undoing text messages, you can now stop an email you just sent from reaching the recipient 's inbox. However, you must perform this action quickly.
If you somehow forgot to respond to a specific email, then you can enable the Remind feature and set a schedule so that those messages resurface in your inbox.
Family Sharing
Improved Child Account and Device Setup
You can now set up an account and a new iOS device for your child with parental control restrictions in-place. This way, age-inappropriate content won 't reach your child.
Family Checklist is an excellent app to keep your kids safe. Receive helpful tips and reminders like reminding your family that you can share your iCloud+ subscription with everyone or remember to update location sharing settings and content suggestions as they get older.
Screen Time Requests in Messages
Your child can now send requests for more screen time via text message. Also, you can instantly approve or decline the request. It is incredibly simple.
Health and Fitness
You can schedule when to take the next dose of the prescribed medicine and also create a list of the ones you are taking.
Add Medications with iPhone Camera
With this new function, you can instantly add your medications to the list with the iPhone camera. How? Well, just position the medication label in the frame to get every information available on the prescription.
You can access info-based content about the medications you are taking, allowing you to learn about the prescriptions, their side effects, and how they can improve your health.
Home
This newly designed app will allow you to organize, view, and control every smart accessory in your household.
The Home app is structured according to your convenience thanks to the Categories tab which contains options such as Security, Climate, Lights, TV, Speakers and Water.
There are up to four different camera views available in the Home app, which will give you a clear look into your home.
iOS 16: Extra Features
The offerings of iOS 16 do not end here, as plenty of new features and adjustments to the existing utilities are coming your way in the Fall update.
Audiobook Player - The Books feature now has new audiobook players with all the media player controls you can hope for.
Translate Text - Now, you can point your camera toward a text and have it translated into multiple languages
Accurate Weather App - This app now shows hourly temperature and precipitation levels across 10 days.
Spotlight - It can be directly accessible from the Home Screen(the bottom part),
Privacy History - You can now check which app has accessed your iPhone camera, mic, and location from the Control Center.
With the number of new features offered with the iOS 16 update, it is definitely a breath of fresh air for long-time users.
I am pretty excited about utilities like the Dictation Mode, which corrects my grammar mistakes instantly when I hurriedly construct an email. Plus, you can fully customize your Lock Screen, which is a welcome new function.
Though there are still issues with the public beta version, I expect Apple to iron them out before the full release.