7 Ways on How to Unlock iCloud for Free in 2021
iCloud is one of the most used and the best features that are offered by Apple products. It is the reason most people opt for iPhone or iPad over Android products. iCloud provides backup of data efficiently and manages data in a very convenient manner for the users.
However, if the iCloud encounters some issues and is unable to process normally, it can cause the entire device's functionality to halt. In this situation, the priority is to unlock the iCloud. This article provides methods that can unlock the iCloud easily and free of cost.
Read the fixes and apply them to solve your issue.
1.Solve the problem on your device
It's possible to unlock iCloud for free using just your device. Here's how:
Using the Device's Passcode to Unlock iCloud
Although there are many paid and unpaid methods of unlocking the iCloud available online, in this fix you can solve the iCloud locking issue simply on your device. This is possible if you remember your Apple device's passcode and you have activated two-factor authentication on your device.
This is possible when you have turned on the two-factor authorization for our device. In that case, you can use the device's passcode to unlock the iCloud-locked iPhone.
Unlock Using Device Passcode
Step 1 : On the lock screen that you are stuck at, you will see an option below the Apple ID password that says "Unlock with Passcode". Click on it.
Step 2 : Select the "Use Device Passcode" option on the next screen.
Step 3 : Type in your screen passcode and press enter.
You will successfully bypass the iCloud lock that had you troubled all along. This is a very convenient way to unlock the iCloud locked phase of the Apple devices. It is free of cost, quick, and easy to apply.
However, it can only be applied if you remember your passcode and the two-factor authentication is activated on your Apple device. If it is not the case, then you cannot use this fix.
2.Solve the problem with iCloud
In this method, you can solve the Apple device's locked problem with the iCloud itself. If iCloud has you locked out of your device and you are stuck, you can simply use the iCloud to unlock your device. To do it, you must remember your email ID and password.
In this method, you will erase your Apple device from the iCloud altogether. When you erase the device from the iCloud, it will also remove all or any issues and you can start using it again. You can apply this fix even if you are not in physical possession of your phone/device.
To apply this fix, do the following steps,
Step 1 : On any browser, be it a laptop or a phone, type iCloud.com, and press enter.
Step 2 : On iCloud's official website, sign in using your Apple ID and password.
Step 3 : Find the "Find my phone" icon on the webpage, and select it. On this icon, click on "All Devices".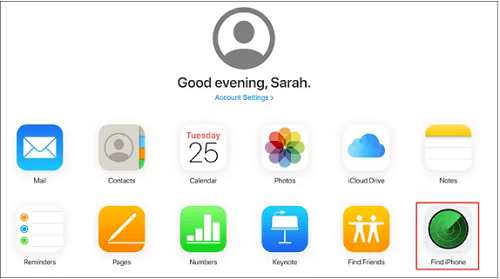 Step 4 : The list will show all of your devices linked to your iCloud account. Find the device you want to unlock. Select it.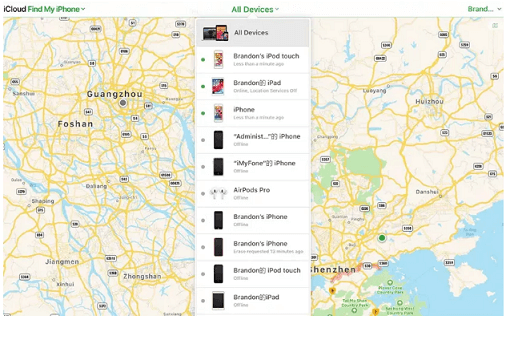 Step 5 : Click on Erase Device.
Step 6 : Click Remove from the account.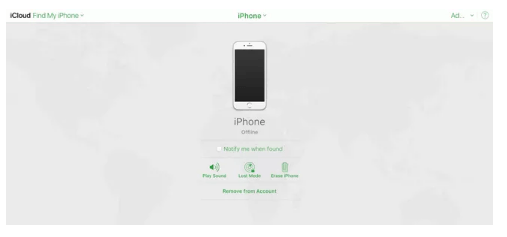 The device has now been removed from the iCloud account and hence, its lock has also been removed. So, you should be able to access the device and its contents now. This is an easy and simple fix to unlock the iCloud lock-in Apple device.
Although this method works fine, however, the drawback to this fix again is that you will need to know your Apple ID and password if you wish to use it. Another method is to contact the previous owner of the device and request them to remove the device from their iCloud account. If they remove the device for you, it can be accessed as the location does not matter.
However, communicating with the previous owner can also be a hassle.
3.Solve the iCloud locked problem via DNS
You can use the DNS settings to unlock the iCloud as well. This method is not as often applied as the previous two methods. You can use the DNS servers and unlock the iCloud completely free of any cost. This is also a simple and effective way to unlock iCloud.
To apply this fix, do the following steps,
Step 1 : In the setup of the device that you want to unlock, choose the country that you are in.
Step 2 : Go to the screen of Wi-Fi selection. Here tap the "i" alphabet as you see it.
Step 3 : Now you can select "More Wi-Fi Settings".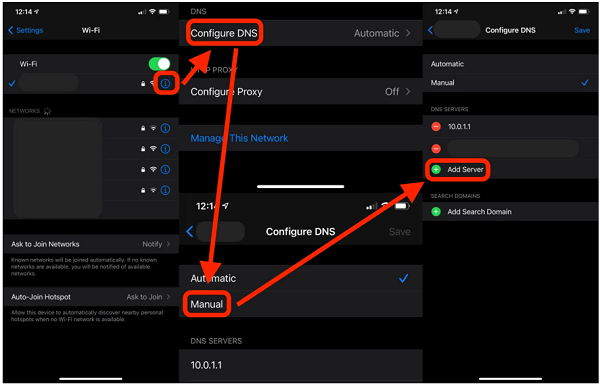 Step 4 : In these settings again, select the "i" option just like you selected it before.
Step 5 : Go to the DNS section.
Step 6 : Enter one of the following IP addresses under the DNS section:
North America: 104.154.51.7
Asia: 104.155.220.58
Europe: 104.155.28.90
South America: 35.199.88.219
Other: 78.100.17.60
It is completely up to you. You can choose any IP address of your choice from the above-given addresses.
Step 7 : Now go to the top left of the screen and select the Back option.
Step 8 : Check for the available Wi-Fi options. Choose your Wi-Fi network from the available options and then enter your Wi-Fi password as well to connect to the Wi-Fi.
Step 9 : On the next screen, you will have to select Back again until you can bypass the activation lock of the iCloud.
In this way, you can unlock the iCloud and bypass the iCloud activation lock successfully even if you do not know the Apple ID and password of your Apple device or iCloud account. The fixes discussed so far required the Apple ID and password but this fix can solve your issue without these credentials.
However, the DNS is a method that may not always work. It is not a permanent solution as well. It does not guarantee that the issue will remain solved. If the DNS decides to automatically update the IP address, then the iCloud might get locked again. So, you may want a more permanent solution.
4.Solve Problem with LockAway
This is the most efficient and easy way to solve the iCloud locked problem in Apple devices. In this solution or fix, you will not require the Apple ID or password or any access to your Apple iCloud. Mobitrix LockAway is a software that you can use to unlock almost all kinds of Apple devices.
It works even if your account is linked to an unknown Apple ID or you cannot access the previous owner. In any case, you can easily use this tool to unlock iCloud.
To use this tool, do the following steps,
Step 1 : Download the tool on your system from its official website. Launch the software after the download is complete.
Step 2 : Connect your iPad/iPhone or any Apple device that is locked with iCloud with the system. Click the button Start Now.
Step 3 : Now you need to jailbreak your phone. Follow the given instructions carefully to jailbreak the device. You need to do this to allow the Mobitrix LockAway to unlock the phone or any other device. After jailbreaking the device, click Next.
Step 4 : Click on the Start Now Button and start the process of bypassing the iCloud's lock from your device.
Step 5 : You will have to wait for the process to finish. As the Mobitrix LockAway unlocks your device successfully, you will see a page that notifies you that your device has been unlocked.
Advantages:
1. LockAway can easily unlock any kind of Apple device with a few clicks.
2. Although there are methods for free to solve the problem, they have disadvantages. If you have a second-hand device and could not contact the previous user, you might not be able to have the screen password or Apple ID password. LockAway does not require you any access to the iCloud whatsoever.
3. Also, in some situations, DNS might not work and is not permanent. LockAway does not function with DNS or IP reassignment, so it is permanent.
4. If you are looking for a more efficient and convenient way, LockAway would be your good choice. Although it costs some money, it is a professional tool that could help you solve many device problems, including unlocking iCloud and providing you access to your device.
5.Turn to Professional Help
If none of the above methods have worked for you then what you can do is that you can ask for professional help to solve your problem. The above solutions cover almost all the issues and their solutions when it comes to the iCloud being locked in any Apple device.
If the problem you are encountering is not from any of the above then the best solution for you would be to turn to the Apple support or discuss in the Apple support communities that usually cover a wide range of problem sets and solutions related to Apple devices.
6.Contact Apple Support
Apple Support is a good customer service company and has a great reputation when it comes to solving the problems that Apple customers encounter with Apple products.
To contact Apple Support, all you have to do is go to their official support website and contact them and explain your problem. To do that, open this link.
Hopefully, Apple will be able to solve your issue and your Apple device will be unlocked successfully.
7.Discuss in Apple Support Communities
Another solution that is possible if nothing else works, is that you can discuss your issue in the Apple Support Community. Many people discuss their Apple-related queries in that forum and those who have already solved that issue provide them with a solution.
These communities cover a wide range of issues and most people find their issues by only searching in the already created problems instead of posting new ones.
However, the issue with this solution is that it may take days even weeks for someone to read and respond to your query. There is no guaranteed time limit as to when and if you will get a response.
Summary
Phone, laptops, or iPads have become an integral part of our daily lives. If the Apple devices get locked due to the iCloud clock on the system, then it is not possible to use any function of the device unless you unlock the device.
There are many paid and unpaid ways to unlock a device that has been discussed in the article with the advantages and disadvantages of each method.
The free methods of unlocking the device either require you to enter the Apple ID and password. Or it requires you to contact the previous owner of the device to help you in unlocking the device using Find my device and their Apple ID and password.
These methods work, but are somewhat difficult. It is better to use a paid method of unlocking the device that allows you to control the entire process and does not require any information from your end as well.
I recommend LockAway which is the most efficient tool. It is a tool that allows you to unlock your Apple device easily and conveniently by only installing the tool to your system and connecting it with your device. It can easily unlock your device and bring your life back to normal in a few clicks.