Ultimate Guide: All You Need to Know About iCloud Lock
This article gives the ultimate guide to everything you need to know regarding iCloud Lock. The article gives a comprehensive tutorial on what iCloud Lock is, how to enable it, and how to remove it.
1. What is iCloud (Activation) Lock?
iCloud Lock refers to a security feature implemented by Apple to secure their devices if the user misplaces or the device is stolen. Whether it's your iPad, iPod touch, or iPhone, you can easily deter your device from being resold when stolen by activating the Activation lock.
The iCloud Lock protects your device by displaying a custom message to indicate the device is lost. Only when you enter your Apple credentials can you turn off the Activation lock. Thus, the device is protected from being resold or unlocked by another person.
With iCloud Lock, you can erase your data remotely, but the activation lock will remain on the device, increasing your chances of finding your device.
2. Allow iCloud Lock
To activate iCloud Lock, you need to have your Apple credentials. You can then sign in to your account and enable the "Find My" feature. Once the feature is enabled, iCloud Lock automatically becomes enabled.
If you lose or your device is stolen, you should immediately log in to your iCloud account either through the browser or the app and mark the device as lost. Once Mark as Lost is enabled, iCloud Lock will be enabled too.
3. Enable Activation Lock
Before enabling activation lock, you need to determine the type of the device, whether it's a supervised device or unsupervised.
1) For unsupervised devices:
If your device is unsupervised, you, as the end-user, can navigate to Settings and enable the "Find My iPhone" feature. The administrator can check whether or not the device has iCloud Lock enabled. Moreover, during a device wipe command, the administrator has to receive and accept the notification, implying that the iCloud Lock will require the original Apple ID and password to reactivate it.
2) For supervised devices:
Once the administrator enables the activation lock, Find My iPhone automatically gets enabled. The administrator can check the Activation lock status of the device and can remove the activation lock.
4. Check Activation Lock Status
Two methods can be used to check whether or not the Activation lock on a device is enabled or disabled.
Method 1: Check via Find My
Anytime you need to purchase or gift someone an iOS device, you should check and ensure the "Find My" feature is turned off. The steps to do so are:
1) Check the device, is it signed in using Apple ID? If yes, it has an Activation lock. Else, the device has no activation lock.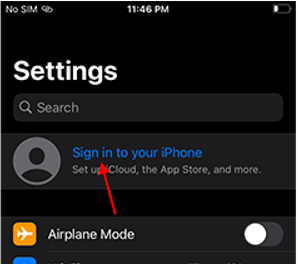 2) If there is an Apple ID name, click on it. Navigate to "Find My", if the status of the "Find My iPhone" is On, then activation lock is enabled. If it's off, then the iCloud Lock is disabled.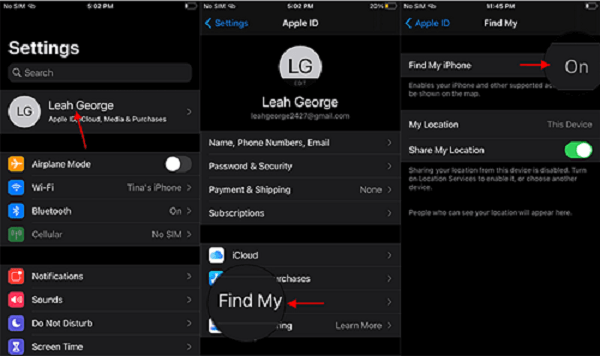 Method 2: Use IMEI number
Using the IMEI number of the device, you can check online to see if iCloud Lock is enabled or not.
1) Get the IMEI or the serial number of the device.
2) Open this link, enter your IMEI or the serial number and click "Check".
3) You will get the activation lock status once you confirm that you are a human and not a robot.
5. Remove Activation Lock
Various circumstances may require you to remove your activation lock. For instance, if you want to gift out your device or purchase a second-hand, you need to remove the activation lock. Moreover, you might even forget your credentials for the activation lock, in which case you have to remove the activation lock.
The methods below will guide you on doing so.
1) Turn off Activation Lock on your iPhone or iPad
With the correct Apple ID and password, you can easily bypass the activation lock using the steps below.
i. Switch off your device and set it up.
ii. Click "Sign In with Apple ID" and enter your credentials.
iii. Click "Settings" then the banner of your username.
iv. Click "Sign Out" and enter your Apple ID password.
v. Click "Turn off".
Once your device restarts, the Activation Lock will be removed.
2) Use iCloud to remove the activation lock
To use iCloud, you can also do it remotely if the owner or the one with the Apple account credentials is not nearby. All you need is either you, or the other person follow the steps below.
a. From a browser, login into the iCloud.com account associated with the device.
b. Click "Find iPhone" > "All Devices".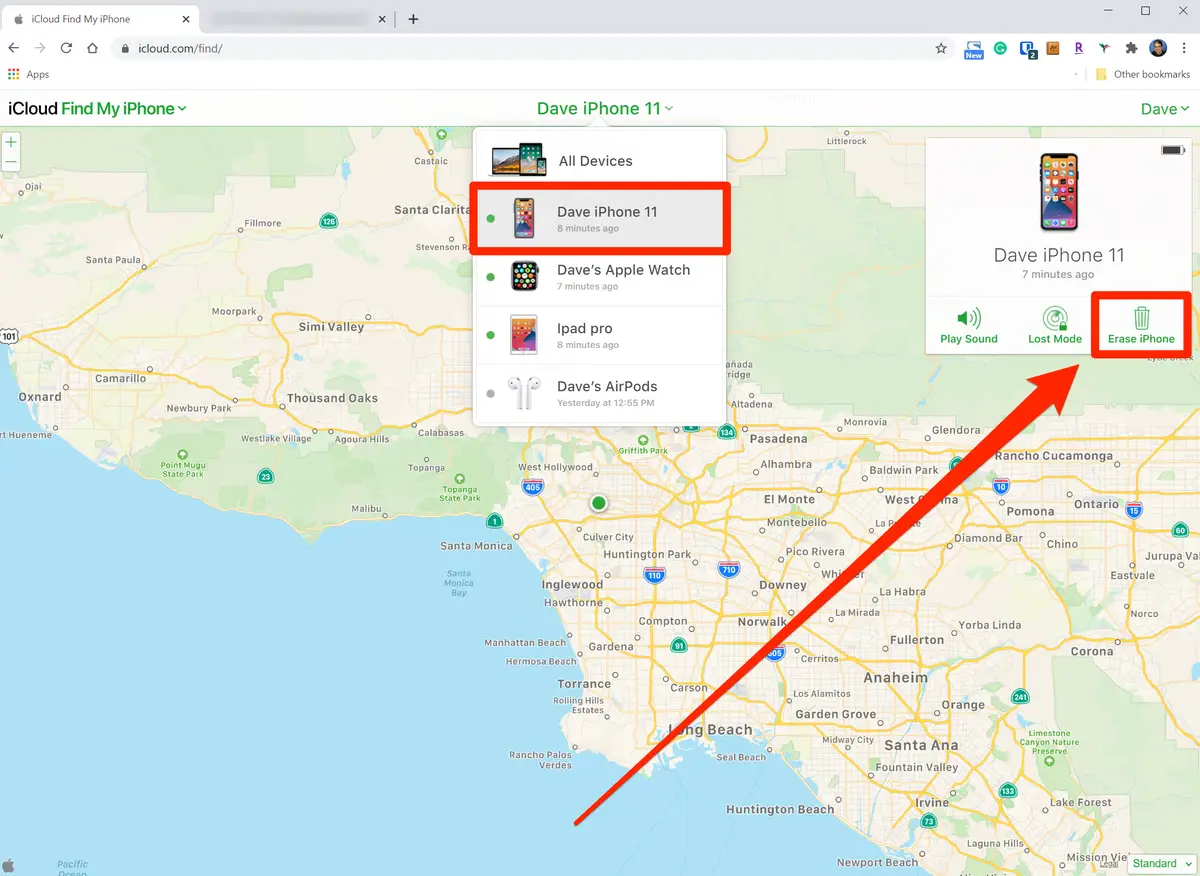 c. Select your device, then click Erase [device].
d. Click the option to "Remove from Account".
Restart your device. Once it reboots, the activation lock will be no more.
3) Remove activation lock via LockAway
You can also remove the activation lock using an effective, fast, and reliable third-party tool, LockAway, which removes the activation lock securely without any data being lost. Moreover, you don't need your Apple account credentials to use LockAway. You need to download the software and install it on your computer, then follow the steps below.
1. Connect the device to the computer
2. Select unlock activation lock mode
3. Remove iPhone activation lock
LockAway is secure, effective, and easy to use over other methods.
4) Remove iCloud Lock via DNS
By configuring your Wi-Fi network server, you can use DNS to bypass the activation lock temporarily. However, once you reboot your device, the activation lock reactivates.
To use this method of DNS, you need to be connected to a Wi-Fi network. This method has limitations as the device must have a SIM Card, it doesn't apply to all devices, and it offers a temporary fix to your problem. Moreover, the device will only be able to send SMS, watch videos, and use social media but, you won't be able to make phone calls or use Apple Store to download apps.
To use DNS, use these steps.
1) Switch on your device and set it up.
2) Once you reach the "Choose Wi-Fi Network" option, click the 'i' that is next to the name of the Wi-Fi.
3) Click "Configure DNS" > "Manual".
4) Click the option to add a server, then use either of these IPs: Asia: 104.155.220.58, USA: 104.154.51.7, or Europe: 104.155.28.90.
5) Click "Back" then tap on your Wi-Fi, enter the password, and click "Join".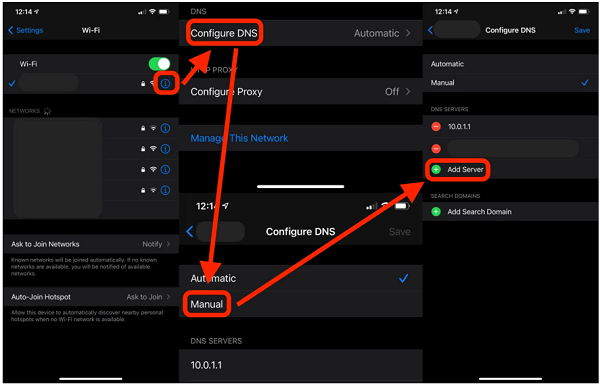 6) The iPhone will try to open a blank screen. Click "Back" to avoid this.
If you see "iCloudDNSBypass.net" at the top, then you have successfully bypassed the activation lock.
5) Contact Apple
If you have not been able to bypass the activation using any means above, you can contact Apple to aid you out. However, you should have the purchase or ownership documents to prove that the device you are requesting to be unlocked is yours.
If you cannot get access to the Apple ID password, and none of the methods in the article can help you, Apple may unlock the device for you. If you have the needed documents, visit the Apple support website and start a request to unlock your device.
6) Activation Lock future tips
Having understood what activation is and how to enable and remove it, here are a few tips regarding activation lock.
a) Before you make the final purchase decision of a send hand device, ensure the owner has removed the activation lock.
b) Remove activation lock before gifting your device or taking it for service.
Summary
Activation Lock is a good security feature, but unless you understand what it is, how it works, and how you can enable or disable it, it might not be beneficial to you. This article provided a tutorial on everything you should know regarding activation lock.
If you need to remove the activation lock, it's recommended to use LockAway for a quick, safe, and effective removal of the activation lock.