How to Unlock Your iPhone When You Forgot the Password
Forgetting your iPhone's password may be annoying because you cannot access it. If you are experiencing that, do not worry because this article covers various methods used to solve this problem.
Part 1:Solve the problem with LockAway
LockAway is a tool that enables iPhone users to unlock their devices easily and efficiently in case they have forgotten their passwords.
To use this method;
1. Download LockAway from the internet and install it on your computer.
2. Launch it on your computer and then connect your phone to the PC and tap on next.
3. Click on download so that you can download the firmware that is appropriate for your iPhone.
4. Tap on the fix option.
Advantages;
1. After unlocking your device, you will not be required to restore it; hence data is not lost.
2. You are not required to use iTunes, which is user-unfriendly.
3. Your device is unlocked within few seconds.
Part 2:Solve the problem with Siri
To use this method;
1. Call Siri
2. Ask, "What time is it ?"
3. When the clock appears, tap on it.
4. Tap on Timer, which is at the right corner at the bottom of your screen.
5. Set the time of the Timer to 10 seconds and then click on "When Timer Ends."
6. When the "Buy More Tones" option appears, click on it, and you can unlock your device.
This method only works when Siri has permission to access your device that is locked using a password.
Part 3:Solve the problem with iTunes
This method requires one to have previously synchronized their device to PC, and the "Find my iPhone" feature should be turned off.
To use this method;
1. Connect your iPhone to the PC that you had synchronized with it previously and launch iTunes.
2. Select the most recent backup so that you can restore it.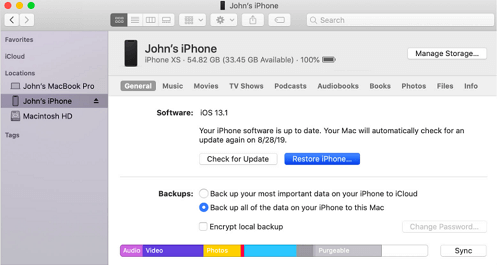 This method is free for iPhone users, and it is recommended to users by Official Apple Support.
Disadvantages:
1) The "Find My iPhone" feature should be turned off
2) You are required to have a backup on a computer earlier
3) Some of your data might be lost since it restores iPhone from a previous backup
4) iTunes may fail to recognize your iPhone.
5) It is hard to use iTunes, and it is therefore regarded as user-unfriendly.
6) More time is consumed when restoring your device using iTunes.
Part 4:Solve the problem with iCloud
Below are the methods you can use to unlock your iPhone using iCloud;
Method 1: Restore iPhone from a backup
To use this method;
a) Go to iCloud.com and use your Apple ID to log in. Tap on the "Find My iPhone" option and "All Devices" option.

b) Select your device from the device list screen and then tap on Erase iPhone.

c) Set up the iPhone and then restore your most recent backup from iCloud.
This method is available to all iPhone users for free and is what Official Apple Support recommends.
Disadvantage:
1) The "Find My iPhone" option is required to be enabled
2) You are required to have created a backup with iCloud previously.
3) Some data may be lost because iCloud restores your iPhone from the most recent backup.
4) A lot of time is consumed while restoring your phone with iCloud
Method 2: Erase iPhone
To use this method;
a) Visit iCloud.com and then log in using Apple ID. Tap on the option for finding your iPhone
b) Select the device that you want to reset and
c) Tap on Erase iPhone option.
Official Apple Support recommends this method to iPhone users, and they can use it for free.
Much time is consumed to restore your device using iCloud, and data that had not been backed up in the most recent backup is lost.
Part 5:Solve the problem with Recovery Mode
To use this method;
1. Launch iTunes on your computer and connect your device to the computer.
2. For iPhone 8 or later: press the button for volume up and then release it quickly and do the same for the button for volume down. Then long-press the side button until the screen for recovery mode appears.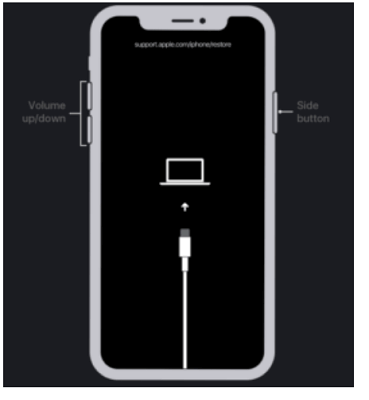 For iPhone 7, iPhone 7 Plus: long press both the top button and button for volume down simultaneously until the recovery mode screen appears.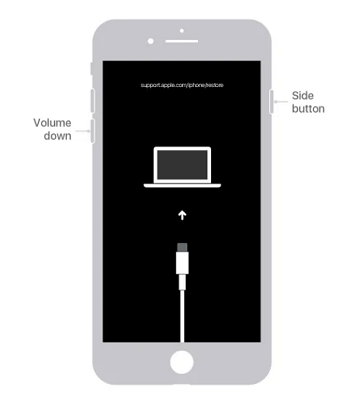 For iPhone 6s or earlier, long-press both the home button and the sleep or wake button simultaneously to reset your iPhone.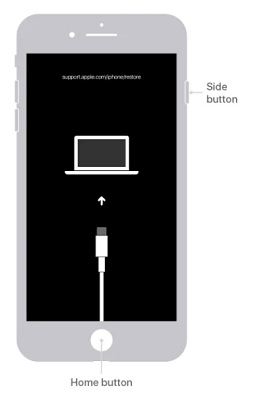 3. On iTunes, tap on restore.
This method leads to the loss of data.
Summary
In summary, there are different ways of unlocking your iPhone if you have forgotten its password. However, most of these methods consume a lot of time. LockAway tool enables one to their device using few steps in just a few seconds.