In this article, we are going to explain why your iCloud is locked and how you can unlock it. We also introduce an excellent third-party tool that can help you to easily unlock your iCloud. This tool is called LockAway.
What does it mean of iCloud Locked iPhone?
An iCloud-locked iPhone means the activation lock on that phone is turned on. Activation Lock is a security feature that is enabled automatically when Find My iPhone is on. It is designed to prevent anyone else from using your iDevice if it's ever lost or stolen. In case you don't know the account details of a locked iPhone you can still use it provided that the phone passcode is not protected, however, you cannot erase it, you can't turn Find My iPhone off and you will not be able to set up the phone with new credentials. Another thing is that whenever the phone is connected to the internet the person whose account is registered with it can wipe it clean and lock you out in any way.
Method 1: Turn off Activation Lock on iPhone or iPad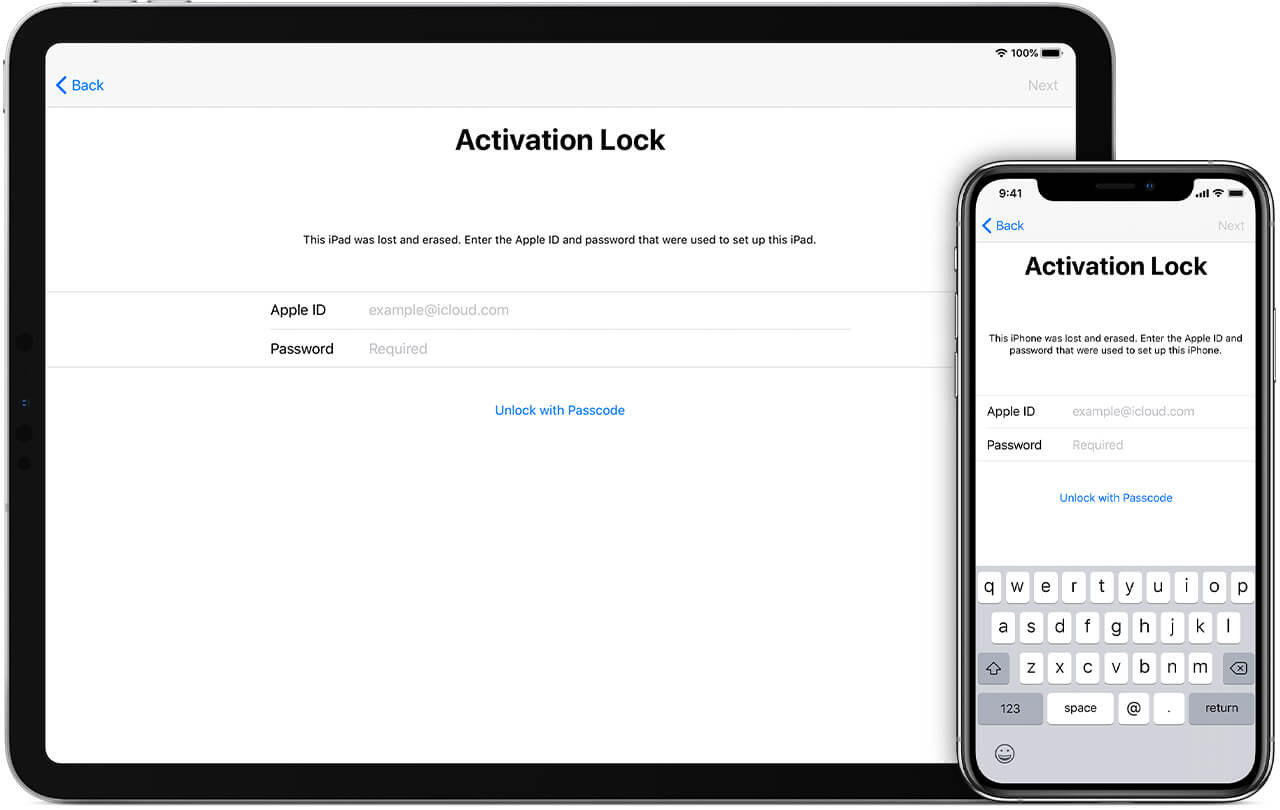 Turn off Activation Lock on iPhone or iPad
If you know the correct account information of Apple ID and password on your iPhone, you can straightforwardly turn off the activation lock by yourself or if you can contact the original owner of the iPhone, you can ask him/her to directly turn it off for you.
The steps below will guide you if the iPhone is erased:
Step 1: Turn on the device.
Step 2: Answer the screen prompts to do some setups such as language.
Step 3: On the "Sign in With Apple ID" screen key in the owners' credentials.
Step 4: Ensure the device is fully set up then click the "Settings" icon.
Step 5: On top of the screen select the user's name banner.
Step 6: Scroll to the bottom of the screen then click on "Sign out".
Step 7: Enter the original owner's Apple ID and password then select "Turn Off" at the top right of the screen.
For you to apply this method you must know the Apple ID and password.
Method 2 – Remove Activation Lock via iCloud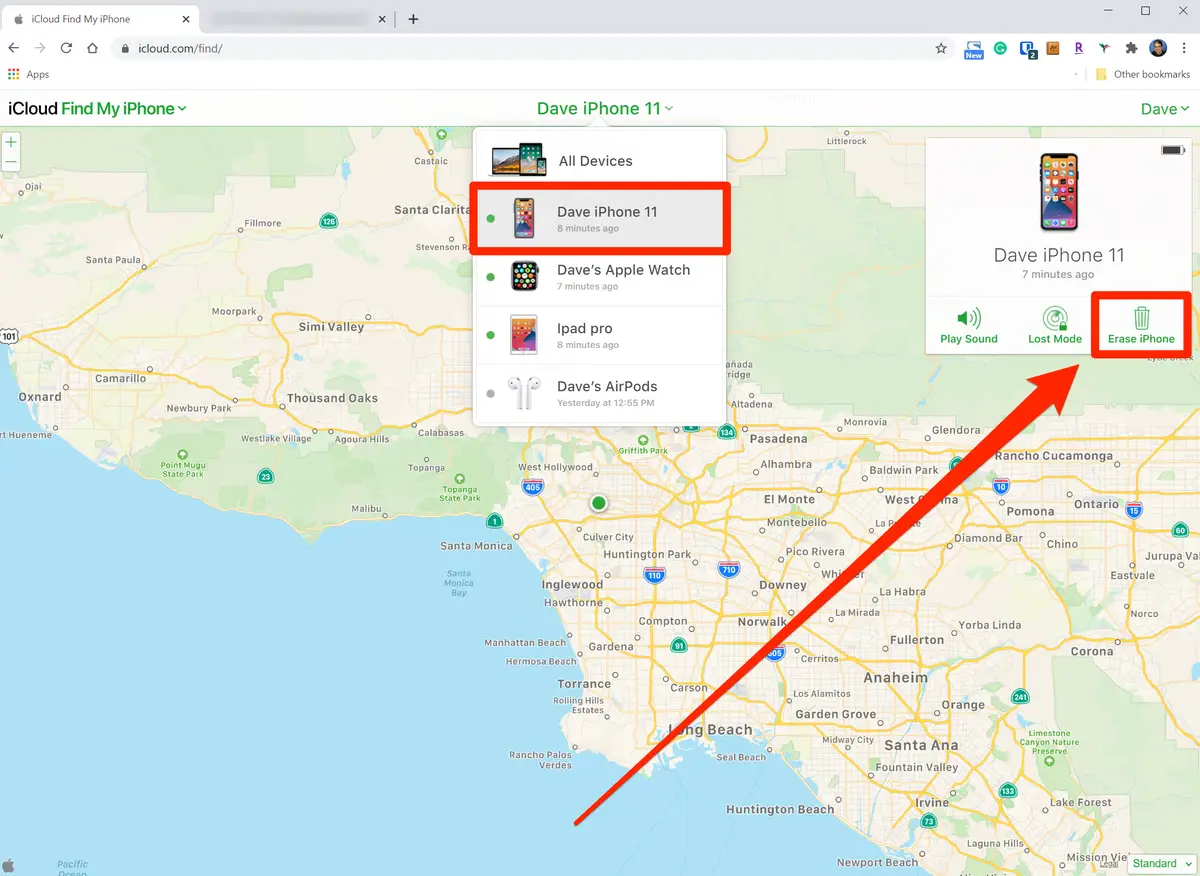 Erase find my on iCloud
This method still requires the original owner's Apple ID and password to use it.
Step 1: Visit iCloud.com via any browser.
Step 2: Sign in using Apple Id and password.
Step 3: Go to the "Find iPhone" icon and select it.
Step 4: Select the blue dot associated with the iPhone you need to log into on the map.
Step 5: Click "erase Device" then select "Remove from Account".
This method will erase the iPhone and you can set it up aging using your credentials however if you don't have the original owner's Apple ID and password then it might not help you.
Method 3 – Remove iCloud activation lock via LockAway (Recommended!)
Mobitrix LockAway- Bypass iCloud Activation Lock is a professional third-party tool that can help you to remove the iCloud lock easily without necessarily having the apple ID and password.
Some of its great features include:
Easy, it instantly removes the iPhone lock with three steps only.
Effective, can unlock/bypass the locks on your iPhone for the rest of its lifetime.
A professional tool that has helped 100,000+ users to remove their iPhone passcodes.
Secure as it ensures the users' data privacy.
LockAway is also able to remove different types of locks such as activation locks that comes with a locked iPhone and limited iPhone features. With this tool you will be able to use the services without limit.
The following steps will guide you through using LockAway:
Step 1: Connect your iPhone to your computer.
Step 2: Select the unlock mode.
Step 3: Remove iPhone Activation Lock.
If you want an efficient method that will remove iCloud lock within a few minutes then LockAway is the best choice for you.
Method 4 – Ask Apple to remove it for you
With this method, you request Apple to remove it for you. To do so, you need to have proof of purchase documentation that shows the device is yours. Then, you could either go to the local Apple Store to ask an employee to help you or you can just call Apple Support to help you.
You can also request help through the Apple website.
Steps:
1. Visit the Apple support website.
2. Select "Get started".
3. Read their privacy policy and accept it.
4. Enter your email and apple Id to request an activation lock then apple support will reach out to you.
However, this method is not convenient for users who bought a used iPhone/iPad and it may take a lot of time waiting for help or traveling to the local store.
To conclude, the different ways explained in this article can help considering you have the Apple ID and password however with LockAway software you don't need to have the password or Apple ID and it only takes three steps to remove the iCloud lock.