There are times when you can forget the passcode on a less frequently used iPad. You can give it a few tries, but you will be locked out of your device if unsuccessful.
Fortunately, there are five incredibly useful ways to unlock a disabled iPad, and in this article, I will go through each of them, exploring which one should be the best option for you.
Method 1: Unlock a Disabled iPad without Computer via an iPadOS 15.2 Trick
If your Apple device is on iOS 15.2 or later, you will be provided with an extra button on the bottom right of your iOS device that reads "Erase iPad."
This feature can be beneficial as you can reset your iPad without a computer, provided you are on the correct firmware. If you are unsure which version your device was before being disabled, you can find out by looking at the type of screen you are shown when the iPad is locked.
iPad Unavailable or Security Lockout
If your screen shows any of these texts, then you are on iOS 15.2 or above and will be able to use the "Erase iPad" feature.
iPad is Disabled
This means your iPad is on a firmware version earlier than iOS 15.2, and you cannot use this feature to unlock your device.
Requirements
Your disabled iPad should be on iOS 15.2 or higher
Your Apple ID is logged in on the locked iPad, and you should know the relevant password prior to it being locked
Find My has been enabled
Access to WiFi or cellular network
Steps:
Once you enter the wrong passcode seven times, the "Security Lockout" or "iPad Unavailable," notification will be displayed on your iPad. There, go to the bottom part of the screen, and tap the "Erase iPad" option.
Tap the "Erase iPad" option again, after which you will be required to enter your Apple ID password.

Erase iPad

A progress bar will be shown beneath the Apple logo. When this progress bar is complete, your device will restart.
Method 2: Unlock Your Disabled iPad via Mobitrix LockAway without iTunes - The Fastest and Easiest Way
Employing a third-party tool such as Mobitrix LockAway can make the entire process faster and simpler.
Having an experience of over 10 years in the iPhone/iPad cracking scene, Mobitrix Lockaway only requires you to follow some simple steps, and chances are your iPad will be ready to use within 20 minutes.
The best part about Mobitrix LockAway is that it's not limited to a particular iPad or firmware version like other options on this list. It can be an all-in-one solution for most of your iOS disabled device problems. Additionally, all of this can be done without iTunes or iCloud.
Here are some of the situations where Mobitrix LockAway can be an excellent choice to solve your problem:
You no longer remember your iPad passcode.
Several failed attempts led to the "iPad is disabled try again in X minute/ connect to iTunes" problem.
Your Face ID won't work due to a hardware failure.
Steps:
Download Mobitrix LockAway
From the menu, choose Unlock Screen Passcode

Unlock Screen Passcode

Click the Start button to remove the iPad passcode

Remove iPad Passcode

Removing screen Lock

The iPad Unlocking is complete!

Unlock is completed
Trustpilot
Why Do I Recommend Mobitrix LockAway?
You don't need access to iTunes.
The success rate is 99%, and the device is almost always unlocked in under 20 minutes.
The process is also relatively easy to follow.
It fully supports iPad (2-9), iPad Air all, iPad mini all, iPad Pro all , iPadOS 13-16
Method 3: Unlock a Disabled iPad via iPhonePass Without Data Loss
iPhonePass is a free-to-use tool designed by Mobitrix to unlock iPhones and iPads after you disable them by forgetting the device screen passcode.
This tool comes in handy, primarily when you do not wish to lose data while unlocking it. However, you need to jailbreak the iPad to be able to use this solution.
What iPad Models that iPhonePass Supports?
iPad 5 to 7, iPad Air 1-2, iPad mini 2-4, iPad Pro 12.9, iPad Pro 9.7, and iPad Pro 10.5.
Requirement:
You must have a Mac device available regardless of the system version.
Download iPhonePass on the Mac.
Download the checkra1n jailbreak tool.
Steps:
Launch the jailbreak tool checkra1n and click on the start button to jailbreak the locked iPhone or iPad.

Launch Checkra1n

As the jailbreak program is being installed on your device through checkra1n, make sure to keep the device connected until the entire process is completed. Also, don't operate or start the device for the time being.
After the program has been installed, you can connect your iPad to your Mac device.
Once the network link is established between the two devices, open the terminal and type the "sudo iproxy 22 44" command.

Enter "iproxy 22 44"

You can see a series of entire scripts appearing on your screen. Double click on "deliphonepass.sh" to delete the script for removing your screen password

Delete "deliphonepass.sh" file
Once your passcode is removed, you can check for any data loss and then reset your passcode through conventional setting-up processes. After that, it is recommended that you turn off the jailbroken protocol of your iPad, as using it in such a state isn't safe in the long run.
Yet, if you come across any issue, then I suggest using Mobitrix Perfix to turn off the jailbroken state without data loss.
Method 4: Fix "iPad Disabled" Error via iTunes
Apart from acting as a great music player and file managing platform for your Apple device, iTunes also offers great help in unlocking your disabled iPad.
To recover your iPad through iTunes, it must be entered into recovery mode and then connected to a PC or Mac.
Recovery mode is a fail-safe procedure that allows you to fix several serious problems with the iPad with the help of a computer.
Putting your device into recovery mode requires neither your Apple ID nor password and can help in updating, restoring, or completely erasing a device.
Requirements:
You must have a PC or a Mac available with you.
For PC users, it is mandatory to use Windows 8 or higher versions and download the latest iTunes version.
For Mac users having macOS Catalina or the latest version, open Finder Window.
For Mac users with macOS Mojave or older, install the current version of iTunes.
A USB cable.
Steps:
Start by turning off your iPad.
If it is without the Home button, then hold the top button and one of the volume buttons until the power off slider appears.
In the case of the iPad with a Home button, press and hold the top button to switch it off.
Once your device is powered off, press and hold the power button or home button of the respective devices while you connect your iPad immediately to your Mac or PC without letting go of it. You have to hold that button until you find the recovery mode screen on the device.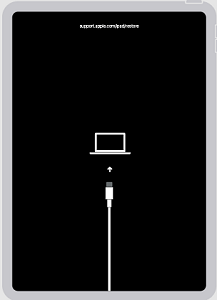 Recovery Mode
Note: If you find the passcode screen instead of the recovery mode screen, you must go back to the first step.
On your PC, open iTunes, and the app will prompt "There is a problem with the iPad "iPad" that requires it to be updated or restored". Click on Restore.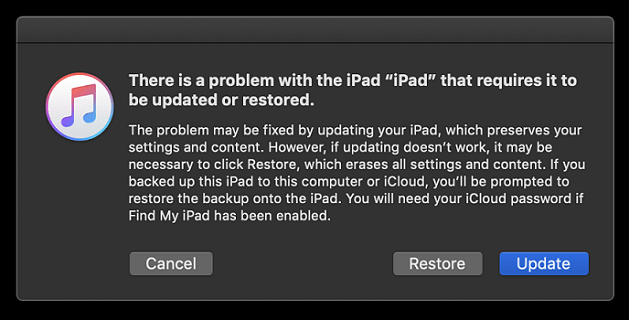 Restore iPad via iTune
Then Click Restore and Update.
Then you'll find an iPad Software Update window where you have to click Next and then Agree. The update shouldn't take more than 30 minutes to download.
After the iPad update software is downloaded, iTunes will confirm if you want to erase and restore the device to the latest iOS. Click the Restore button.
Finally, you can see a restoration progress bar with a white apple logo on your iPad screen. Don't disconnect or operate your iPad while loading; wait until the iPad automatically restarts.
With this process, your iPad would have been reset to the factory settings, so if you like, you can create a new password.
Method 5: Forgot iPad Passcode? Unlock it via Find My iPhone
If you want any location-related help, then you'll know that only Find My can resolve such issues on an iPad. However, did you know that Find My has a built-in erase function that helps you reset any locked or disabled iOS device? This app can remove your personal data including the passcode from your disabled iPad.
Requirements:
Your disabled iPad must have enabled Find My.
The locked iPad must have an iCloud account logged in.
You must know the Apple ID and password.
The disabled iPad must be connected to WiFi or cellular networks.
Steps:
Log into your iCloud account by going to their official website using your phone or computer web browser.

Enter your apple id and password

In the iCloud's website main menu, locate the Find iPhone option and click on it.

Click Find iPhone

Once you click on All Devices at the top of the screen, the feature will share the map of all of your devices. Select your locked iPad.
Once you select the iPad, a pop-up menu will appear on your screen. Click on Erase iPad and click Erase to confirm. The iPad will reset immediately once you confirm if it has internet access.

Click erase iPad

Now, provide the Apple ID Password used on the locked iPad.
An SMS will be sent for 2FA. Enter the code within the text to proceed further.
Finally, enter your phone number and tap Next, which will begin the factory reset. Wait till it is over.

Enter your phone number

Once done, the iPad will restart, type your Apple ID/Password, and set a new screen passcode.
How to Avoid Getting a Disabled iPad Again?
To make sure you don't get locked out of your iPad again, it's best to take a few precautions.
Use Touch ID or Face ID.

Both Touch ID and Face ID can be foolproof methods for unlocking your iPad and will work even if you don't remember your passcode. So make sure to enable them on your device.

Put an Easier Passcode or Save it on Multiple Platforms

If you tend to quickly forget your passcodes, then it's better to use a simple one. Or, if you prefer to use a strong passcode for security reasons, then make sure to store it in multiple locations, such as iCloud Keychain, where you can access it once needed.

Disable Raise to Wake/Tap to wake

This feature can turn your device's display on and lead to unwanted touches. If it happens several times in a short period, your device can get locked. So if this is something you experience often, make sure to keep this feature off.
So, at the end of this article, you will have five various ways to help you unlock your iPad, where if one fails, you can always use another. However, if you want a one-for-all solution with good device/firmware compatibility and get your iPad ready in under 20 minutes, go with Mobitrix LockAway