You can reset password on iPhone with your existing password through Settings.
If you have forgotten your passcode and cannot access your iPhone, you will need to reset it, which will delete your data, including your password.
This article will cover 4 ways on how to reset password on iPhone, including a method that does not require you to erase your data.
Wondered how to reset a password on an iPhone if you have forgotten it? If yes, then you are at the perfect place.
A while back, I encountered the same problem and my iPhone got locked after entering the wrong password multiple times, and boom my iPhone was out of my hands.
I often test various features of the iPhone myself, so I knew that the only way to solve this dilemma was to reset iPhone.
But there is a catch. If you are backing up your data regularly, you don't have to worry. In another case, your real data will be removed, which would be a great loss as you would lose valuable content.
This got me thinking: is it possible to reset a password without losing data?
The answer is YES! Now, I decided to share my findings with you, so make sure you read the article to the end!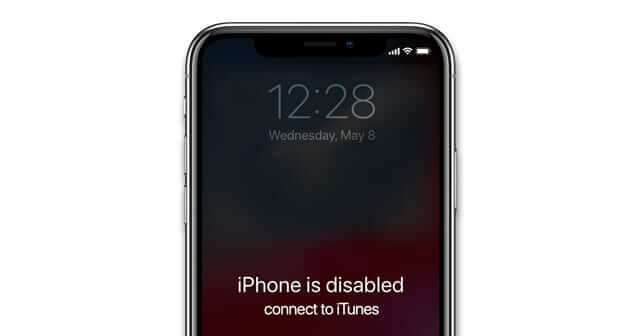 Part 1 How to Reset Password On iPhone With iTunes?
As I said before, iTunes is one of the most classic ways to reset your iPhone. I think every iPhone user is familiar with it. This tool helps us to reset our iPhone to factory settings, deleting all information, including password or passcode that we can no longer recall.
Advantages:
It is an authentic and best choice as Apple provides it,
It is more secure as Apple owns iTunes too.
Disadvantages:
It takes a long time and has a poor success rate.
It will remove all of your data on your iPhone, potentially causing the loss of some material that was not backed up on time.
You may run into some more issues. Consider the following scenario:

When you select Restore with iTunes, your computer will begin the restore process by downloading software for your iPhone. If the download takes more than 15 minutes and your iPhone departs the recovery mode screen, you'll have to repeat the steps.
Steps:
By following the necessary steps mentioned below, you can reset your iPhone.
Firstly, connect your iPhone with the computer.
Open iTunes or Finder. If iTunes is already open, close iTunes and open it again.
Put your iPhone into Recovery Mode according to your iPhone model:



For iPhone 8 and later: Turn off your iPhone, then press and hold the Side button.If you see the Recovery Mode Screen, then let go.

iPhone 7 and iPhone 7 Plus: Turn off your iPhone, then press and hold the Volume down button. If you see the Recovery Mode Screen, then let go.

iPhone 6s and earlier: Turn off your iPhone, then press and hold the Home button. If you see the Recovery Mode Screen, then let go.

Note: If you see the passcode screen, you need to turn off your iPhone and start again.

Usually, a pop-up will show and ask you to either Update or Restore your device. Select the "Restore" button on the iTunes iPhone Management screen.



Your computer will download the latest version of the software on your device.
Once the recovery process is complete, the iPhone will display the 'Hello' screen, then you can follow the on-screen instructions to set up the iPhone using the backup or as a new device.


iTunes is a great tool without its errors. But it was depressing to see my iPhone exit recovery mode again and again, which took me a long time to wait for the software to download.
Then I came across some other unlocking solutions, which I would share with you to avoid wasting-time and remove your iPhone passcode simultaneously.
Part 2 How to Reset Forgotten Password On iPhone Quickly?
Via Mobitrix LockAway
With Mobitrix lockaway, you can reset your iPhone passcode in about 30 minutes. Here is how I find Mobitrix LockAway better than iTunes:  
Advantages:
It will bypass your iPhone lock within 30 minutes of processing.
Its simple interface and detailed user guide enable users to remove iPhone locks instantly.
It has a higher success rate of 99% and doesn't show errors.
Steps to Use Mobitrix LockAway:
Download Mobitrix LockAway on your pc.
Open LockAwaysoftware, click the "unlock screen passcode" option on the screen.
Then click "Start to unlock" to remove the lock from your iPhone.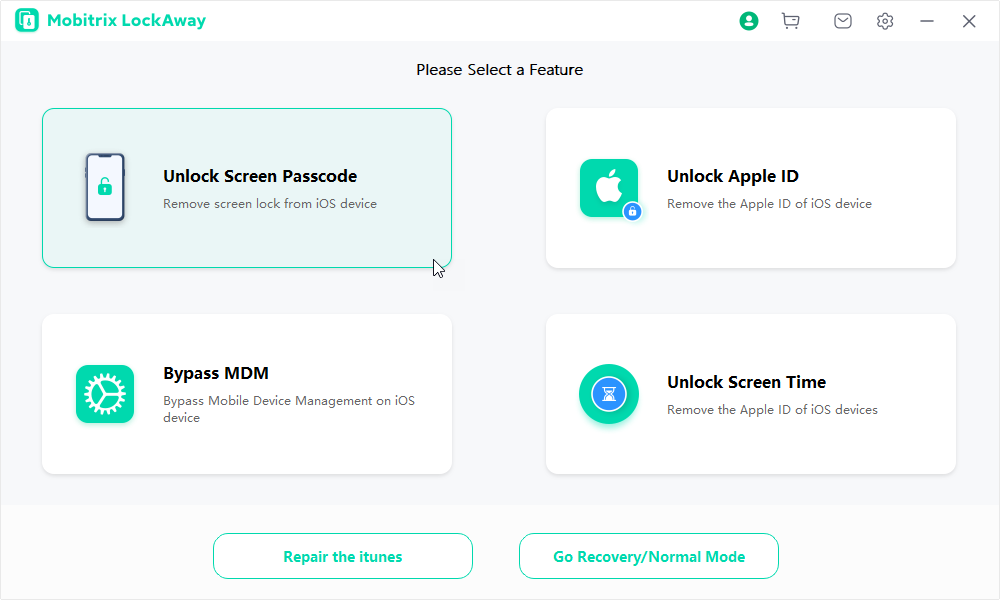 After successfully resetting my password using LockAway, I was able to restore my data from a backup, then I got my iPhone back! I have guided my friends to use LockAway in order to reset their iPhone passcode. And its high efficiency and high success rate has helped save a lot of time.
However, if your unbacked up data is very important, then you can use this method which doesn't remove your data. This is known as iPhonePass, which I will discuss below.
Part 3 How to Reset Password On iPhone Without Data Loss?
Via Mobitrix iPhonePass
With Mobitrix iPhonePass, you can unlock and reset your iPhone without removing your data. However, it does require you to jailbreak your iPhone.
Advantages:
The entire unlocking process for your iPhone will usually take around 30 minutes.
It's completely free and simple to use.
Your data will not be lost as a result of unlocking operations.
The success rate of unlocking is 99 percent.
You don't need any password or other authentication credentials to use iPhonePass.
Disadvantages:
It only supports models before iPhone X.
It is only available for IOS and not for other operating systems.
You could take the chance of changing the jailbreak status on and off.
Preparation before you start:
Before using iPhonePass to reset the passcode, you need to have a Mac and a lock deletion tool like checkra1n. After that, follow the steps below:
Steps to Install Mobitrix iPhonePass:
Jailbreak your iPhone, here I strongly advise you to use checkra1n.
Checkra1n is an excellent jailbreak tool that is easy to use and supports a variety of iPhone models. It is important to note that it is only compatible with MACOS.
Download and then open Checkra1n, click Start.



While installing the jailbreak, keep in mind that you should not turn off your iPhone until it is finished.
Don't set up your iPhone right away after jailbreaking it.
Connect your iPhone to your MacBook.
Please connect your iPhone and Mac to the internet via a network. In your MacBook's Terminal, type "iproxy 22 44" in the command prompt.

To erase the screen passcode, use the iPhonePass utility. Delete the file "deliPhonePass.sh" by double-clicking it.

Your iPhone screen passcode has been erased at this point, and you can now use it normally without losing any data or having to reset it.
The great advantage of using iPhonePass is that it doesn't necessitate you to remove your data to regain access to your iPhone. This once helped a friend of mine keep her precious family photos that she hadn't had the chance to back up. While it does require you to jailbreak your iPhone, sometimes it's worth it, isn't it?
If you don't need to worry about data loss and just want to reset your iPhone, you can also use this computer-free method below.
Part 4 How to Reset iPhone Password Without Computers?
via Find My iPhone
With the Find My iPhone feature, you don't need a computer. All you need is a web browser with an internet connection. Although this method does have some prerequisites, which I have mentioned below:
Requirements:
This unlocking method will only work if the find my iPhone feature is enabled on your iPhone.
You must use the authentication credentials like Apple ID and password to use this feature.
You must connect your locked iPhone to the internet.
Advantages:
It is an accurate and safe method as "Find My iPhone" is a feature of Apple.
All you need is a web browser to use this method.
Disadvantages:
You need to fulfill the above requirements, which I have mentioned above, to use this method to unlock your iPhone.
Beware that this method will remove all of your data on your iPhone if it is not backed up.
Steps:
Here's how to go about it:
Sign in to iCloud.com with your Apple ID and password (the one used on the locked iPhone).
Go to Find My iPhone, select the iPhone you wish to reset the passcode for from the list in "All Devices" at the top.



In the device information window, select 'Erase iPhone.'



The remote delete will commence immediately after the website confirms your Apple ID password once more.
These are the four ways I found to reset the iPhone passcode. And after learning how to reset password on iPhone, you can use the iPhone as it is brand new.
Part 5 Tip: Data Recovery After Resetting the iPhone
After successfully resetting my iPhone, I followed the on-screen instructions to the "the Apps & Data screen" screen.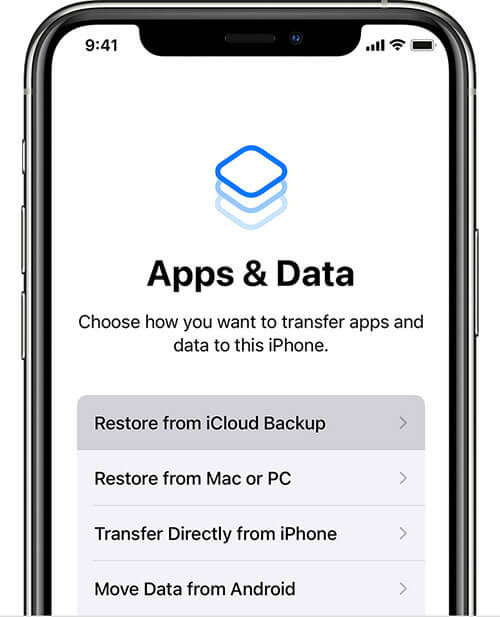 According to Apple's instructions, there are two ways to restore an iPhone backup, as follows:
Restore your device from an iCloud backup.
Restore your device from a backup on your computer.
I chose to restore from iCloud, you can check Apple's tutorial for detailed steps.
But even Apple can't help you recover your iPhone data if it hasn't been backed up before. Therefore, we should keep the habit of backing up frequently. Click here to find out how to make a daily backup.
Summary
To conclude, I've covered 4 ways on how to reset password on iPhone. iTunes resets the iPhone and removes this screen lock. But when you get errors when using it, then this one is a deal-breaker.
And for people like my friends who have not backed up their important data should use Mobitrix iPhonePass. Otherwise I would recommend using Mobitrix LockAway which does unlock your iPhone with a high success rate, and will not damage your iPhone in any way.