You can reset the iCloud password via "Settings" with your original password.
If you don't remember your iCloud password, you can reset iCloud password with trusted devices, email and phone number, or security questions.
In this article, all of Apple's ways to reset your iCloud password are covered, including alternatives for when these methods don't work.
I had all my data, images, and messages saved in my iCloud, but I couldn't remember my iCloud password. What to do?
Well, forgetting your login information is undoubtedly an awkward condition for you while attempting to access your account.
However, there's no need to panic; it's pretty normal. After all, we don't have the same memory as computers. And there are several actions you may take to reset your Apple ID password.
I have done all the leg work for you in this tutorial if you've forgotten your password or if you just want to "play it safe."
You're welcome. One of my joys is researching various iPhone problems and solutions, and testing them myself. Just make sure you read to the end of the article!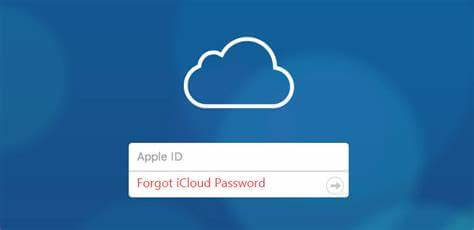 app reset icloud password
Method 1: How to Reset iCloud Password with a Trusted Device
The best option to reset the iCloud password is two-factor authentication. If you have set up and enabled two-factor authentication, you will be able to reset your password directly from your trusted iPhone, iPad, iPod Touch, or the Apple ID account page.
Requirements or Disadvantages:
In order to reset your iCloud account, you must sign in with the trusted device and enable two-factor authentication.
A trusted device or phone number is needed
Reset iCloud Password on iPhone, iPad, or iPod touch
Navigate to "Settings"
Tap "Your Name"> "Password and Security"> "Change Password."
You will be prompted to enter the device password if you are logged in to iCloud and have the device password enabled.
To update the password, follow the instructions outlined on the screen.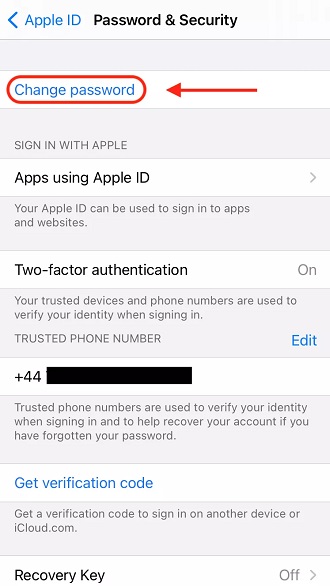 reset icloud password via settings to change password
Reset iCloud Password on Mac
Select Apple menu > "System Preferences" and tap "Apple ID."
Select "Passwords and Security." If you are prompted to enter your Apple ID password, tap "Forgot Apple ID or password" and follow the on-screen instructions.
Select "Change Password" and enter the password you used for your Mac. (This step is optional).
Note: Two-factor authentication is a very useful functionality. If you don't know how to set it up, learn how to set up two-factor authentication later.
While trying the above procedure I observed that it requires authentication credentials. This is not a new thing as all the methods provided by Apple require certain authentication information, such as two-factor authentication.
If you do not know this necessary account information. A hard truth you have to face: You can't reset your iCloud password through any Apple-provided method.
But wait, it's not the end of the world! I found another idea to solve the problem: that is to delete the old iCloud account. I have personally tested the effectiveness of this method.
Method 2: How to Reset iCloud Password Without Security Questions
What can Mobitrix LockAway do?
Mobitrix LockAway is a specialized tool that resolves the issue of iPhone locks. It supports deleting the original Apple ID and creating a new one, i.e. you can use a new iCloud account to sign in to your device.
Advantages of Mobitrix LockAway
I will recommend you to download this software because it has a lot of benefits such as:
It took me 20 minutes to remove the apple ID and establish a new one.
I found it very simple to use, only a few steps are required.
I assure you that you can enjoy a 99% unlocking success rate with this method.
It did not ask me for any authentication credentials as required by other methods recommended by Apple.
Steps:
If you are new to Mobitrix LockAway, these are the simple steps to carry out the process.
Download and Install Mobitrix LockAway.
Connect iPhone/iPad to Computer.
Choose "Unlock Apple ID".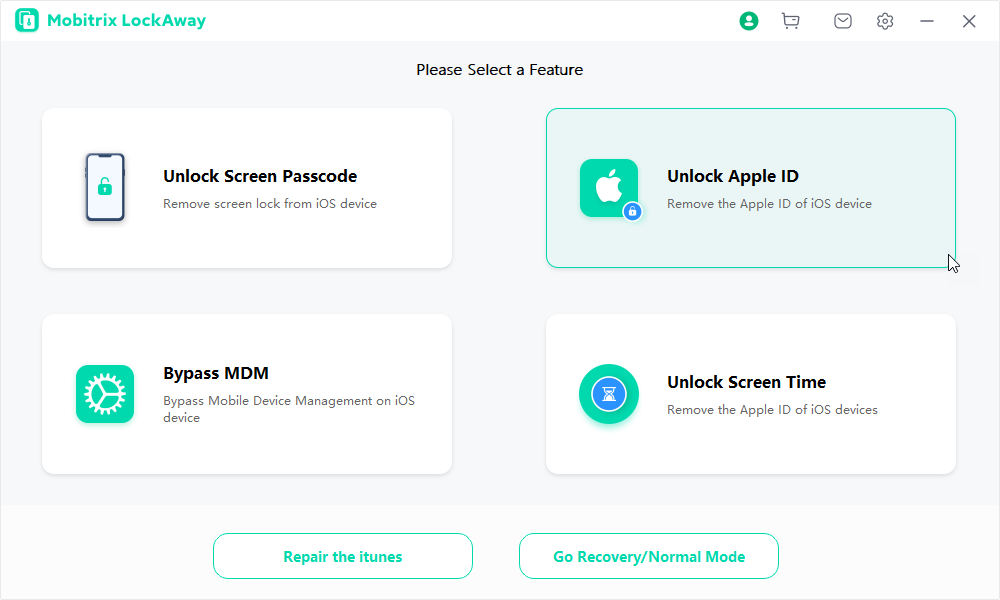 Mobitrix LockAway - Unlock Apple ID - Home
After comparing several methods, I found that LockAway is definitely the best option to reset iCloud when you can't recall any iCloud security information.
As we know, Apple devices that are not logged into your iCloud account will have a lot of limitations in their use. Therefore, it would be good to create an new iCloud account. This will allow you to continue using your devices normally!
However, if you remember some authentication credentials, you may utilize the methods below.
Method 3: How to Reset iCloud Password When You Don't Have a Trusted Device
If you don't have access to a trusted device, you can reset your iCloud password from Apple Support App or Find My iPhone App.
Requirements:
Account details that you want to reset will be needed.
If it didn't work, you may not be signed in to iCloud on an eligible device or you may not have two-factor authentication enabled for your Apple ID.
Release your stress by following these steps.
Instructions for Apple Support App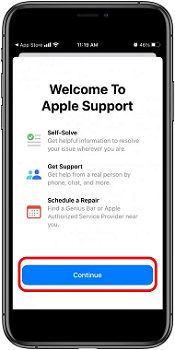 reset iphone via apple support app
Go to Apple Support App, then select "Password and Security."
Click on Reset Apple ID Password.
Select Get Started > "A Different Apple ID."
Enter the Apple ID for which you want to reset the password.
Click Next, follow the instructions on your screen until you receive confirmation that your Apple ID password has been updated.
Instructions for Find My iPhone App
Open the Find My iPhone app on your device.



find my iphone app sign in.jpg

When a Sign In screen appears, make sure the Apple ID field is empty. If you come across someone else's user name, remove it.
Tap forgot Apple ID or password, then simply follow the onscreen instructions.
If you tried the preceding steps and were unable to change or reset your password. In that case, it is possible that you are not logged into iCloud on an eligible device or that you do not have two-factor authentication activated for your Apple ID. Instead, you should attempt these steps.
Method 4: How can I reset the iCloud password using my security certification information?
Go to iforgot.apple.com with security questions, Email or recovery key
What to do If you can't reset your iCloud password through the above methods? Well, you can use the option "iforgot.apple.com" to resolve this matter.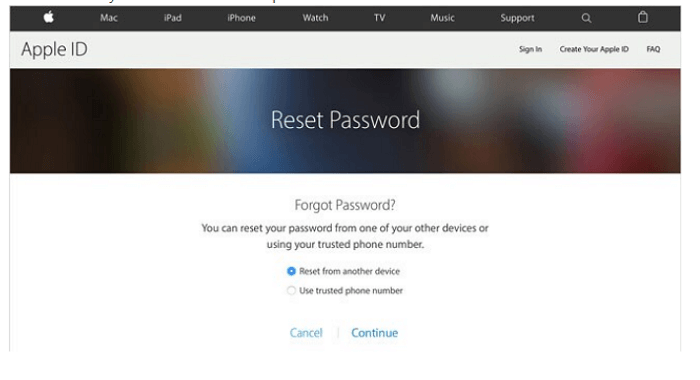 recover icloud password via two factor authentication
Advantages:
This method is applicable for both accounts with or without security questions.
This method is free and safe to use.
Disadvantages:
Requirements: The Apple ID you want to recover and associated email address.
It will require you to answer security questions, get an email or ask for a recovery key.
Steps:
Access iforgot.apple.com, and you will be asked to provide your Apple ID.
Choose"Continue", then choose "I need to reset my password".



appleid l need to reset my password

Still, "Continue". Then you can choose security verification according to your situation. To "Get an email" or "Answer security questions." Here, I am choosing the email option.



appleid security questions get an email

Again, "Continue" and followed by "Done".
You will receive an email from Apple (Be aware of phishing emails). The email will say "How to reset your Apple ID password". Open it, then click "Reset Now".



appleid how to reset your apple id password

You need to enter your new password, then choose "Reset Password."



appleid reset password
Tips: If you choose "Answer security questions", you will need to answer the questions you set before.
After the time expires, Apple sends you a text message or an automated phone call with information on recovering access to your account. Follow the on-screen steps to recover access to your Apple ID right away.
Note:
You will be asked to sign in again with a new password after resetting your iCloud password.
You may also need to update your password in the Settings of your device.
In conclusion, there is no need to get worried if you have forgotten your iCloud password or email. Several methods are mentioned above to reset iCloud password.
However, using Mobitrix LockAway has many benefits for you. You'll be saved from headaches as it saves time, is successful, and super easy to use.
So, move to this fantastic software, and enjoy your devices as soon as possible!