How to Remove MDM From Your iPhone
Organizations and companies often provide updates to the devices of their employees. Have you ever wondered how? They use MDM to control these devices remotely. This can be a very useful thing for businesses and educational institutes. But it can also be very frustrating to you if you use one of these devices.
It is not always comfortable allowing other people to control your devices. If you feel this way, you're in the right place. In this article, I intend to go through all the ways you can disable MDM from your phone. If you're still unsure, you can read the following section of my article to understand what MDM is and why disabling it can be useful for you.
What Exactly Do I Mean by MDM?
MDM is shorthand for Mobile Device Management. It allows you to configure the enrolled devices remotely and securely. Your device does not need to be owned by an organization to have MDM. Many organizations ask their users to enroll in the organization-provided MDM so that they can control the enrolled phones.
MDM can allow organizations to do a bunch of activities on your phone. They can update software, change settings, distribute educative material like books and monitor your device's activity to make sure it obeys organizational policies. They can even lock your device or completely wipe the data off of it remotely.
Why Should You Delete MDM?
You might be asking right about now, 'Why does this even affect me? What do I care?'
Before you care about whether you should or shouldn't disable MDM, though, you need to know if your device even has MDM.
How to Check if Your Device has MDM?
To check for this, you can follow the steps below:
Step 1 – On your iPhone or iPad, go to Settings.
Step 2 – Now go to General and then go to Device Management.
If you don't see an MDM profile here, well, then you can go about your day worry-free.
For those of you who found a profile, check out the dangers below to see if you want to keep MDM on your iPhone or iPad or not.
Problems MDM can Cause
MDM is frustrating at best. It can cause a variety of hurdles in your day-to-day use of your device.
App Control
For starters, you can't control what applications are on your device. Meaning you can't delete the apps already present. And to make matters worse, you can't install any more apps either. It doesn't seem real, does it? I couldn't believe it either. But it's true. It's like an app limbo on your phone.
No Connection to Other Devices
If you were thinking of syncing your MDM device to your other Apple devices, you can forget it. You can't connect your iPhone or iPad to any other device, not even your Apple watch. You can't even connect it to your computer with a USB.
Privacy Concerns
One tiny stream of light is that MDM can't actually access your media or messages. Phew! But there are still ways it can annoy you. That's because MDM can restrict iCloud photos or your messages which isn't ideal, to say the least.
How Can You Remove MDM from Your Device?
At this point, you just wanna know if or how you can get rid of MDM on your iPhone or iPad. Well, there's good news for you. You can indeed remove MDM from your device, and I have explained a bunch of ways to do it. Read the section below to see which one of the methods works best for you.
Method 1: Use iPhone/iPad Settings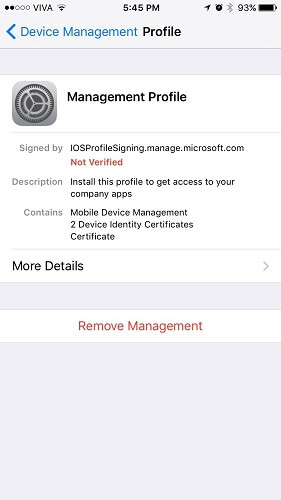 You can directly use the setting on your Apple device - whether an iPhone or iPad - to get rid of MDM. However, you need to check a few things first.
Requirements: You need to know the login details of the MDM profile, or you need to be the administrator to use this method. If you don't have these details, refer to the next method.
If you fulfill the requirements, you can follow the instructions I have mentioned below:
Step 1 – On your iPhone or iPod, open Settings.
Step 2 – Now go to General and then Device Management.
Step 3 – If you have MDM on your device, you'll see a profile here. Choose it.
Step 4 – On the next screen, you'll see a Remove Management button. Tap it.
Step 5 – You will now be prompted to enter your password.
When you enter the passcode, your MDM profile should be removed in just a little while. If this doesn't work for you, don't worry. You can still try one of the methods below to remove MDM successfully.
Method 2: Try Jailbreaking Your Device
If directly using the settings on your device is not on the game cards for you, no worries. You can try to jailbreak your iPhone instead. This is another effective method to remove MDM from your device. And you don't even need to know the password.
Follow the steps I have mentioned below to remove MDM via jailbreak:
Step 1 – Install a jailbreaking application on your iPhone or iPad. You can use any app of your choice for this purpose.
Step 2 – Once you have installed a jailbreaking app, use it to jailbreak your device.
Step 3 – After jailbreaking your device, go to Text Editor.
Step 4 – From here, delete the MDM files.
This should successfully remove MDM from your device. This method is surely useful, but it comes with its own problems. Make sure you know the dangers before you go ahead with this method.
Disadvantages
Jailbreaking your device can:
Cause a lot of instability or unexpected issues on your device.
Cause bricking of your phone, which means you'll be left with a useless brick-like device that can't be fixed.
End up making your device more vulnerable. Jailbreaking isn't a safe process, so it can mess up your device's internal settings configured for its safety.
Leave your device without a warranty. That's because companies can only provide warrantees if you stick to their guidelines and don't mess with the internal settings on the phone. In this case, attempting a jailbreak on your phone might go against their policy, rendering you unable to claim a warranty.
If you are okay with the above-mentioned dangers of using this method, you can proceed with it. But if you find these dangers unacceptable to you, you can try my recommended method below.
Method 3: Take Help from External Applications
If you've tried all the methods above and you didn't have any luck, don't worry. We've got a secret weapon to help you if all else fails. Are you ready to know what it is?
It's Mobitrix LockAway- Unlock iPhone Passcode. LockAway is a tool that can help you to easily remove MDM from your device without needing any kind of password or admin powers. It has been tried and tested to remove locks of various types from Apple devices. And its sole purpose is to make the life of Apple users easier.
Features
LockAway comes with a range of features that can make anyone a fan of using it. There are many advantages to using LockAway, but I'll keep it brief. Here are just some of the features that make LockAway ideal for you to remove MDM from your device:
It will remove MDM from your device permanently. It will only be restored in case of a complete device reset. And in that case, you can use LockAway to remove it again.
You don't need a username or password to use LockAway for removing MDM.
It allows full access to your Apple device when MDM is removed.
Here are some of the steps you can follow to use LockAway and remove MDM from your device:
Step 1 – On your PC, install LockAway and then launch it.
Step 2 – You will see a few options on the screen. Choose Bypass MDM.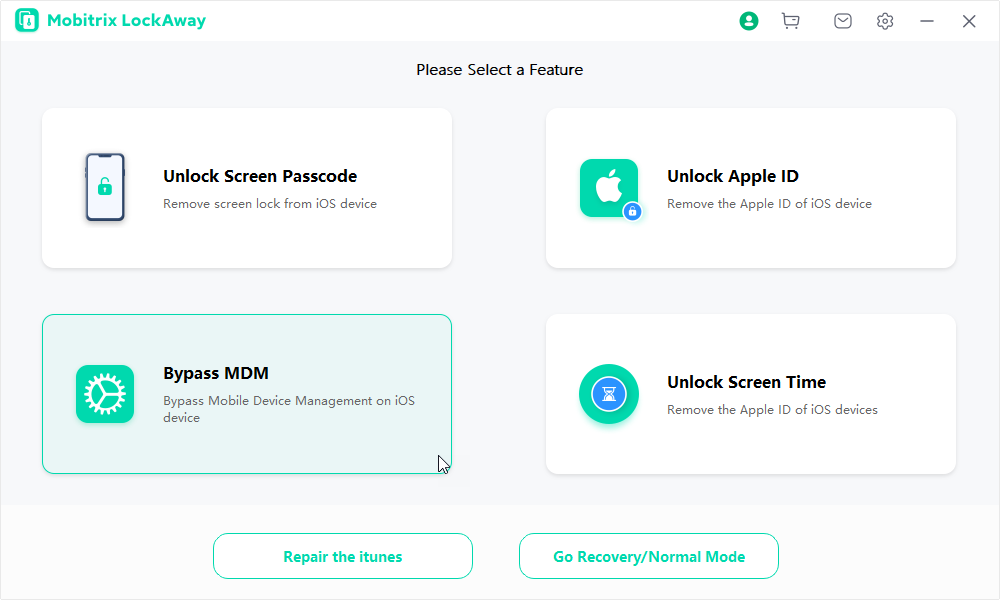 Step 3 – Now connect your device to the PC via a USB cable.
Step 4 – Check to see if your device is locked out of the MDM screen.
Step 5 – If the above doesn't happen, reset your device. Before resetting, you need to turn off Find My iPhone. For this:
Go to Settings on your device and then go to General.
Here tap on Reset. Next, tap Erase All Content and Settings and your device will reset completely.
When you restart your phone, tap on Don't Transfer Apps & Data in Apps & Data to get your device locked out of the MDM screen.
Step 6 – Now go back to LockAway and click on Already Done.
After a few minutes, the process of removing MDM should be complete. You now have a phone that will be uninterrupted from outside control.
Benefits of Using LockAway
LockAway comes with its own benefits:
It is easy to use, and you can use it without needing any prior knowledge.
It only takes a few clicks to get the job done. You don't have to wait an hour. Yay!
You can use it with any version of iOS and any iPhone model from 5 to X.
It is completely safe.
It has a high success rate.
To Sum Up
If you're annoyed by your organization having control over your device, you can just remove MDM from your device and enjoy complete freedom. I have outlined various methods you can use to get rid of MDM from your phone. You can look through the methods and see which works best for you.
If you're still confused about which method you should pursue, I recommend using LockAway. It's simple to use, you don't need any prior experience or technical knowledge, and it only takes a few minutes to get the job done. So, get your phone's freedom back and enjoy.