If you haven't entered the right passcode the 10th time, you'll get a warning that your "iPhone is disabled, connect to iTunes".
You can unlock your iPhone by connecting it to iTunes with a cable. You may need to put it into recovery mode if iTunes doesn't recognize your iPhone.
This article will detail how to unlock your locked iPhone with iTunes, as well as other alternative ways.
Facing a situation of "iPhone locked connect to iTunes."? You are not alone.
Some time ago, my iPhone did the same, and it was frustrating when it started giving notifications like "iPhone is disabled, connect to iTunes". I couldn't access my contacts, gallery, and apps.
But then I found several solutions to this dilemma after stumbling upon many techniques.
If you want to find out how I accessed my iPhone and how you can do the same, follow the guidelines further mentioned in this article.
What Does "iPhone Locked Connect To iTunes" Means?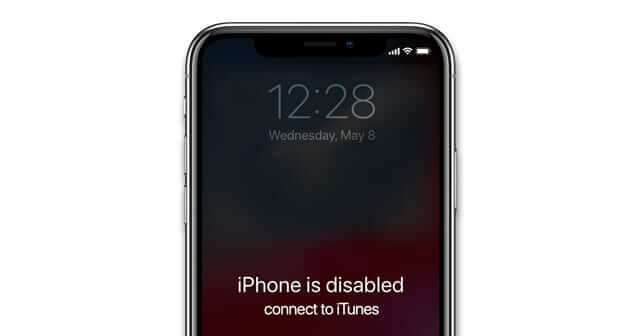 One good thing about iPhone security is, unless you've written your passcode on a yellow sticky note and stuck it on your back, no one can access your phone data easily.
An iPhone de-activates itself after six failed password attempts. That means you have five chances to unlock your iPhone before it locks you out.
One minute after the sixth try, it will be disabled. The seventh attempt will lock you out of your crippled iPhone for five minutes, the eighth try, 15 minutes, and the tenth, 60 mins.
However, if you still haven't entered the right passcode the 10th time, you'll get a warning that your "iPhone is disabled, connect to iTunes". And that is where you will be stuck.
Method 1 Fix "iPhone Locked Connect To iTunes" Via Computer
The bad news is, if your iPhone is deactivated, there's no way to remove the passcode and simply restart it. Otherwise, anyone could do it, defeating the security purpose of having a passcode.
Instead, you will have to restore your iPhone, here "restore" means reset your iPhone to factory settings. This is what I did on the recommendation of Google by following the instructions below to utilize iTunes.
However, in my experience, this is not a foolproof solution. Before we look at the detailed steps, I suggest you check out the pros and cons of using this method.
Advantages:
iTunes is the product of Apple.
Disadvantages:
It takes a long time and only has a small chance of success.
The iTunes user interface is not pleasant to use.
It frequently fails to connect.
This procedure will erase all of the data on your iPhone, potentially resulting in data loss that was not backed up promptly.
Steps:
Connect your iPhone to your computer via a USB cable.
Put your iPhone in the recovery mode.


For iPhone 8, iPhone X, or later versions:

Turn off your iPhone. Then long-press the Volume Down and Volume Up with the Side button until you see the recovery mode in your screen, let the buttons go.

For iPhone 7 or 7 plus:

Turn off your iPhone. Then press the Volume Down button together with the Side Button until you see the recovery mode in your screen, let the buttons go.

For iPhone 6s and earlier models:

Turn off your iPhone. Then press the Home and the Top or Side buttons until you see the recovery mode in your screen, let the buttons go.

Open iTunes/Finder. Click "Restore" when you see the option of "Restore" or "Update."



Your iPhone will be reset to factory settings once this process is completed. Then, to restore your iPhone with a recent backup, follow the on-screen instructions.
However, when I used iTunes to unlock my iPhone, iTunes urged me to take action with a message that said " Because there is a password protecting the iPhone, iTunes can't connect to it. Before you can use iTunes with your iPhone, you must enter your passcode."
I'm devastated! And, I tried to search for a solution on the Apple website, but came up empty! But fortunately, I came across another unlocking solution which I will be discussing below:
Method 2 Fix "iPhone Locked Connect To iTunes" Via Mobitrix:
After trying multiple solutions and tools that gave me nothing but disappointment, I found a system that made my life easier. Mobitrix LockAway removed my iPhone lock better than all other systems I tried. Here is why I found it to be far better than others:
What Can Mobitrix LockAway Do?
Mobitrix Lockaway is compatible with any locked iPhone. That said, you can bypass the Face ID, touch ID or passcode with the help of LockAway.
Advantages:
Unlocking the screen passcode took me 30 minutes.
The success rate of unlocking is 99 percent.
It didn't add to the complexity I already had in my mind.
It didn't require me to provide a passcode.
How to set it up:
Install Mobitrix LockAway on your pc.
Select Unlock Screen Passcode after connecting your iPhone to the PC.
Press Start to delete the iPhone passcode.
I've found that Mobitrix LockAway is the best unlocking solution to unlock and access my iPhone.
Another method that is often overlooked is the "Find My iPhone" feature. Wondering how it unlocks your iPhone? Keep scrolling down!
Method 3 How To Fix A Locked iPhone Via iCloud/Find My iPhone?
One way to solve your iPhone disabled message is via "Find My iPhone", one of the feature of iCloud, which you can get your iPhone unlocked as long as you have the necessary authentication credentials.
Advantages:
It is provided by Apple.
It's web-based, and you can use any device.
Disadvantages:
The Find My iPhone function must be enabled on the locked iPhone.
The locked iPhone's Apple ID and password are required.
The iPhone must be connected to the internet when it is locked.
This procedure will erase all of the data on your iPhone, potentially resulting in data loss that was not backed up promptly.
Steps:
You can unlock your disabled iPhone via iCloud in the following way:
Go to iCloud in your browser, and open Find My iPhone feature. Use your Apple ID and password to log in.
At the top, select All Devices.
Select the iPhone that is currently locked. After that, click Erase iPhone and confirm.



To authenticate, enter your Apple ID password.
After you've erased your smartphone, it'll boot up like any other new iPhone.
Well, I was not able to use this because I had turned off my phone's internet at the time.
And, if you don't work out either or don't have a computer around yet, there is still another way out. This trick also has some limitations, but you can give it a try. That is Siri!
Method 4 How To Fix Lock iPhone Without Connect To iTunes Via Siri?
Siri, the personal assistant on your iPhone, can do a lot more than simply tell you the weather; it can also help you unlock a locked iPhone!
Although it is a type of loophole instead of an Apple-approved method. Another bad news is that this method is only available on iPhones running from iOS 8.0 to iOS 12.1.
Following is how you can use Siri to unlock your iPhone:
Hold down the Home button on your device to activate Siri, then ask for the current time by asking something like, "Hey Siri, what time is it?" or something similar.
To start the process, tap the Clock symbol.
Select Add Another Clock from the World Clock interface.
The user interface will prompt you to select a city. Tap the "Select all" button after typing whatever you wish.

Following that, you'll see several options. Select "Share" from the drop-down menu.

This will open a new window with a selection of possible sharing choices. To continue, tap the Message icon.
In the "To" field, type whatever you want and hit the return key on your keyboard.

The specified text will be highlighted in green. Tap the plus symbol (+) after selecting it.
It will open in a new tab. Tap the "Create New Contact".

Choose to "add photo" to a new contact. The Photo Library will open as a result of this action. You can go to any album from here.

Press the Home button instead of picking a photo to exit the UI.

Then the iPhone's home screen will appear.
Summary:
To conclude, we have discussed 4 ways on how to unlock a locked iPhone. Although the problem itself says "iPhone locked connect to iTunes", I don't think iTunes helps much with this problem, I'm a good example of this.
And if you meet all the relevant conditions, iCloud is a good way to go. By comparison, Mobitrix LockAway seems to gain the upper hand in unlocking an iPhone. It is easy to operate with a high successful rate and saves a lot of time.
If you need to make an important call, reconnect with your friends and family, or simply watch some TV series and play some games on your phone, you should just go for a quick and effective solution right away. Simply use Mobitrix to unlock your iPhone in 30 mins!