Do you need to erase your iPhone? If you do, would you like to learn how to erase it? You can erase your device to fix a software problem, before reselling it or even for security purposes if you lose it. Regardless of why you need to erase it, this guide is the perfect place to learn how. This article is a simple but comprehensive guide showing four ways to factory reset your iPhone. Let's dive in.
Why Do You Need to Erase Your iPhone?
There are various scenarios when you may need to erase everything on your iPhone. These include:
When you forgot your Apple ID password.
You lost your iPhone, or it was stolen. Erasing it is the best way to ensure your information is safe.
To sell or give away your used iPhone. Before handing away your iPhone, it is wise to clear your data by factory resetting it.
You purchased a second iPhone, but the previous owner forgot to sign out or unlock the device.
Entering the wrong passcode too many times caused your iPhone to disable.

Disabled iPhone screen

To troubleshoot iPhone errors or bugs.
How to Erase Everything on iPhone via Settings
Apple allows you to erase your device via Settings, so if you have your iPhone with you, you can easily factory reset it. To erase via this method, you will need your Apple ID & password.
Steps:
Go to Settings and tap General.
Scroll down and click Transfer or Reset iPhone.

Click transfer or reset iPhone

Tap Erase All Contents and Settings.
Once your iPhone resets and restarts, you can set it up as a new device or restore it from a backup.
How to Erase iPhone Without Password
Method 1: Wipe iPhone Without iTunes or iCloud
If you do not have your Apple ID password, you cannot erase your iPhone via the methods provided by Apple. Fortunately, you can use Mobitrix LockAway . This software is a dedicated iOS repair tool that lets you instantly erase all data on your device. You should also turn to Mobitrix LockAway if you are in a hurry to erase your iPhone.
Scenarios when you may need Mobitrix LockAway:
You have forgotten your iPhone screen passcode.
Multiple incorrect passcode attempts caused "iPhone is disabled connect to iTunes."
You acquired a second-hand device.
Your Touch/Face ID doesn't work correctly.
You have a cracked iPhone screen.
Steps:
Download and install Mobitrix LockAway.
On the main menu, tap Unlock Screen Passcode.

Unlock screen passcode home

Click Start to remove your passcode. A Keyfile will be detected automatically.

Unlock screen passcode product

Download and extract the Kayfile package.
After successfully downloading the Keyfile, tap Start to Extract.

Unlock screen passcode firmware has been downloaded

Tap Start Unlock once the extraction is complete.

Unlock screen passcode extraction complete

Your iPhone has been unlocked successfully.

Unlock screen passcode unlock is complete
Advantages:
No need for iTunes.
Mobitrix LockAway is easy to use and only needs a few clicks. It is also friendly to non-technical users.
The tool has a 99% success rate.
It's fast and only needs about 20 minutes to unlock your device.
It provides 100% privacy protection.
Mobitrix LockAway fully supports iPhone 5s-iPhone 14 and iOS 12/13/14/15/16 and later.
Your iPhone will reboot and take you to the setup screen after completing the unlocking process. You can restore your device if you had backed it up on iTunes or iCloud before erasing it. But, if you don't have a backup, click "Don't transfer apps & data" and set up your iPhone afresh.
Method 2: Erase iPhone Remotely Using Find My
If your iPhone is missing or has been stolen, you can use the Find My app to erase everything on that device. Find My is a location-related app that is great for locating a lost iOS device. However, Find My also has an "Erase it with ease" function that lets you remotely reset your iPhone.
Requirements for using Find My to erase iPhone:
Find My should be enabled on the device you want to erase.
Your device is still logged in to your iCloud account.
The target device must be connected to the internet via Wifi or a cellular network.
You should have your Apple ID and password.
Situation 1: How to Erase iPhone via Find My (icloud.com)
Steps:
Go to icloud.com on a computer or cellular browser.
Input your Apple ID and password.
Once you have signed in, tap Find iPhone, input your Apple ID and password again and click Sign in.

Click Find iPhone

Tap All Devices and select your iPhone.

Click all device and choose your device

Click Erase iPhone. You will see a prompt saying, "Erase this iPhone." Tap Erase.
Enter your Apple ID and password to continue.
You will get a message carrying a verification code on your trusted device. Input the verification code to proceed.
Enter your phone number and click Next.
The iCloud website will display "Erase Started." At the same time, your iPhone's screen will show the erasing progress and the white Apple logo.
The device will restart once the process finishes. Swipe up to go to the resetting screen. You will see this message on your iPhone, "iPhone Locked to Owner." When you see the message, enter your Apple ID and password. Click Next. You can now set a new passcode.
Situation 2: How to Erase iPhone via Find My (App)
If you have another Apple device or someone around has an iOS, you can use it to erase your iPhone through the Find My app. You will not have to use a computer.
Steps:
Open the "Find My iPhone" app on another iOS device.
Enter your Apple ID and password to sign in to your iCloud account. The iCloud account you sign into must be linked to the iPhone you want to erase.
Select the device you want to erase from the displayed list.
The interface of the iOS device you are using will show you the target iPhone's current location and other options.
Tap the Action button and choose the Erase iPhone option. Confirm your choice again. Your iPhone will then be erased remotely.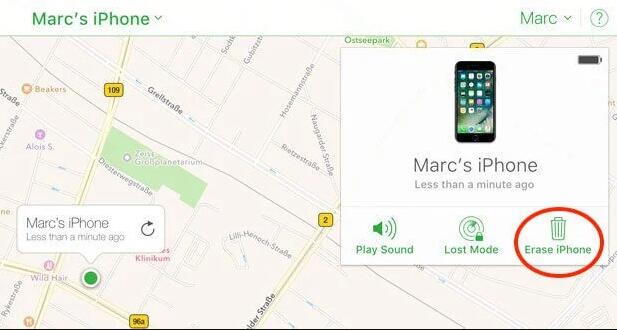 Click 'Erase iPhone.'
Method 3: Factory Reset iPhone in iTunes via Recovery Mode
Recovery Mode is an iOS troubleshooting option you can use when other factory resetting options are unsuccessful. Putting your iPhone into Recovery mode enables you to restore the device using iTunes via a computer.
Steps:
1.Switch off your iPhone.
How you turn off your device depends on its model:

For iPhone X, 11, 12, and later: Press and hold any volume button and the side button, then wait until you can see the power-off slider.
For iPhone SE (2nd & 3rd generation), 8, 7, and 6: Press the side button and hold it until the power-off slider pops up.
For iPhone SE (1st generation), 5 and earlier: Press the top button and hold it until the power-off slider appears.

iPhone power off buttons.

Drag the power-off slider to switch off your iPhone, then wait a minute to ensure it is entirely powered down.
2.Put your iPhone into recovery mode.
To set your device to this mode, you must identify the right button to press and hold.

For iPhone 8 and later, including iPhone SE (2nd and 3rd gen), use the side button.
For iPhone 7 Plus and 7, use the volume down button.
For iPhone 6s and older, use the Home button.

Press and hold the right button on your iPhone and immediately connect the device to your computer via USB. Don't let go of the button.
Keep holding the button until you see the recovery mode screen pop-up, then let the button go. The Recovery mode screen shows an image of a laptop and a charging cable.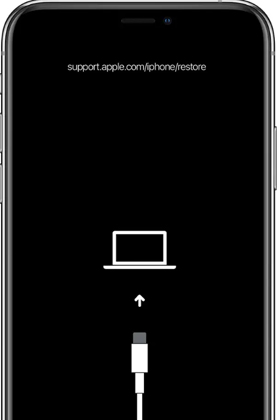 iPhone recovery mode screen
3.Restore your iPhone.
Launch iTunes. You will notice a message saying, "There is a problem with the iPhone "iPhone" that requires it to be updated or restored." You will be required to select whether to Update or Restore your iPhone. Click Restore.
Do not disconnect your iPhone until this process is complete. Restoring can take up to 20 minutes, but you will know the process is complete when the device restarts.

The iphone that requires it to be updated or restored
FAQs:
How can I erase my old iPhone before trading it in?

When trading in your iPhone, you should first erase it. But, before erasing it, you need to remove all your personal information from the device. You will need to unpair your Apple Watch if you have one. Also, ensure you backup your device before factory resetting it. If you switch devices, a backup enables you to restore the same data to your next iPhone.

You should also manually log out and deactivate Apple services such as iTunes and iCloud. While erasing your iPhone can deactivate and sign you out of these services, there have been a few cases where erasing failed to sign out the device. Thus, to be sure this failure doesn't occur, sign out and deactivate Apple services manually. Once you remove your personal information, you can erase your iPhone and trade it in.

Should I factory reset my device if it was stolen?

This depends on whether the stolen iPhone has a passcode and if you have sensitive information on the device. If your device has a passcode, the data on your iPhone may be secure enough. However, if the stolen device has no passcode, you should factory reset it. You should also consider resetting your device even if it has a passcode if the data on it is too sensitive.
If you were wondering how to erase your iPhone for trade-in or resetting a forgotten passcode, you now know how to erase it. With the knowledge gained from this guide, you can erase your iPhone any day and for whatever reason. However, using Mobitrix LockAway is the easiest and most effective way to erase your device. It is fast, safe, and conveniently delivers the desired results. You can enjoy this convenience too. Just try Mobitrix LockAway.