How to Connect to iTunes When iPhone is Disabled
Whenever iPhone users enter a wrong password, their iPhone is disabled, making it difficult to operate it. In this article, we will show you how to solve that issue by using a few tricks.
Different iPhone models have been covered, so go ahead and take a look!
Part 1: Why your iPhone is disabled
An iPhone can be disabled when you give wrong passwords several times. It may be that someone is trying to access your iPhone, or a child was playing with it.
iPhones are embedded with powerful security measures to prevent outsiders from accessing them. This is a way of ensuring that only authorized users can use it.
Many software today can be used to crack one 's password with only a few attempts. To prevent these crackers from successfully accessing your iPhone, it gets disabled after entering like five incorrect attempts.
Too many incorrect attempts make your iPhone disabled and inform you to connect it to iTunes to access it again.
Part 2: How can I stop my iPhone from being disabled?
To avoid getting this error in the future, you have to be careful while entering your password. You can also avoid using passwords, but this is not advised because anyone can access your device if no password is provided.
While your iPhone is in your pocket, it may try to unlock itself. It is advisable to set your screen to turn off after thirty seconds of inactivity automatically.
Another optional security measure to take is to wipe your device completely if someone else tries to enter the wrong password several times. To avoid sensitive data from being accessed by others, follow the steps below:
1. Open Settings app > Touch ID and Passcode (Face ID and Passcode) and enter your passcode.
2. Scroll downwards and click on "Erase Data".
This is an optional way, and it is not advisable to use it unless it is necessary.
Part 3: How to fix 'iPhone is disabled. Connect to iTunes' error
There are a few methods that one can to solve the disabled iPhone errors, as explained below:
1. Use iTunes
To use iTunes, follow the steps below:
Step 1: Connect your device to a computer. For users with macOS Catalina or the later versions, launch the Finder application. For macOS Mojave or earlier versions and Windows, open iTunes.
Step 2: Put your iPhone into recovery mode, as explained below.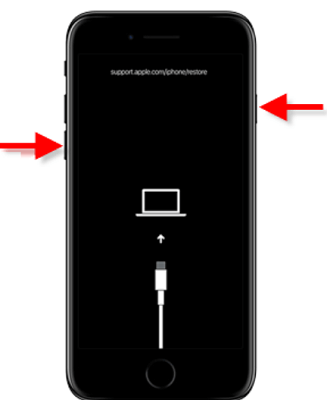 iPhone 8 and newer models (SE 2020 included):
1. Long-press both buttons for volume up or down and the side simultaneously, then turn it off.
2. Long-press the side button only until the iPhone shows a black screen.
iPhone 7 or iPhone 7 plus:
1. Go to the Sleep/wake button and press it long enough for the slider to appear. Drag the slider to turn it off
2. Through the button for volume down, press it until the black screen for recovery mode is observed.
iPhone 6S or earlier models:
1. Through the button for Sleep/Wake, press it until a slider for shutting down appears, then go ahead and drag the slider and turn it off.
2. Use the button for Home and press it till your iPhone goes into recovery mode.
Step 3: Choose your device from the screen, then recover it by clicking on "Recover iPhone"
Allow iTunes to download the relevant software for recovering your iPhone. Note that the iPhone will be reset to the factory setting, so if you have a backup, you can go ahead and restore it.
2. Recovering your iPhone using iCloud
To recover your iPhone through iCloud, follow these steps:
Step 1: Visit iCloud.com and use your Apple ID and its password to sign in. Then select the "Find iPhone" option.
Step 2: Tap on "All Devices" and select your device.

Step 3: To wipe out all your data select the "Erase" option.

All your data will be wiped out, and the password will be removed. You can use the setup assistant to help you set up your device once again and use it.
You will also be given the option of restoring your previous backup. Once the restoration is done, you can set a new password that is easy to remember.
3. Use LockAway to reset a locked iPhone
LockAway is a secure and reliable tool that is designed to help you unlock your disabled iPhone. The software can remove the passcode and restore your iPhone to factory setting, enabling you to set it again.
This software is also capable of removing Apple ID and many other issues affecting your iPhone.
Steps:
1. Using your MAC or PC, download the software and install it.
2. Start the software, then connect your iPhone to the computer.
3. Choose unlock screen passcode and then click Next.
4. Confirm your device information, then click on the 'Download' button.
5. Allow the key file to be downloaded, and once it is complete, click on "Start".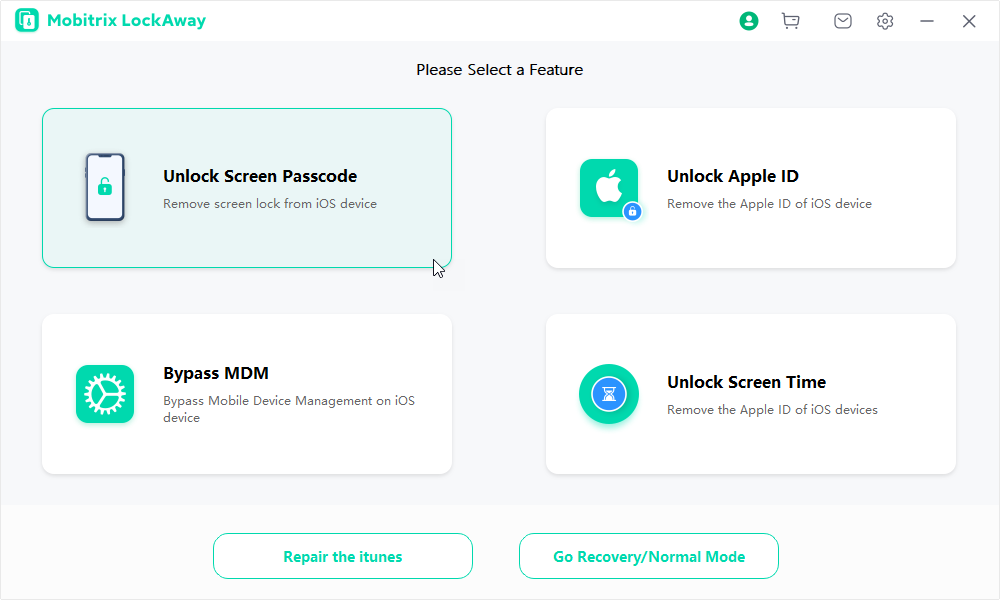 Your iPhone will start unlocking. Allow the process to complete, and the password will be removed.
Advantages of using LockAway:
No data is lost during the process, and it fixes multiple issues with your iPhone.
It is well compatible with all iPhone models and the latest iOS versions.
It can work by itself without using iTunes or Finder.
How to solve the error if you have tried every method above with no success?
In case no method works for you, then the last resort is visiting apple stores for assistance. You can book an appointment then visit the store so that you don't wait for long.
Summary
To conclude, this article has shown you most of the efficient ways of disabling your iPhone. So, if you have encountered this error, don't be worried because your problem will be solved through this article.
The most recommended method is LockAway because it secures your data, and the steps are not complicated, meaning you can solve the error easily.
If you find no method useful, it is advisable to seek official assistance from the apple store near you.