Due to several circumstances, sometimes we need to make changes to the Apple ID on the iPad; we are always afraid of creating a mess.
This article is a key to all the promising methods that can help how to change Apple ID on an iPad professionally, along with other useful techniques that may save you from creating a heck for yourself.
Wait! Change or Switch Apple ID?
Most people are perplexed by the terms switching and changing, believing that they have similar connotations. However, they are diametrically opposed.
If you want to sign in with another Apple ID as your primary ID in the Settings, then you need to switch your Apple ID. This will log out of all services in the name of your current Apple ID, such as iCloud, Apple Store, Memo, etc.
In the changing scenario here, it means to edit the account information, like phone number, email address, and name.
I will then describe the details of how to proceed in each case.
Part 1: How To Change Apple ID on iPad?
Before going through the steps, there are a few things you should keep in mind:
You must be logged into the iPad on which you change your Apple ID.
Before changing your Apple ID, log out of it on your other Apple devices. It includes your other iPad, iPod, Apple TV, and HomePod.
Once you have changed your Apple ID, you have to login back with a new one.
Steps on the iPad Settings:
Go to the setting of your iPad and click your profile.
Click "Name, Phone Numbers, Email."

Click Name, Phone Numbers, Email

Tap Edit next to "Reachable at"
Click the Delete option and follow the further instructions on the screen.
Enter the new phone number/email address to connect with your Apple ID.
Enter the verification code sent to your phone number/email address.
You can now log in on your devices with your new Apple ID.
Steps on the Web:
Enter your credentials at appleid.apple.com and sign in.
Choose Apple ID in the section entitled Sign-In and Security.
Enter the new phone number/email address you'd want to use for your Apple ID.
Select Change Apple ID and then follow the instructions visible on the screen.
Tips:
If you changed/switched your Apple ID to a non-Apple email address, you must check your inbox for a verification code and then input it.
Sign in to services like iCloud and Messages using your upgraded Apple ID if you use them to share with friends and coworkers.
Looking for the Best Tool to Remove Forgotten Apple ID? Use Mobitrix LockAway
Have you forgotten your Apple ID password? Or Can't log out of your previous Apple ID? Sometimes the password is skipped from our minds, or we bought a used device but can't log in to the new Apple ID.
Mobitrix LockAway supports solving all the above Apple ID problems. You can enjoy all Apple services with your new account by removing the Apple ID from your device! Download it now and try it for free!
The next part is about how to switch Apple ID. You can't sign in to two Apple accounts in Settings, but you can move between Apple IDs.
Part 2: How To Switch Apple ID on iPad?
Switching ID has its consequences: your services like premium applications, Apple Store, and even your iCloud storage plan will all be logged out for this iPad along with your existing Apple ID sign-out. These services and data will be restored as you sign in with your Apple ID again.
To switch Apple ID on an iPad, you must first log out of the current account and then log in to a new one. This can be accomplished in a variety of ways.
Method 1: Switch Apple ID on iPad Via Settings
Proceed to the Settings menu. > Select your profile from the top of your screen.
Select Sign Out at the bottom of the screen to log out of the current Apple ID connected with the device.

Click >Sign Out

Enter your new Apple ID and password.
Tap "Sign in to your iPad" and enter the new user's credentials.
Have you forgotten your password and can't log out of your old Apple ID? Or are you unable to turn to Find My iPad off? Don't worry; that doesn't mean you can no longer use your iPad. Here is a quick fix!
Method 2 Erase Apple ID on iPad with Mobitrix LockAway [No password]
Mobitrix LockAway is a professional removal software that removes all the Apple ID on iPad and iPhone.Mobitrix LockAway enables you to remove your Apple ID and password while maintaining data security.
It takes only 30 minutes to erase Apple ID using four steps.
The success rate of removing Apple ID and password is up to 99%.
With simple clicks, you can log in using your new Apple ID.
It fully supports iPhone 5s to iPhone 15 and iOS 17 and earlier versions.
Steps:
Download and Install Mobitrix LockAway.
Connect your iPad to your MacBook or computer.
Choose "Unlock Apple ID".

Mobitrix-LockAway: Unlock Apple ID

Then click on the "Start" buttonThe Apple ID will be deleted along with the associated password. After that, you can enter and use your new Apple ID.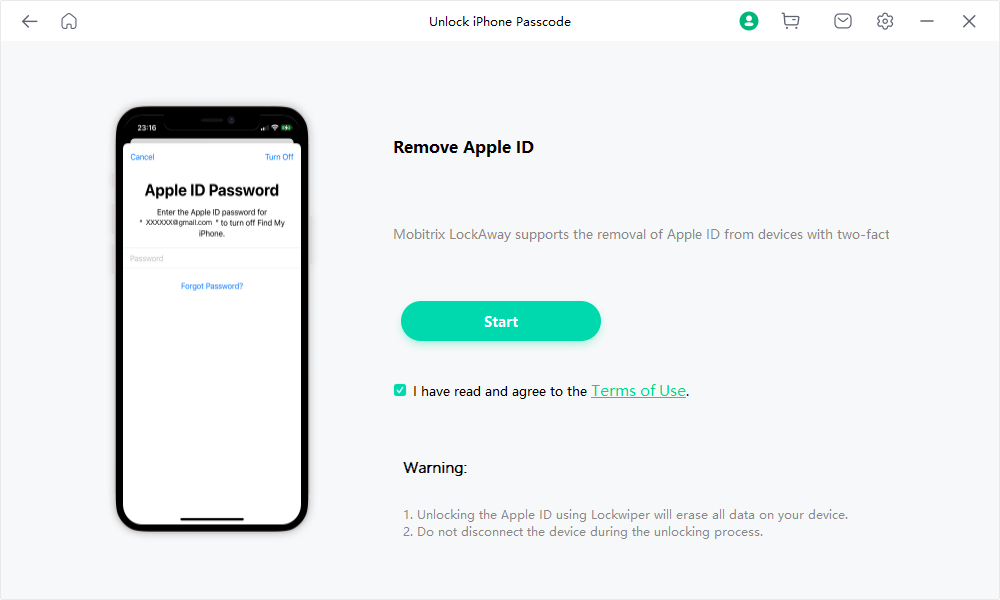 Mobitrix-LockAway: Click Start
Applicable Scenarios:
You purchased a previously-owned iPad whose former owner did not sign out of his Apple ID.
The Apple ID account information for an old iPhone that hasn't been used in a long time has gotten lost.
Apple ID has been locked for security reasons.
To reset the Apple ID password, you forget the credentials (phone number, answers to security questions, recovery key, etc.).
If you encounter any of the situations mentioned above, you cannot change or switch Apple IDs until you disconnect the prior one from the iPad. To handle this situation here, I have shared the solution.
Another alternative is to disconnect your iPad from your Apple ID. You may do this trick using iCloud's "Find My" feature.
Method 3 Disconnect Your iPad with your Apple ID Via Find My
iCloud links your devices to your account; removing a device from your account will also delete the Apple ID from the device.
If you aren't using an iPad, you can temporarily delete it from your account by using Find My on iCloud.com. Here is the detailed method to disconnect your iPad with your Apple ID Via Find My.
Steps:
Go to https://www.icloud.com/
Sign in with your new Apple ID and password.
Click All Devices at the top of the screen.

Click all device and choose your device

Select the device that you want to remove from iCloud.
Click Remove from Account.
Tips:
The iPad that needs to be deleted must remain connected to the Internet (either via Wi-Fi or data).
The iPad must have Find Me on.
"Erase" will delete all of the data from the iPad.
After removing it, you may sign in to the removed iPad with another Apple ID.
The Apple ID will only be logged out on that iPad, not on the other device you are logged into.
A single Apple ID is enough. You can connect it with iCloud, the App store, and Facetime for all benefits, but using different Apple IDs for other purposes also sounds convenient.
I have provided solutions for those who have many Apple IDs but don't know how to update them.
Part 4: Can I Use A Different Apple ID on iPad?
Yes.Perhaps there are any remaining credits on your other account? Or do you need to temporarily use data from one of your other accounts?
The good news is that all of this may be accomplished without logging out of the primary Apple ID you're currently logged in to on your iPad.
Here is an example of using different Apple IDs on iPad's App Store & Purchases.
Steps to change Apple ID on iPad's App Store & Purchases
On the home screen of your iPhone or iPad, tap "Settings."
Tap the Apple ID name situated at the very top of the settings menu.
Select "Media & Purchases" beneath iCloud settings.
The bottom of your screen will now display additional options. Click "Sign Out."
You will be advised that only the App Store, Books, Music, and Podcasts will be deactivated. Select "Sign Out" to confirm your decision.
Then, tap "Media & Purchases" once more to create a new account.
You will receive a pop-up asking if you want to utilize the primary iCloud account you're signed into. Select the "Not (Apple account name)?"
Now, insert the Apple ID details you wish to use and tap "Next" to log in.
You can now access the App Store to verify that you're signed in to a different Apple account.
In this post, we look at how to change an Apple ID on an iPad and provide further tips. After reading this article, I believe you will be able to handle most of your Apple ID issues.
I've prepared a helpful tool - Mobitrix LockAway. Leave all the steps to it, and you'll be able to use your iPad to log into your new Apple ID. Give it a shot; you'll be pleasantly surprised!