How to Bypass iCloud Activation Lock for Free?
I got ripped off the last week. I bought an iPhone online, and when I received it, it was locked with a screen lock passcode. I called the seller, and they said they cannot tell me the passcode but will remotely wipe the device to unlock it.
Little did I know what was going to happen. They used iCloud to erase the phone, and I was left with a greater problem than the passcode. The phone now required an iCloud account and password to unlock.
If you've been in such a situation, you'll know that the phone or iPad becomes completely useless. So, I did what I do and dug up the internet for a solution to this problem. Here's what I discovered on the issue.
Free Methods to Bypass iCloud Activation Lock
If you want to bypass the iCloud activation lock for free, you can try the following methods:
1. DNS Bypass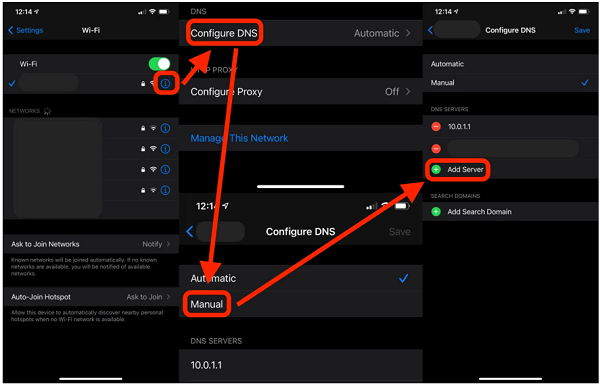 A free method to bypass the iCloud activation lock is tweaking the domain name server (DNS) settings. This method exploits a loophole in Apple's method of securing devices by iCloud activation lock. There are 10 million people in the world using this service, but with Apple actively working to shut it down, it can fail anytime and might not work in all regions or for all devices.
With that said, here's how you can do this:
Step 1 – On an iPhone that needs iCloud activation, tap the home button (or use the gesture if it is iPhone X or later) and go to the Settings app.
Step 2 – Go to Wi-Fi and click the "i" symbol next to the name of the Wi-Fi network you want to connect to.
Step 3 – You need to replace the original DNS. Try the following DNS according to your region and see if they work:
For USA/North America, use 104.154.51.7
For Europe, use 104.155.28.90
For Asia, use 104.155.220.58
For activation in any other area, use78.109.17.60
As said earlier, this method might work, it might not. Even if it does, you will not be able to:
Make phone calls.
Download apps from the App Store.
Share data with others.
If you want full activation of the phone with no limitations, you'll need to try one of the next methods on this list.
2. Ask Apple to Bypass
This method is for iPhone users who have forgotten the iCloud ID and password or cannot access their account for some reason. For this to work, the phone must not be reported stolen to Apple. If that is the case, they will not remove the lock, no matter what.
If you want Apple to help you, you can call or email Apple support and provide them with:
Proof of purchase of the device, or
Proof of transfer of ownership if you have bought a pre-owned device.
Once you succeed in providing that to Apple, they will remove the lock in a couple of working days. However, this method does not work very well when you have an iPhone that you have bought pre-owned, like in my case. For that, you can use this next method.
3. Ask the Previous Owner to Remove the iCloud Activation Lock
If like me, you have bought a second-hand device, you can ask the previous owner to remove the activation lock. All they need to do is spare a couple of minutes and go to www.icloud.com to get this done. In case they don't know how to do it, you can ask them to just execute the following steps:
Step 1 – Log in to iCloud using the Apple account ID and password associated with the device you have.
Step 2 – Go to Settings and find the target device under the "My Devices" heading.
Step 3 – Click on the small X sign to remove the device and confirm the selection.
Once that is done, the device will be removed from the previous owner's Apple account, and you can use it without any restrictions. If the previous does not know their iCloud password, you can tell them to reset it via the security question or by providing proof of identity to Apple.
This is the best method to get an iPhone activated but not all the owners are very cooperative. If the person you bought the phone from cannot unlock it, you will need to try one of the next methods to tackle this problem.
Advanced Methods to Bypass iCloud Activation Lock
The best method to unlock any iPad or iPhone with an iCloud activation lock is to use Mobitrix LockAway- Bypass iCloud Activation Lock. It is software designed to deal with all types of locks and passwords on any iOS device. When I say it is the best method, it is coming from a guy who has researched the topic for a week. Why is it the best method, you ask? Here's why:
It works with all generations of iPhone and iPad and with all versions of iOS.
It does not want you to enter the Apple ID or password on the device.
It is a method that permanently unlocks the device, and you can use all the functions without any restrictions.
You do not need any help from the previous owner of the device or Apple for this method to work.
This method takes just a few minutes to bypass the iCloud activation lock and produces 100% results.
If you are wondering how to do this, the method is really simple and easy, thanks to the easy-to-use interface of the LockAway software. Here's how you can do it:
How to Permanently Bypass iCloud Activation Lock
Here's the detailed method:
Step 1 – Download and install LockAway on your Mac or Windows PC and launch it. From the home screen of the interface, choose Bypass iCloud Activation Lock and click the Start button.
Step 2 – Next, click on Jailbreak and read the Terms of Service. If you are on a Mac, once you agree to them, the Jailbreak process will begin. However, as there is no method to automatically Jailbreak an iOS device on Windows, you'll have to manually Jailbreak it. You can see a YouTube tutorial on that specific to your device and the version of iOS it is running.
Step 3 – Once the device is Jailbroken, boot it up into DFU mode and connect it to the computer again.
Step 4 – With the device connected, click on Bypass, and the software will bypass the lock in a few minutes.
This is an advanced method and takes the least amount of time. If you are stuck in such a situation, I recommend you use this.
Other (Paid) Methods to Bypass iCloud Activation Lock
If you do not want to follow any of the above methods, there are online services that can bypass the lock remotely for you. These services include:
You can use these services, but they come with a bunch of drawbacks. They are costly, and most of them require a permanent subscription. The cost of these services can be quite high for the newer models of the iPhone. They also do not always work.
To Sum Up
That's all there is to know about bypassing the iCloud activation lock on any iOS device. I hope that solves your problem. In my analysis, I have found that LockAway is the best way to go and is the most convenient permanent solution for removing iCloud activation lock no matter which device you have.