After you have entered the wrong passcode 10 times in a row, your iPhone will say "iPhone is disabled connect to iTunes."
To unlock a disabled iPhone, you can reset your iPhone in many ways, such as iTunes, iCloud to delete all your data, including your passcode.
After resetting your iPhone, you can restore your iPhone's data from your backups.
Living in the 21st century we just can't imagine our life without our mobile phones. What if our phone gets disabled? Such a heart-wrenching moment it would be! If the notification "iPhone is disabled" appears on your phone's screen and it refuses to unlock, you've reached out to the right article for solutions.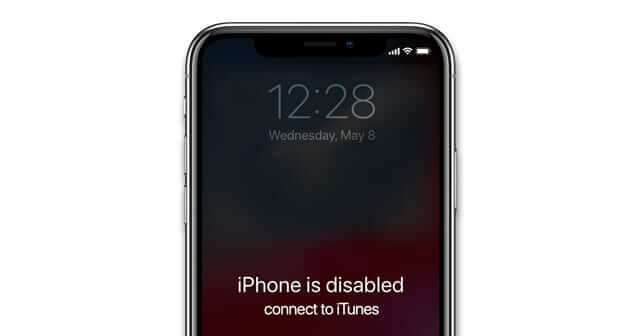 Forgot iPhone passcode? If you enter incorrect passwords too many times, your phone will be locked. A messy situation occurs; you will lose all of its data, and restoring the data would still be an additional hassle.
Being an iPhone user myself, I've been in the same bit of a pickle before. It was quite an annoying situation for me. I was eager to get my iPhone back, so I tried a variety of tactics and tricks. Fortunately, I was able to resolve this problem.
Therefore, if you forgot your iPhone passcode and are having issues with your iPhone, I will share the best solutions about how to unlock disabled iPhone, based on my experience. So, stay with me and read this post till the end to get your desired solutions. I will be describing each and every method in detail.
Part 1 How to solve "iPhone disabled" with the computer? (Classic)
Restore Your iPhone with iTunes
Your phone says " iPhone is disabled connect to iTunes" when it is disabled, iTunes is one of Apple's recommended methods to restore the disabled iPhone using iTunes.
Advantages
It is recommended by Apple.
It is a secure method.
It didn't charge me anything and was free of cost.
Disadvantages
After recommending this to many people, I found out that this method had a low success rate.
If you haven't backed up your iPhone because all of your data will be erased when you restore your iPhone.
Some other problems may be encountered. For example:
Get "To allow access; please respond to your iPhone..." in iTunes
Get "iPhone is locked with a passcode, please try again later" when you try backing up iPhone in iTunes
Steps
Preparation before restore
You'll need a computer, either a MAC or a PC, to use this method.
Make sure you have installed the latest iTunes on the computer.
Do not connect your iPhone to your computer
View Apple's tutorial to switch off your iPhone, and put your iPhone in recovery mode.
You can find your iPhone in Finder or iTunes on the connected computer, it will ask you to choose update or restore, you need to choose "Restore".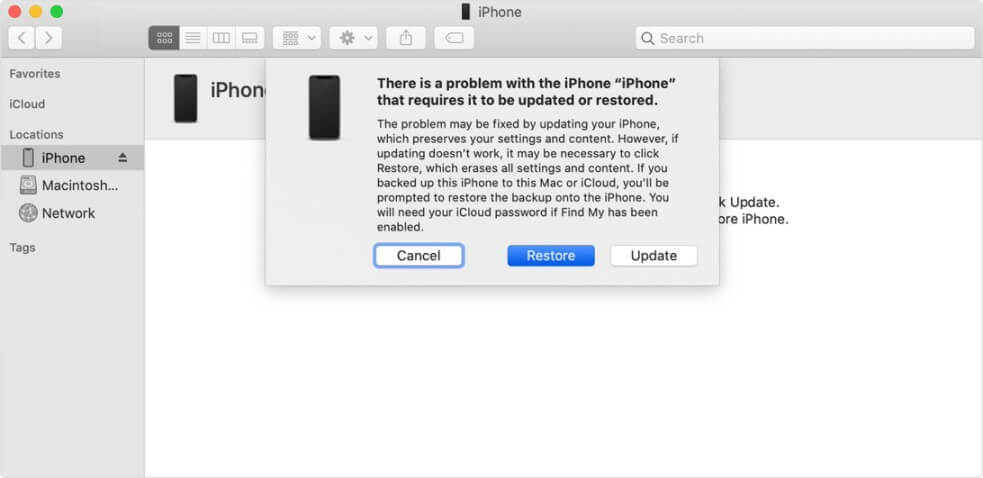 When your iPhone is disabled, you can try connecting to iTunes and secure recovery. But it can be seen that there is a risk of losing our data when we use this strategy. In addition to this, we can't expect the best outcome and may run into complications. That said, I have another concise and convenient method to fix a disabled iPhone via Mobitrix Lockaway.
Part 2 How to solve "iPhone disabled" Quickly: Mobitrix LockAway (The Most Effective)
Fix "iPhone disabled" With Mobitrix LockAway
Mobitrix LockAway is a software used to unlock iPhone passcode, Face ID, and Apple ID.
My decision-making process involved numerous hours of analysis and experimentation. There will be no more unpleasant notifications to deal with, and you will never again find yourself on the lock screen due to LockAway's help.
Advantages
I just followed some simple steps. It is easy and convenient to use.
For me, it was very effective because it allowed me to unlock my iPhone within 30 mins.
It is a secure tool without worrying about privacy issues.
After research, I came to know that it is a professional tool and has helped more than 100,000 users.
Steps to Follow
Connect your device to a computer.
Select "Unlock Screen Passcode".
Remove iPhone lock.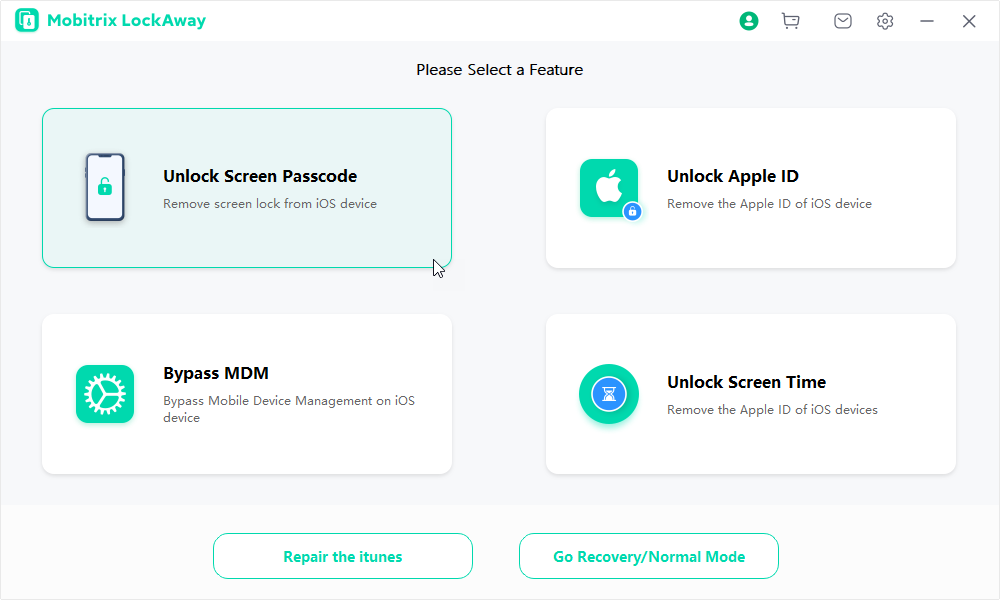 Well, I would again say that Mobitrix LockAway is an effective professional tool. It is used for various password and ID recovery purposes worldwide. It is constantly updating itself and fulfills the market needs. Thus it places a higher premium on a positive user experience. Although it is a paid tool, believe me, it's worth it to pay the cost and use this tool. Now, let us move to another effective and convenient method, "Find My iPhone," to solve the problem of "iPhone disabled" without a computer.
Part 3: How to fix "iPhone disabled" without a computer?
Restore your iPhone via "Find my iPhone."
If you don't have a computer, this is the best option for you. It allows you to locate your iOS devices and, in the worst-case scenario, Apple also recommends this feature to erase them entirely if they are lost or stolen. And we can use it to unlock your iPhone or get your disabled iPhone back.
Advantages:
It is provided by Apple.
It is secure and free to use.
It's a web-side operation, with no device limitations.
Disadvantages:
The locked iPhone must have the Find My feature enabled.
The Apple ID and password of the locked iPhone are required.
The locked iPhone must be connected to the internet.
This method will delete all the data in your iPhone, resulting in the loss of some of the data that was not backed up in time.
Steps to Follow
Open the "Find my iPhone" in any web browser.
Locate and click on your iPhone in the drop-down menu at the top of the screen.

Click "Erase iPhone" and then "Erase" to complete the process. You require your Apple Id, but you won't need the iPhone's passcode.

After it's been erased, the iPhone will default to factory settings, and you can follow the on-screen instructions to restore it using a recent backup.
Part 4: FAQs about " iPhone disabled"
What causes the iPhone to be disabled?

Six failed passcode attempts will disable an iPhone. After five attempts, your smartphone locks you out. It will be disabled for one minute after the sixth try. The seventh attempt disables your iPhone for five minutes, the eighth for fifteen minutes, and the tenth for sixty minutes. If you reach attempt 10 without entering the proper passcode, your iPhone will be disabled, unless your iPhone is set to delete itself after 10 failed passcode tries.

Why does my iPhone erase all the data automatically after 10 failed passcode attempts?

If you have data or photographs on your iPhone that you don't want anyone to view, you can set it to destroy everything after 10 failed passcode tries (this will not delete data in iCloud). That's a security measure against privacy leaks because if someone gets your iPhone and cannot unlock it after ten attempts, everything on it will vanish.

How to avoid getting a disabled iPhone?

It is such an irritating and frustrating situation when your iPhone is disabled. Here, I can guide you on how to prevent this from happening again.

i)Set a new passcode: Always set a 6 digit password. Memorize the number and store it safely. Change your passcode under Settings > Touch ID & Passcode.

ii)Use Touch ID or Face ID: For this approach to work, your device must be from iPhone 5s to iPhone 8 Plus with a fingerprint scanner or an iPhone X or later that can recognize your face. A passcode is still necessary if the device didn't read your fingerprint or Face ID does not identify your face, but most of the time, your fingerprint or face will be enough to open your iPhone.
Summary:
In the above article, we have explained in detail how to fix "iPhone disabled ". If you have enough time, you can choose iTunes, or if you don't have a computer, you can unlock iPhone via the web.
But if you want to unlock your iPhone in the shortest possible time without missing important messages, then I suggest you use Mobitrix LockAway, which only requires a few clicks and everything else is taken care of by this professional tool.